The global edge computing market was valued at USD 2,590.3 million in 2019 and is anticipated to grow at a CAGR of 38.9% over the forecast period from 2020 to 2025.
It's being expected that by 2030, the Edge Computing market cap will hit USD 116.5 billion at a CAGR growth of about 12.46 %.
Edge computing puts data processing and closer to the systems where it is collected, instead of relying on a centralized location that can be halfway across the world. This is done to prevent data, particularly real-time information, suffering from latency issues which can affect the performance of an application. Additionally, businesses can also save money by keeping the processing done locally by decreasing the amount of information that needs to be scanned at a cloud-based or centralized.
It is anticipated that the increasing need to process, collect and evaluate the large amounts of data produced by digitization at the edge of the network with decreased latency will fuel the market growth. Large amounts of data are generated by the increasing adoption of Big Data and Internet-of-Things (IoT) coupled with the proliferation of cloud services in various industries, such as retail and consumer, healthcare and life sciences, transportation & logistics, and manufacturing.
As the complexity of processing these large amounts of data increases, so the need for edge computing. An edge application efficiently utilizes the processing power of the IoT systems to score, aggregate and filter the IoT data. At the very same time, it also makes use of the cloud's power and flexibility to perform complex data assessments and make a contribution to the decision-making process.
Additionally, it can thus make sure smooth and robust assimilation between the IoT and the cloud. IoT systems subsequently have a major role to play as the statistical analysis takes place around those devices. This tech evaluates the data at the edge of the network and makes decision-making quick. It meets the needs of local computation by processing the data at the micro data centers instead of sending it to the main center.
It also helps to lower the latency in distant places, where network connectivity is a hurdle. 5G networks and cutting-edge technology often supplement each other, as internet providers are unable to deliver the economic advantages of the 5G standards without using edge computing. In addition, internet providers can use this technology to shift their IT resources and centrally controlled data centers to nearby base stations and other facilities that are closer to the end user as well.
Edge Computing Market Scope
| | |
| --- | --- |
| Metrics | Details |
| Base Year | 2022 |
| Historic Data | 2020-2021 |
| Forecast Period | 2022-2030 |
| Study Period | 2020-2030 |
| Forecast Unit | Value (USD) |
| Revenue forecast in 2030 | USD 116.5 billion |
| Growth Rate | CAGR of 12.46 % during 2022-2030 |
| Segment Covered | By Component, By Deployment, Vertical, By Application, Geography |
| Regions Covered | North America, Europe, Asia Pacific, South America, Middle East and Africa |
| Key Players Profiled | Amazon Web Services (AWS), Inc., ABB, Siemens AG IBM Corporation, Aricent, Inc., Atos, General Electric Company, Hewlett Packard Enterprise Development, Cisco Systems, Inc., Huawei , Technologies Co., Ltd., Honeywell International Inc., SAP SE, Intel Corporation, Microsoft Corporation, Rockwell Automation, Inc |
Key Segment Of The Edge Computing Market
By Component, 2022-2030 (USD Million)
o Hardware
• Edge Nodes/Gateways (Servers)
• Sensors/Routers
• Others
• Cameras
• Drones
• HMD
• Robots
• Others
• Hardware by Type
• Hardware by End Point Devices
o Software
o Services
o Edge-managed Platforms
By Organization Size, 2022-2030 (USD Million)
• Large Enterprises
• SMEs
By Deployment, 2022-2030 (USD Million)
• On Premise
• Cloud
By Industry Vertical, 2022-2030 (USD Million)
• Industrial
• Energy & Utilities
• Healthcare
• Agriculture
• Transportation & Logistics
• Retail
• Datacenters
• Wearables
• Smart Cities
• Smart Homes
• Smart Buildings
By Application, 2022-2030 (USD Million)
• IIoT
• Remote Monitoring
• Content Delivery
• Video Analytics
• AR/VR
• Others
Regional Overview, 2022-2030 (USD Million)
North America
• US
• Canada
Europe
• Germany
• France
• UK
• Rest of Europe
Asia Pacific
• China
• India
• Japan
• Rest of Asia Pacific
South America
• Mexico
• Brazil
• Rest of South America
Middle East and South Africa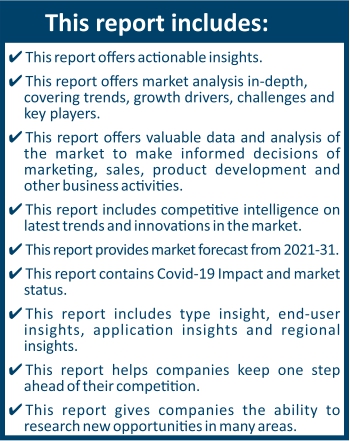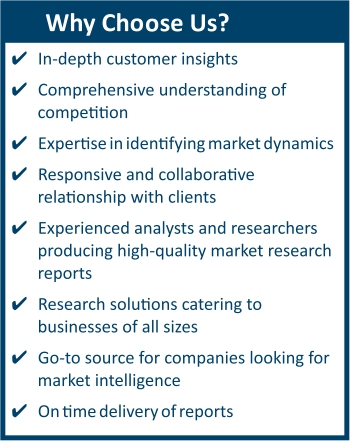 Frequently Asked Questions (FAQ) :
The major contenders in the global edge computing market Amazon Web Services Cisco, Clearblade, ADLINK Technology, Dell EMC, Google, Hitachi Vantara, HPE, Huawei, IBM, Intel, Microsoft, Oracle, SAP and Saguna
North America dominated the market for edge computing market and accounted for the largest revenue share.
The base year for the report is 2025 in edge computing market
As the availability of IoT devices is increasing the amount of data generated is also increasing. The companies are also totally dependent on the storage systems and centralised computing. To move the entire infrastructure, it will cost more amount for the companies and will also have deal with latency issues. The businesses which are using IoT sensors and actuators such as pressure sensors, temperature sensors, proximity sensors, infrared sensors and other such sensors are shifting towards edge computing solutions. The edge computing solutions include devices, edge nodes and local data centres. Edge computing can efficiently connect with the existing cloud infrastructure and allows data processing and evaluation easy by enabling companies to make quick decisions.
There are many companies investing large amounts in the development of edge computing solutions. Additionally, the companies are singing agreement and collaborating with other established companies to leverage their existing infrastructure. For instance, in December 2019, Amazon Web Services and Verizon announced a partnership to develop new solutions and applications with IoT enabled features for 5G edge cloud computing. Also established companies such as Microsoft, IBM, Cisco are acquiring as well as funding start-ups that are dealing with edge computing.
Below are some of the major investments, mergers & acquisitions and start-ups owing to which the edge computing market is anticipated to grow further:
In May 2019, Amazon CloudFront announced the launch of eleven new edge location in United Sates (Salt Lake City, Boston, Seattle, Phoenix), Japan (Tokyo) and India (Hyderabad, Bangalore and Delhi). This will enhance the content delivery network of amazon by enabling increased processing of viewer requests, more ISP peering and ability to cache data locally.
In June 2018, Hewlett Packard Enterprise announced that it will invest USD 4 billion over the period of next four years to develop intelligent edge devices and its related tech. The investment will be used in R&D with areas covering IoT, 5G, Cloud and analytics.
Mutable, EdgeInfra, SWIM.AI, AlefEdge, MobiledgeX, Kontron, Affirmed Networks, Edge Gravity, Ori, Packet, EdgeConneX, Section, Hangar, German Edge Cloud are some of the start-ups working on enhancing edge computing solutions
By component, the market is further categorized into hardware, platform and services. Hardware segment dominated the overall market and expected to maintain its lead during the forecast period. Edge computing requires large number of hardware components to be deployed for decentralizing computing and storage operations, enabling complete edge infrastructure deployment, by reducing traffic of the network. Companies are offering advanced computing components that either acts as an original data source point such as edge devices or as an intermediary of the entire network such as servers and gateways or serves as a local processing unit and storage in the overall edge computing system.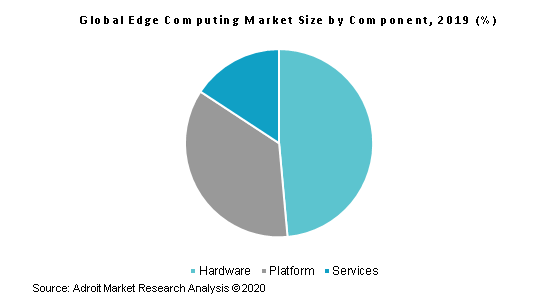 As the edge computing is in the early stages of deployment it is dominated by large enterprises which accounted for the highest market share in 2019. Majority of large enterprises have already deployed edge computing as they have better infrastructure and budget allocated for development of company and reduce its operating cost. However, in the coming year with the increasing penetration of these technology many small and medium sized business will accept and adopt the edge computing. Moreover, as the companies are shifting towards more and more digital solutions the amount of data generated is also increasing. To process and analyze such data businesses have to deploy edge computing as it will have various benefits for them.
Edge computing is being deployed across all industries including manufacturing, energy & power, it and telecom, healthcare & life sciences, retail & consumer goods, transportation, education, media & entertainment and banking financial services and insurance. Manufacturing industry holds the highest market share owing to the faster adoption and implementation of industry 4.0 in production plants. However, in the coming years the edge computing will witness a strong demand from across vertical such as banking financial services and insurance, healthcare, ad transportation.
North America leads the overall market and is anticipated to do so over the forecast period. The region is hub for majority of the large companies in the world. The companies here have already deployed latest technologies and business models. Edge computing is also being deployed in many established companies which helps them in easily processing and evaluating the data gathered. In August 2019, CenturyLink announced an investment of USD 700 million in edge computing services across hundred locations in the United States which will offer managed services and hybrid cloud services.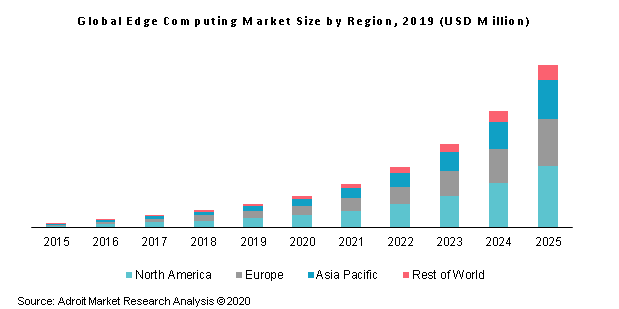 Asia Pacific is expected to witness a strong growth and projected to grow at a fastest CAGR of 41.3% over the forecast period. Due to the lack of necessary infrastructure, the technology is still in its emerging stages of implementation in the region, and since organizations use micro data centres mainly as a precautionary measure against data loss. However, government initiatives such as promoting digitalization and deploying developed infrastructure are anticipated to drive the market during the forecast period. is witnessing a strong growth. India, Japan, South Korea and China are the major contributors of this region. These counties are investing large amount in developing infrastructure and ecosystem for digitalisation which will further enhance IoT penetration.