Digital transformation in the logistics industry and emergence of IoT to magnify growth in the global Logistics Automation Market
Covid-19 Impact & Market Status
The report offers an exhaustive overview of the business dynamics and new investment strategies that are being adopted by business leaders across countries and regions to overcome the acute challenges and financial instabilities that have emerged in the post pandemic times.
The global market for the Logistics Automation is anticipated to develop at a compound annual growth rate (CAGR) of 13.15% throughout the course of the forecast, to reach USD 162.5 billion by 2030.
The report highlights some of the best industry strategies and practices that are adopted by the players across local and global markets. Ever since the Covid-19 broke out in 2019, it has spread aggressively, resulting in rapid declaration by the WHO affirming Covid-19 as a global pandemic and an emergency.
The impact of the pandemic is widespread and the aftermath is well pronounced, gravely affecting the global logistics automation market. The sudden pandemic and its implications have posed significant challenges such as travel bans, quarantines, and lockdowns.
These developments are hampering operations resulting in supply chain breaches, stock market inefficiencies, and vendor chaos. These are constantly interfering with the normal functioning of industries.
Ever since the outbreak of the global crisis, impact on upstream, downstream, and midstream industries have been appalling. The report delivers a quick ready-to-deploy approach to counter such crisis and steer the global logistics automation market towards steady growth and systematic progression.
Amidst the pandemic, aligning with new dynamics, global logistics automation market has been witnessing new dynamics which are further necessitating new business models and approaches to recoup growth and revenue streams.
In this report, inquisitive business players would be provided with sufficient guidelines regarding business transformation, integral to sustain stiffening competition in the pandemic and beyond pandemic era global logistics automation market.
Logistics Automation for Hardware and Software Services to Sustain the Highest Revenues
The integration of logistics automation components helps in streamlining the overall logistics process, involving warehousing or transportation tasks across the various end-user industries. Several hardware and software, such as conveyor belts, automated guided vehicles, and software for sortation, are being adopted across multiple industries. The implementation of these components enhance the overall efficiency at a reduced cost.
Retail & eCommerce Services to be the Most Lucrative
By Vertical, the global Logistics Automation market is segmented into Food & Beverage, Defense and Aerospace, Healthcare & Pharmaceuticals, Oil, Gas & Energy, Automotive, Manufacturing, E-Commerce and Retail, and Others. E-Commerce &Retail segment has the dominant share in the vertical segment and is expected to retain its dominance in the forecast period. However, the rise in the food & beverage industry will drive the market for this industry with a higher CAGR for the forecast period.
APAC to Sweep the Largest Revenue Streams Followed by North America
North America holds the largest market share for Logistics Automation Market, increasing due deployment of Logistics Automations in various business verticals. The rise in Oil & gas exploration is growing the demand for the downstream industries to boost. The IoT enabled fleet is making the time-efficient and cost-efficient carrier for the outbound logistics of fuel.
APAC has a significant market share for Logistics Automation and will grow with the higher CAGR for the forecast period, mainly due to the rise in the economies of the APAC countries such as China, India, and South Korea. China has been the biggest robot market in the world with continued dynamic growth. Moreover, governments in APAC countries are increasingly emphasizing safety and security on production floors, which can be best achieved by the implementation of Automated Guided Vehicles.
Exponential growth in the eCommerce industry and advancements in robotics to offer new opportunities in the global logistics automation market
The global Logistics Automation market is growing at a substantial pace due to the growing demand in the reduction of human resources, immense growth in the e-commerce platform, and increasing automated operation coupling with the overall advancement in technology and inclination towards cutting-down on the overall operating expenses (opex) by the warehouse management & logistics providers.
Further, adoption of autonomous vehicles and drones and increasing adoption of industry 4.0 are expected to ravel new growth opportunities in the global logistics automation market during the forecast period.
Moreover, with the rise in the technologies such as IIoT, robotics and analytics is the other driving factor for logistic automation to grow. The advancement in these technologies is addressing the major problem of logistics that is cost-efficient and time-efficient delivery of goods. By addressing these two major problems of logistics is also helping in customer service improvement by delivering items quickly. With the advancing technologies, companies are heavily investing in automation technologies.
Forward-looking players in the global logistics automation market are furthering investments towards developing advanced logistics automation. The Need to ensure workforce safety is significantly pushing the enterprises to deploy comprehensive logistics solutions.
Furthermore, manufacturing practices like using raw materials to achieve flexibility and durability, along with compact manufacturing designs, is augmenting the market growth for logistics automation. In addition to this, with the introduction of software like Artificial Intelligence (AI) and Internet of Things (IoT) technology, features such as remote management of robots, voice commands, and real-time tracking of the robots are further enhancing the industry demand for logistics automation.
Besides, the emergence of the Industrial Internet of Things (IIoT) and the advent of a network of connected systems are helping industries perform a multitude of tasks, such as material batching, picking, ordering, packaging, warehouse security and inspection, and helping improve the operational efficiency by huge margins. The use of IoT technologies allows warehouses for real-time data transfer, flexible communication, and Big Data analytics. These, along with the cloud-based solution, enable automated, sophisticated, and agent-based control.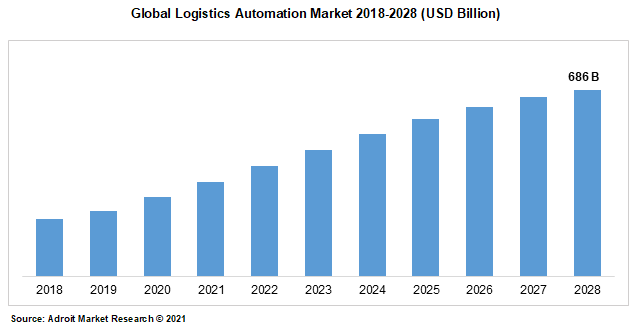 The major players of the global logistics automation market are Beumer Group, Daifuku Co., Ltd., Dematic (KION Group), Honeywell Intelligrated, KNAPP AG, Mecalux, S.A., Murata Machinery, Ltd., Swisslog Holding AG, TGW Logistics Group, and VITRONIC.
The logistics automation market is a rapidly progressing industry and is characterized to have industrial frontliners as well as aspiring new players aiming to penetrate into the aggressive competitive landscape across global and local markets. Additionally, various new and aspiring players are improving their product lines and upgrading technological capabilities to improve revenue streams amidst Covid-19 impact.
Latest Innovations in the Global Logistics Automation Market: a Snapshot
In February 2021, Honeywell Intelligrated partnered with Fetch Robotics, a company that provides cloud-driven robotic solutions. Fetch Robotics will launch an autonomous mobile robot called PalletTransport1500 for contactless pallet transportation across distribution centers. It will utilize Honeywell Intelligrated's Momentum warehouse execution system software to move pallets and other large payloads up to 1136 kg safely and efficiently.
In May 2020, Manhattan Associates launched the Manhattan Active Warehouse Management solution. It is the world's first cloud-native enterprise-class Warehouse Management System (WMS) that unifies every aspect of distribution and never needs upgrading. Manhattan Active WM ushers in a new level of speed, adaptability, and ease of use within distribution management.
In March 2020, Dematic launched the Dematic Multishuttle (DMS) 2 E, which is the latest version of the company's warehouse automation solution.
Logistics Automation Market Scope
| | |
| --- | --- |
| Metrics | Details |
| Base Year | 2022 |
| Historic Data | 2020-2021 |
| Forecast Period | 2022-2030 |
| Study Period | 2020-2030 |
| Forecast Unit | Value (USD) |
| Revenue forecast in 2030 | USD 162.5 billion |
| Growth Rate | CAGR of 13.15 % during 2022-2030 |
| Segment Covered | By Components, By Organization Size, By End User, TypeRegion. |
| Regions Covered | North America, Europe, Asia Pacific, South America, Middle East and Africa |
| Key Players Profiled | Daifuku (Japan), Dematic (US), E&K Automation (Germany), Eyesee (Hardis Group) (France), Falcon Autotech (India), GreyOrange (US), HighJump (Korber) (US), Honeywell Intelligrated (US), Jungheinrich (Germany), Knapp (Austria), Locus Robotics (US), Manhattan Associates (US), Seegrid (US), SSI Schaefer (Germany), Swisslog (Switzerland), System Logistics (Italy), TGW Logistics Group (Austria) |
Key Segments of the Global Logistics Automation Market
Component Overview, 2018-2028 (USD Billion)
Hardware
Software
Services
Organization Size Overview, 2018-2028 (USD Billion)
Vertical Overview, 2018-2028 (USD Billion)
Manufacturing
Healthcare & Pharmaceuticals
Fast Moving Consumer Goods
3PL
Aerospace & Defense
Retail & eCommerce
Oil, Gas and Energy
Chemicals
Others
Regional Overview, 2018-2028 (USD Billion)
North America
Europe
Germany
France
UK
Italy
Russia
Asia Pacific
China
Japan
Australia
South Korea
Rest of APAC
South America
Middle East and South Africa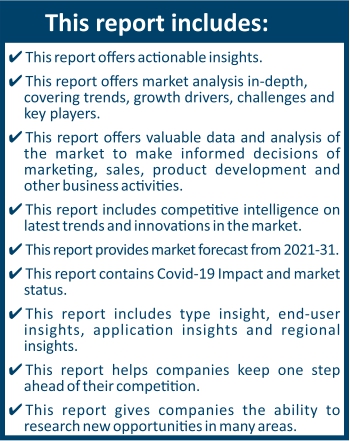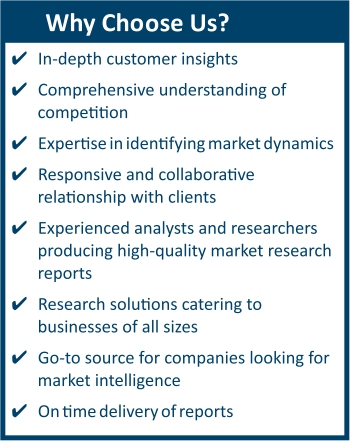 Frequently Asked Questions (FAQ) :
The logistics automation market is studied from 2018 - 2028.
The logistics automation market is growing at a CAGR of 12.4% over the next 7 years.
APAC is growing at the highest CAGR over 2021- 2028.
Beumer Group, Daifuku Co., Ltd., Dematic (KION Group), Honeywell Intelligrated, KNAPP AG, Mecalux, S.A., Murata Machinery, Ltd., Swisslog Holding AG, TGW Logistics Group, and VITRONIC.