This market research report on edge computing industry assesses the market demand, use cases & trending scenario for the period ranging from 2015 to 2025. The report highlights the historic developments from 2015 to 2019 & market forecast from 2020 to 2025. Additionally, the report comprises the current status & future revenue generation avenues of the market at global as well as regional and country levels. The global edge computing market is segmented on the basis of component, application, enterprise size, industry vertical and geography.
This report also examines various aspects of the edge computing industry by assessing the market using value chain analysis. It includes a qualitative narrative on market drivers, market restraints, future opportunities and key industry trends of the edge computing industry. Furthermore, it provides an in-depth assessment of the market competition with company profiles of global as well as local manufacturers.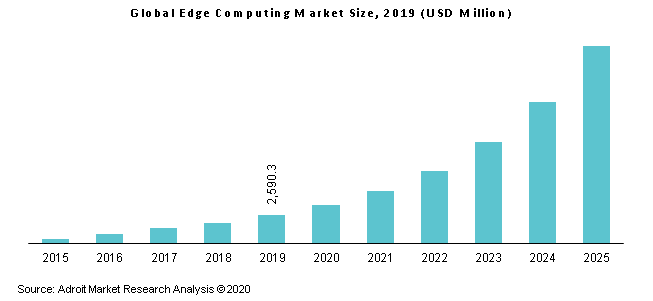 Edge computing puts data processing and closer to the systems where it is collected, instead of relying on a centralized location that can be halfway across the world. This is done to prevent data, particularly real-time information, suffering from latency issues which can affect the performance of an application. Additionally, businesses can also save money by keeping the processing done locally by decreasing the amount of information that needs to be scanned at a cloud-based or centralized.
Ongoing adoption of this technological innovation is also anticipated to fuel the market growth for the data center application. It is also expected that its acceptance will ultimately result in having micro data centers installed closer to the current infrastructure, that would help tackle the latency problems. Data Center Management-as - a-Service (DMaaS) is beginning to emerge as a low-cost way of managing data centers as it makes sure efficient use of the IT layer by tracking the infrastructure of the data center from the edge.
Also, DMaaS can be used as a flexible and cost-effective solution for businesses that want to gain real-time information and insight. Rigorous requirements of 5G norms, such as ultra-low latency, high reliability and user experience consistency, are expected to initiate the need for localized Radio Access Network (RAN)-based services.
On the basis of component edge computing is categorized into hardware, platform and services. In 2019, hardware segment dominated the overall market as it requires multiple components such as routers and gateways. Moreover, micro data centers and cloudlets are also very important to make sure that these solutions function smoothly. The market is expected to grow further owing to the evolution of emerging technologies and concepts such as connected cars, smart building, IoT devices, sensors and others.
North America dominated the market in 2019 and is expected to maintain its lead during the forecast period 2020 – 2025. Majority of the companies in this region have adopted cloud and are already connected by implementing IoT devices in various industries such as manufacturing, energy & power, IT and telecom, healthcare & life sciences, consumer and retail and transportation & logistics.
The telecom operators and solution providers are entering into strategic partnership owing to the increasing use of IoT applications coupled with the roll out of 5G networks which will further boost the market. For instance, in January 2019, Vodafone and IBM entered into an agreement to develop new solutions which will be based on 5G, edge computing and IoT.
The companies as a strategic step are entering into partnerships, acquiring domestically established companies, funding many startups and launching their products in new markets to strengthen their position. Some of the major companies operating in this industry include Amazon Web Services Cisco, Clearblade, ADLINK Technology, Dell EMC, Google, Hitachi Vantara, HPE, Huawei, IBM, Intel, Microsoft, Oracle, SAP and Saguna.
Key segments of the global edge computing market
Component Overview, 2015-2025 (USD Million)
Hardware
Platform
Services
Application Overview, 2015-2025 (USD Million)
Smart Cities
Industrial Internet of Things (IIoT)
Remote Monitoring
Content Delivery
Augmented Reality (AR) and Virtual Reality (VR)
Others
Enterprise Size Overview, 2015-2025 (USD Million)
Small and Medium-sized Enterprises (SMEs)
Large Enterprises
Industry Vertical Overview, 2015-2025 (USD Million)
Manufacturing
Energy & Power
IT and Telecom
Healthcare & Life Sciences
Retail & Consumer Goods
Transportation
Others
Regional Overview, 2015-2025 (USD Million)
North America
Europe

UK
Germany
France
Switzerland
Rest of Europe

Asia Pacific (APAC)

India
China
Japan
Australia
Rest of APAC

Rest of World