The Robot Programming software is developed to work with each robot manufacturer's code to generate optimized robot motion.
The global Robot Programming Software Industry market size is anticipated to reach up to USD 38,971.83 by 2028, at a CAGR of 44.56% over the forecast period. Robot programming software has yet to earn the faith of many traditional manufacturers in a variety of industries. When employees are required to perform repetitive tasks on a daily basis, their concentration levels will deteriorate after a period of time. It leads to increased business losses and, in some cases, serious damage to your employees. When it comes to robotic automation, it should minimize risks by precisely creating and inspecting products. A robot's software is a series of coded directives that tells the robot which set of steps to take in specific circumstances. Furthermore, using robot software has a number of advantages, including increasing organizational efficiency, minimizing human errors, automating the entire process, and improving job quality. Healthcare, defence, aerospace, automotive, and infrastructure are just a few of the industries that use robot software.
Robots are utilized for a variety of tasks, including product assembly, bomb detection and defusing, surgical operations, product inspection, space missions, cleaning, and other domestic chores. Furthermore, robots' technology is being used by a variety of sectors around the world to efficiently complete repetitive and time-consuming activities. Furthermore, due to rising labour costs and the need to boost productivity, manufacturers are increasingly opting for process automation, which is propelling the market forward.
The global robot software market is growing due to an increase in the demand for automation and safety in companies, as well as the quick adoption of robot software by SMEs to decrease labour and energy costs. Furthermore, the increased use of robots in a variety of industries has a beneficial impact on market growth. However, market growth is projected to be hampered by issues such as high installation costs and an increase in virus attacks on software. Increasing usage of IoT and AI-based robotics in industries, on the other hand, is likely to provide lucrative prospects for market expansion throughout the forecast period.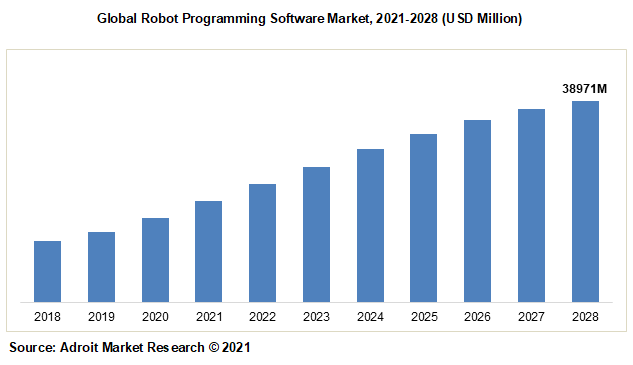 The market analysis by Adroit Market Research delivers an extensive evaluation of the market. This is accomplished via the use of extensive historical data, qualitative insights, and accurate market size estimations. The forecasts in the study were created utilizing tried-and-tested research techniques and assumptions. As a consequence, the research study functions as a library of market data and information for the whole industry. The article provides a thorough picture of the current market environment, including historical and predicted industry size in terms of volume and value, macroeconomic variables, technological progress, and market regulating factors. The report includes a detailed assessment of the global robot programming software market for the forecast era, 2021 to 2028 and studies the historical developments for the years 2019-20, wherein 2020 is the base year of estimation. The forecast period has been set at 2021 to 2028 for maximum transparency of industry developments. The research includes detailed information on the strategies of the industry leading players, as well as a thorough examination of the various market segments and geographies. The report examines the worldwide robot programming software market and its developments across several business verticals and geographies. Its goal is to evaluate the present market size and future growth potential of the robot programming software market across several areas.
On the basis of type segment, Manufacturing led the worldwide robot software market in 2020, and it is expected to continue to do so throughout the forecast period. The shortage of personnel in the industrial sector, as well as the growing need for automation, are two main drivers driving the use of robot software in this industry. However, due to higher government investment, technical maturity, and growing usage of robot software in the aerospace & defence industry, the aerospace & defence segment is predicted to develop at the fastest rate over the projection period.
In terms of the provider segment, The Global Robot Programming Software Industry Market is segmented into OEM software and Third-Party Software. OEM Software provides users with a broader array of necessary tools, simplifying the various robotic functions. Third-party software offers built-in scalable solutions that reduce future costs and create synergy with existing infrastructure.
In terms of geography, based on region, the Global Robot Programming Software Industry Market is segmented into North America, Europe, Japan, China, Southeast Asia, India, Central & South America, and Middle East & Africa. Asia-Pacific dominated the robot software market in 2020, and it is likely to continue to do so over the forecast period. This is due to the presence of well-established manufacturing businesses in developing economies like China, Japan, and South Korea, which focus on improving current solutions. Furthermore, the LAMEA and Asia-Pacific regions are likely to develop significantly during the forecast period, owing to increased local government investments and the emergence of new robot software start-ups in countries such as China, India, Thailand, and others.
Key player of the global robot programming software market as ABB Ltd., AIbrain Inc., Brain Corporation, CloudMinds Technology Inc., Energid Technologies Corporation, Furhat Robotics, H2O.ai, International Business Machines Corporation, Liquid Robotics, Inc., and NVIDIA Corporation are among the prominent players covered in the robot software market trends. These companies have used a variety of techniques to expand their market share and boost their position in the robot software market.
Key Segments of the Global Robot Programming Software Market
Type Overview, 2021-2028 (USD Million)
On-site software
Online Programming Software
Provider Overview, 2021-2028 (USD Million)
OEM Software
Third Party Software
Regional Overview, 2021-2028 (USD Million)
North America
Europe

France
UK
Germany
Rest of Europe

APAC

China
Australia and New Zealand
India
Japan
Rest of APAC

MEA

UAE
Saudi Arabia
South Africa
Rest of MEA

Latin America

Mexico
Brazil
Rest of Latin America