The process of establishing a control scheme and programmes for how a machine interacts with its surroundings and achieves its goals is referred to as robot programming software. It usually necessitates a rudimentary understanding of mathematics as well as the ability to programme in a computer language. The majority of the programming languages are also the foundation for a number of industrial robot languages. As a result, it's a great place to start for people who want to develop industrial robots. The market is divided into three categories: software kind, provider, and area. The market is divided into two types of software: on-site software and offline programming software. By vendor, there are two types of software: OEM and third-party. North America, Europe, Japan, China, Southeast Asia, India, Central & South America, and the Middle East & Africa are the regions covered.
Factors such as increased robotic intervention across industries and a demand for productivity have raised the market for automated robots, which is projected to drive the worldwide Robot Programming software market. On the other hand, the market has been limited by the greater cost of services and installation of programmed robots, particularly in Southeast Asia. Furthermore, Better Quality Assurance and Affordability have created a big opportunity for service suppliers and opened a major target. Due to rising demand, a considerable number of investments have been recorded in the robotics domain. According to the International Federation of Robotics' World Robotics report, demand for robots has been fuelled by investments in new vehicle production capabilities and modernization of industrial facilities. Due to large increases in industrial robot expenditures around the world, the automobile industry is regarded one of the most crucial uses of industrial robots. Various firms throughout the world are implementing robotics automation in their warehouses to save money on manpower. The introduction of robots with the ability to choose Robot programming can boost production in a variety of industries. Currently, a high-tech solution exists that is fast receiving universal acceptance as a breakthrough for most industries, focusing on the use of robots and automatic programming. Produced in accordance with a standard procedure. Instead, robots are used to machine the clay prototype. By converting a virtual model into reality, the robotic software enables for simulation, validation, and optimization of robotic motion.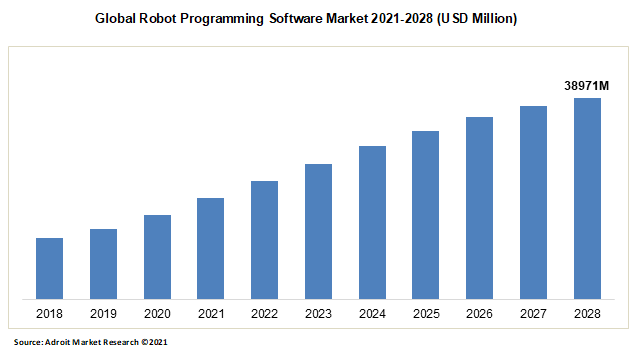 The market is highly concentrated and competitive, with major global companies such as ABB Ltd., AIbrain Inc., Brain Corporation, CloudMinds Technology Inc., Energid Technologies Corporation, Furhat Robotics, H2O.ai, International Business Machines Corporation, Liquid Robotics, Inc., and NVIDIA Corporation are among the prominent players covered in the robot software market trends. These companies have used a variety of techniques to expand their market share and boost their position in the robot software market. The Motion business supplies electrical motors, generators, and mechanical power transmission products. The Robotics and Discrete Automation business deliver industrial robots, software, application solutions, engineered solutions, and related services.
Robot Programming Software Market Scope
| | |
| --- | --- |
| Metrics | Details |
| Base Year | 2020 |
| Historic Data | 2018-2019 |
| Forecast Period | 2021-2028 |
| Study Period | 2018-2028 |
| Forecast Unit | Value (USD) |
| Revenue forecast in 2028 | USD 38,971.83 Billion |
| Growth Rate | CAGR of 44.56% during 2021-2028 |
| Segment Covered | Type, Provider, Regions |
| Regions Covered | North America, Europe, APAC, MEA, Latin America |
| Key Players Profiled | ABB Ltd., AIbrain Inc., Brain Corporation, CloudMinds Technology Inc., Energid Technologies Corporation, Furhat Robotics, H2O.ai |
Key Segments of the Global Robot Programming Software Market
Type Overview, 2021-2028 (USD Million)
On-site software
Online Programming Software
Provider Overview, 2021-2028 (USD Million)
OEM Software
Third Party Software
Regional Overview, 2021-2028 (USD Million)
North America
Europe

France
UK
Germany
Rest of Europe

APAC

China
Australia and New Zealand
India
Japan
Rest of APAC

MEA

UAE
Saudi Arabia
South Africa
Rest of MEA

Latin America

Mexico
Brazil
Rest of Latin America
Reasons for the study
To profile major companies in the market and thoroughly examine their fundamental strengths.
To offer a thorough competitive landscape of the market, as well as a study of leading market competitors' business and corporate strategies, such as mergers and acquisitions, new product launches and advancements, and expansions.
What does the report include?
A comprehensive review of the parent and replacement markets
In-depth market segmentation based on trends, growth, and historical and forecast data.
The scope of the report includes a market strategic analysis of future prospects, individual growth patterns, and the contributions of important sub-market stakeholders.
Profiles of key industry players, strategic viewpoints, market positioning, and an examination of essential competencies are also included.
Who should buy this report?
The precise market valuation, which includes size, share, and revenue, are also addressed for a better knowledge of the market position.
The analysis of competitive dynamic variables provides a comprehensive market picture.
In-depth industrial analysis, sales research, and production knowledge throw additional light on the market's future scope and growth rate.
The report includes regional as well as country-specific trends, as well as information on export and import operations.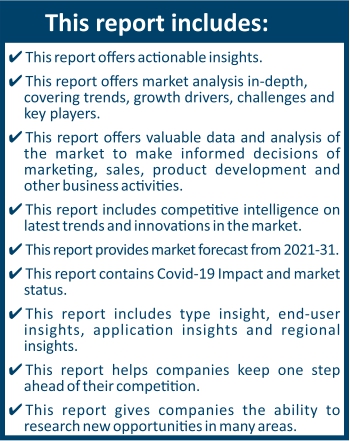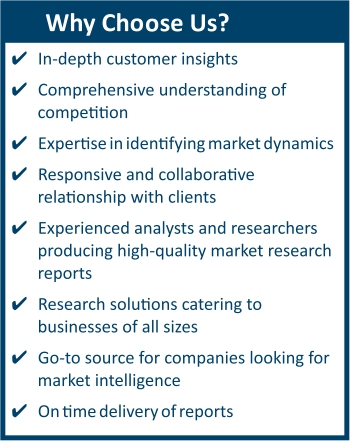 Frequently Asked Questions (FAQ) :
Robot Programming Software Market is projected to reach USD 38,971.83 Billion by 2028, growing at a CAGR of 44.56% from 2021 to 2028.
The major factors driving the growth of the robot software market are the adoption of artificial intelligence, reduction of labor cost, increased accuracy, enhanced speed, improved quality, and scalability of production
The major players are ABB Ltd., AIbrain Inc., Brain Corporation, CloudMinds Technology Inc., Energid Technologies Corporation, Furhat Robotics, H2O.ai
The Global Robot Programming Software Market is segmented on the basis of Type, Service Provider, End-User, and Geography.
The sample report for the Robot Programming Software Market can be obtained on demand from the website. Also, the 24*7 chat support & direct call services are provided to procure the sample report.
Robot software adoption has risen throughout time as the demand for automation in many areas, including as manufacturing and healthcare, has grown. In addition, to reach a wider consumer base, key industry companies are producing economical, small, compact, and energy efficient robot software. Furthermore, many small and medium-sized businesses are implementing more efficient and effective organizational practices. Furthermore, several market vendors are creating specialized low-cost and energy-efficient robot solutions for SMEs, which will increase robot adoption. The growing economic power of developing countries such as China, India, Indonesia, Thailand, and others is likely to generate lucrative market growth possibilities. During the projection period, Asia-Pacific is expected to dominate the market. Furthermore, during the forecast period, rising countries in Asia-Pacific and Latin America are expected to offer considerable growth prospects. Due to an increase in the use of various types of robots around the world and the penetration of high-end robots across industries, the market is likely to grow significantly in the future.
The worldwide robot software market is highly consolidated, and players are concentrating their efforts on leveraging new technologies to provide robotics software that meets the user's evolving needs. Furthermore, the presence of a high number of service providers in the global robot software market heightens competition among leading competitors. To gain a competitive advantage and maintain their market position, robot software technology providers are differentiating themselves from competitors and driving revenue growth by incorporating new digital business technologies, such as artificial intelligence, machine learning, and low-cost data, into their offerings. During the anticipated period, the concentration level will remain constant. To stay competitive and strengthen their footing in the market, companies are launching new products and forming partnerships, among other activities. For example, in November 2019, ABB Ltd. and B&R cooperated to build a fully integrated machine centric robot solution, allowing manufacturers to embrace the trend of mass customization while also optimizing their lot size one processes.
Type Segment
Based on type, the Global Robot Programming Software Industry Market is segmented into On-site Software, Offline Programming Software. on-site software for Robot Programming is its ability to provide hands-off management for an organization. Businesses that conduct their in-house often run into issues that are time-consuming to resolve, keeping resources juggling business functions and concerns and leading to decreased productivity. By leveraging on-site software, support from a trusted provider can drive business. Offline programming allows the robot to be programmed using a virtual mockup of the robot and task. If the simulation software is intuitive to use, this can be a quick way to test an idea before moving it to the robot. As offline programming software is associated with the algorithm of robots, plays a crucial part in robot programming.
Provider Segment
Based on provider type, the Global Robot Programming Software Industry Market is segmented into OEM software and Third-Party Software. OEM Software provides users with a broader array of necessary tools, simplifying the various robotic functions and centralizing functions. One common use in OEM software is the inclusion of embedded analytics and business intelligence tools in applications such as CRM or ERP suites. OEM also lets companies create tools that are useful in highly unique or specialized sectors without resorting to costly and lengthy development cycles. OEM Software gives SaaS companies built-in scalable solutions that reduce future costs and create better synergy with existing infrastructure. The third-party software has major advantages compared to other software. Cost-savings may make now in developing the software oneself and going to get eroded as time goes past. Modern Robot Programming software companies are continuously deploying new features and improving their products. With future browser updates and a constantly evolving list of devices, we have to take into account accessibility, a feature that takes a couple of man-hours to develop now is going to a couple of hours again and again and again to keep up-to-date.
Based on region, the Global Robot Programming Software Industry Market is segmented into North America, Europe, Japan, China, Southeast Asia, India, Central & South America, and Middle East & Africa. Asia-Pacific dominated the robot software market in 2020, and it is likely to continue to do so over the forecast period. This is due to the presence of well-established manufacturing businesses in developing economies like China, Japan, and South Korea, which focus on improving current solutions. Furthermore, the LAMEA and Asia-Pacific regions are likely to develop significantly during the forecast period, owing to increased local government investments and the emergence of new robot software start-ups in countries such as China, India, Thailand, and others.