Many E-Commerce websites are operational in emerging nations to promote agriculture marketing consistency across integrated marketplaces by removing information asymmetry between buyers and suppliers.
In 2020, the e-commerce industry for agricultural products was worth roughly USD 28.56 billion, and by 2026, it is predicted to be worth around USD 42.68 billion. Over the projection period of 2020-2026, the market is estimated to develop at a CAGR of roughly 6.84 percent. Despite the close proximity of opportunities, stakeholders are wary about using this new technology for agricultural product exchange. Online trading portals' pricing systems neither maximize profits during periods of high demand and low supply, nor ensure the least amount of loss due to product decay or down selling. The static pricing strategy does not give many advantages to an online customer; hence suppliers are discouraged from joining this online system. Maintaining seller income and customer interest necessitates a dynamic pricing system that is always changing and can adapt to market conditions and quality degradation. The utility of different contemporary dynamic pricing systems in the field of agro-marketing is examined in this article. This article outlines some research challenges related to dynamic pricing systems in E-Commerce. Variables such as demand, availability, and freshness of agri-products must be addressed when establishing a pricing system in the dynamic setting of E-Commerce.
The internet has ushered in enormous changes in society and throughout the world. Because of the internet, communication, marketing, education, and healthcare have all changed. The use of the internet in agriculture has the potential to transform the economy and enhance the livelihoods of farmers. Agricultural E-commerce connects farmers with customers, consumers with farmers, farmers with businesses, and companies with businesses, allowing for new business models to emerge. As a result of its acceptance, e-commerce is expected to become more profitable, transparent, and competitive. E-commerce aims to eliminate intermediaries, which helps farmers and customers, as well as cross-border selling, speedy delivery, and pricing transparency. Growers benefit from agricultural E-commerce since it allows them to exhibit their crop to a bigger market and directly contact the client, regardless of physical distance. Farmers' financial well-being and the country's economic development will benefit from the effective implementation of E-commerce for agricultural commodities.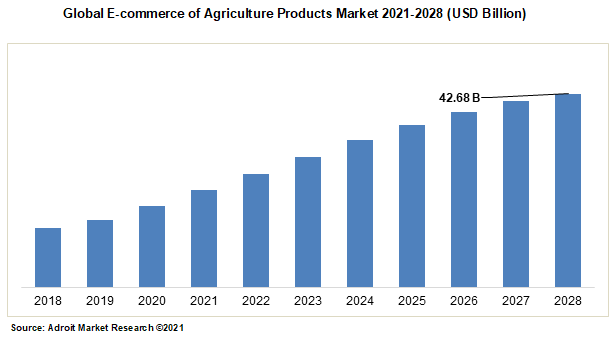 Farmers gain from internet platforms' enhanced openness and visibility of market pricing, resulting in more equal prices than those offered by traditional intermediaries. This is typically accomplished by removing middlemen from the value chain and increasing the distribution system's efficiency. According to a firm, smallholder farmers in Mozambique who provide IzyShop's vegetable boxes earn more than $100 a month, compared to an average monthly income of $18-20 for smallholder farmers in the country. Agri e-ability commerce's to improve farmers' lives and reduce poverty appeals to ethical customers like city shoppers who want to know where their food comes from and support their local agricultural communities and economy.
In a typical market, the seller gains when the supply of a commodity is less than the demand for that good. The seller tries to increase their profit by setting a higher product price that covers his losses from unsold inventory and decomposition. Electronic sellers are unable to modify product pricing in response to real-time supply and demand. On operational websites, static pricing structures are employed, which fail to generate the most revenue for the seller. A variety of agri-e-commerce services have arisen in developing nations in recent years. These services can help farmers find new ways to advertise their products and reach new clients. There is no data on the percentage of agricultural sales that are made through these internet platforms as opposed to traditional distribution channels. However, statistics on these services' operations, such as the number of buyers and sellers, as well as transaction prices and volumes, indicate that they are fast expanding and have the potential to develop more in the future. Europe has a lion's share of revenue and is a key market for the infrastructure business. In 2020, the area will account for around 30.8 percent of the global market's sales. The market is divided into six groups based on their function: web portal model, online content providers, online merchants, online market maker, and others. In the year 2020, the web portal model sector will have the biggest market share.
Key Segments of the Global E-Commerce of Agriculture Products Market
Online Content Providers
Online Retailers
Online Market Maker
Others
Global E-commerce of Agricultural Products Market by Deployment Model
Cloud-based
On Premises
Global E-commerce of Agricultural Products Market by End-Users
Farm to Farm (F2F)
Farm to Customer (F2C)
Customer to Customer (C2C)
Others
Global E-commerce of Agricultural Products Market by Region

North America
Europe

UK
France
Germany
Italy
Rest of Europe

Asia Pacific

China
Japan
India
South Korea
South-East Asia
Rest of Asia Pacific

Latin America

Brazil
Mexico
Rest of Latin America

Middle East & Africa
§ Gulf Countries
§ Israel
§ Africa
§ Rest of Middle East & Africa