With the growing use of e-commerce and the digitalization of enterprises, the demand for e-commerce has risen dramatically. Agricultural e-commerce has a significant possibility for product cost reduction and demand increase. In recent years, an increasing number of smallholders in developing nations such as China have started selling agro goods directly to customers through online stores run by a third-party trading platform. In recent years, there has been a significant increase in competition among agricultural companies. Cost, supply chain, and middlemen have all been put under more strain as a result of online sales. Micro and medium-sized enterprises can benefit from e-commerce. This has aided vendors in lowering shipping costs and gaining access to previously unexplored markets.
It is becoming increasingly obvious that e-commerce has emerged as a new and successful means of assisting smallholders in gaining market access. Because of the absence of the pricing pressure from middlemen and the marketing restrictions of information asymmetry, e-commerce has enabled smallholders to sell most of their products at a greater price than before. The use of agricultural e-commerce by smallholders is propelling the sector forward. The agriculture industry in South America and Asia Pacific, which are the fastest expanding regions, has significant technology and digital gaps. The amount of knowledge among farmers or small sellers, as well as the network infrastructure required to conduct agricultural e-commerce efficiently in rural places, are both lacking. The market's expansion is being hampered by a lack of understanding regarding agricultural e-commerce and a lack of network infrastructure.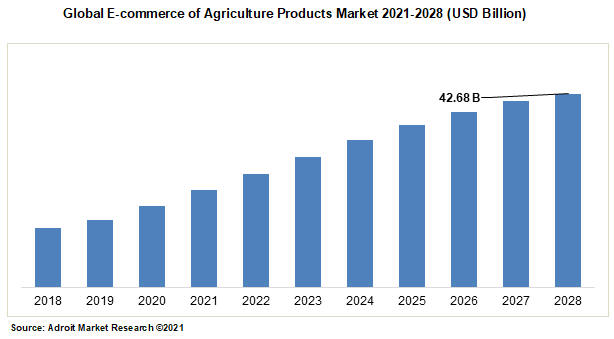 For the time being, the COVID-19 pandemic is projected to have a little influence on the worldwide agriculture e-commerce business. The supply chain and transportation have both been harmed as a result of the lockdown in practically every location. E-commerce platforms have suffered significant losses as a result of the abrupt suspension of transportation services. COVID-9 is predicted to have an influence on this market through the end of 2020.
Electronic commerce (E-commerce) is the term used to describe transactions performed via the internet or through a website. E-commerce provides services such as the sharing of trade information between firms and clients, trade execution, and certain process system and operation mode to sustain relationships based on network technology (mostly the Internet/Web). Because the economy and policy have an impact on this business, it's critical to keep a watch on economic indicators and preferences. With the global economic recovery, more people are paying attention to improving environmental standards, particularly in developing countries with huge populations and rapid economic expansion. This research examines the current state, forecast, growth opportunity, major market, and key players in the worldwide E-commerce of Agricultural Products market. The study's goals are to demonstrate the growth of e-commerce for agricultural products in the United States, Europe, and China. Alibaba Group, JD.com, Inc., Benlai, Sfbest, Pinduoduo, Inc., Womai, and Yihaodian are some of the leading companies in the worldwide E-commerce of Agriculture Products market.
E-commerce of Agricultural Products Market Scope
| | |
| --- | --- |
| Metrics | Details |
| Base Year | 2020 |
| Historic Data | 2018-2019 |
| Forecast Period | 2021-2028 |
| Study Period | 2018-2028 |
| Forecast Unit | Value (USD) |
| Revenue forecast in 2028 | USD 42.68 Billion |
| Growth Rate | CAGR of 6.84% during 2021-2028 |
| Segment Covered | Product Type, Deployment Model, End-Users, Regions |
| Regions Covered | North America, Europe, Asia Pacific, Latin America, Middle East & Africa |
| Key Players Profiled | Alibaba Group, JD.com, Inc., Benlai, Sfbest, Pinduoduo, Inc., Womai, and Yihaodian |
Key Segments of the Global E-Commerce of Agriculture Products Market
Global E-commerce of Agricultural Products Market by Product Type
Web Portal Model
Online Content Providers
Online Retailers
Online Market Maker
Others
Global E-commerce of Agricultural Products Market by Deployment Model
Cloud-based
On Premises
Global E-commerce of Agricultural Products Market by End-Users
Farm to Farm (F2F)
Farm to Customer (F2C)
Customer to Customer (C2C)
Others
Global E-commerce of Agricultural Products Market by Region

Europe

UK
France
Germany
Italy
Rest of Europe

Asia Pacific

China
Japan
India
South Korea
South-East Asia
Rest of Asia Pacific

Latin America

Brazil
Mexico
Rest of Latin America

Middle East & Africa

Gulf Countries
Israel
Africa
Rest of Middle East & Africa
Reasons for the study
To evaluate, examine, and analyze competitive developments such as strategic alliances, joint ventures, mergers, new product developments, and acquisitions.
To offer a prospective outlook on market size in major regions and key performing nations.
To investigate the variables influencing the growth of Global E-commerce Products Market, as well as the market drivers.
What does the report include?
Market definition, description, an overview of market growth affecting elements, and forecast
Market segmentation, dominating segment, and region, followed by nation, as well as market value, share, year-over-year growth, CAGR, forecast, and contribution to the market.
Profiles of main market players, their latest advancements, strategy, financial data, core capabilities, regional presence, and product portfolio.
Insights, data, and forecasts that may be used to develop company strategies, identify business risks, spot trends, capitalize on market opportunities, generate business goals, and comprehend target customers/end users.
Insights on current innovations, target market regulations, pipeline goods, market investment, and political and economic variables that may affect market growth
Who should buy this report?
System Integrators
Analytics consulting companies
Application builders
Distributors
Independent Software Vendors
Licensing providers
Intellectual property core
Market research and consulting firms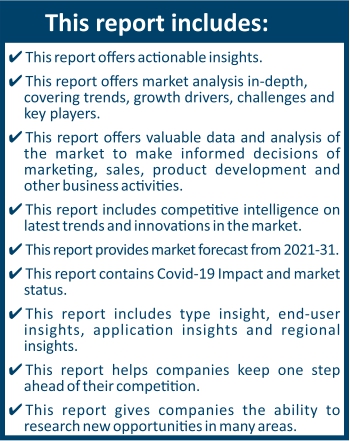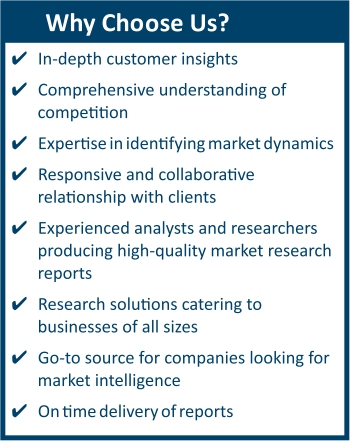 Frequently Asked Questions (FAQ) :
E-commerce of Agricultural Products Market is projected to reach USD 42.68 Billion by 2028, growing at a CAGR of 6.84% from 2021 to 2028.
The major players are Alibaba Group, JD.com, Inc., Benlai, Sfbest, Pinduoduo, Inc., Womai, and Yihaodian
The Global E-commerce of Agricultural Products Market is segmented on the basis of Deployment Type, Type, End-User, and Geography.
The sample report for the E-commerce of Agricultural Products Market can be obtained on demand from the website. Also, the 24*7 chat support & direct call services are provided to procure the sample report.
It's challenging to set up an E-Commerce site for selling agricultural products, but it's much more difficult to run the system economically. The government has made a number of efforts to promote agricultural produce electronic trading. A number of commercial firms are working on this as well, in order to make online transactions more convenient. Many E-Commerce sites are up and running, offering a diverse range of products, but vegetables have yet to gain traction. Stakeholders are apprehensive to utilise this internet method to sell and buy agricultural products. Only a few people are using this new marketing strategy, which demands perseverance to succeed. The existing price structure of the E-Commerce platform neither maximizes income nor decreases loss for the farmer. Because they do not benefit from decreasing product pricing, consumers are disinterested in making purchases through the internet. Consumers and sellers alike find agri-product e-commerce to be unprofitable. Due to the relatively new kind of E-Commerce, many components of traditional E-Commerce have yet to be applied in the agri-market. Only if the price is reduced will the system's execution be successful. To modify the product's availability, demand, and freshness in real time, a dynamic pricing system is required.
E-commerce reduces transaction costs by eliminating intermediaries between the farmer and the client, passing the savings on to the producer and buyer. Consumers can expect e-commerce to reduce the cost of a product. The product's cost, on the other hand, does not excite purchasers. To make e-trading completely functional, customers' interest in acquiring agricultural products online must grow. Customers are not enticed by the costs on existing E-Commerce websites. Some of the economic benefits of agro e-commerce, such as greater revenues, reduced waste, and access to financial services, may motivate farmers to expand their on-farm investments and productivity. Additionally, online buyers have more alternatives and, in certain cases, can monitor the origin of specific supplies, forcing farmers to improve the quality of their product in order to keep their quality rating and market access. Agri e-commerce – the buying and selling of agricultural products online – can alleviate important difficulties and inefficiencies in the agriculture supply chain by streamlining farmers' access to customers and building new linkages across stages in the value chain. This is especially true in developing countries, where internet platforms may enable farmers to sell directly to agribusinesses, merchants, consumers, and other client groups, resulting in increased supply chain efficiency and more equitable rewards for farmers, as well as a transaction history.