The market for three-dimensional fabrics has been expanding as a result of the rising demand from the military, aerospace, and transportation industries. The market for three-dimensional fabrics is expanding as a result of the increased need for lightweight, fuel-efficient cars. Another element boosting the market's expansion is the usage of three-dimensional fabrics in military applications like ballistic protection and body armor. The market has been expanding as a result of the rising use of three-dimensional materials in the sports and leisure sector. A further element driving the expansion of this market is the rising awareness of environmental sustainability and protection. Moreover, this industry is expanding as a result of technological developments including unique finishes, coatings, and treatments used on three-dimensional fabrics.
Due to its large selection of fabrics in various shapes, sizes, and textures, the three-dimensional fabric market is essential to the textile industry. This kind of fabric is incredibly adaptable and may be used for many different things, such as footwear, furniture, outerwear, and more. Due to their distinctive appearance and feel, 3D fabrics are growing in popularity with manufacturers and designers alike as technology advances. By offering fresh patterns at low rates, the three-dimensional fabric industry also gives small firms the chance to enter the market without having to make significant capital commitments. These fabrics are also more environmentally friendly than conventional materials because they offer waste-free, more effective production methods. Ultimately, this kind of cloth can produce an intriguing design style that distinguishes products from those made by industry rivals.
A textile that has been designed to have a three-dimensional shape is referred to as a three-dimensional fabric. Numerous techniques, like weaving, knitting, braiding, and felting, can be used to achieve this. The three-dimensional shape of the produced fabric is then frequently used in a number of applications. Airbags, seat belts, and impact-resistant materials are a few typical examples of three-dimensional fabrics. Due to their distinctive forms, which distribute force more uniformly than conventional flat materials, these fabrics can offer exceptional protection. Additionally, because of their capacity to adapt to complex geometries, three-dimensional fabrics are frequently utilized in transportation applications such as car interiors and airplane seating.
The global market for three-dimensional fabrics is expected to grow at a CAGR of 4.1% from 2021 to 2031, from a value of USD 6.99 billion in 2021 to USD 9.53 billion in 2031.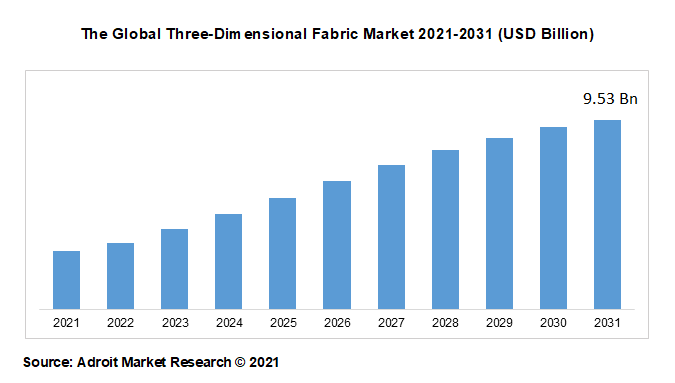 Numerous factors, such as the rising need for lightweight materials, increased utilization in numerous application areas, including transportation, aviation & military, building & construction, among others, and improvements in fabrication technologies, are responsible for the market's expansion. Due to their outstanding heat insulation qualities and high strength-to-weight ratio, three-dimensional fabrics are utilized in place of conventional materials. Furthermore, due to their three-dimensional structure, 3D woven fabrics have exceptional stability and allow for the formation of intricate geometrical designs.
The high cost of raw materials and the strict rules governing the usage of composites in different end-use sectors are barriers to the market for three-dimensional fabrics. In comparison to other synthetic fibres like polyester and nylon, using glass and carbon fibres to create three-dimensional fabrics is more expensive. Additionally, because of their characteristics, the utilization of these fibres is limited to particular applications. For instance, carbon fibres have high strength but are challenging to produce, whereas glass fibres are fragile and have limited resistance to UV radiation. During the anticipated period, these aspects are anticipated to restrain the market's expansion for three-dimensional fabrics. Nevertheless, despite these limitations, the market is expected to increase in the near future because of the rising demand for three-dimensional fabrics from the aerospace and automotive industries.
The market for three-dimensional fabrics has been divided into categories such as glass fibre and carbon fibre, as well as categories such as transportation, aviation & military, building & construction, and others. Regional categories include North America, South America, Asia Pacific (APAC), Europe (EU), the Middle East, and Africa (MEA). Major market participants include Teijin Limited (Japan), SGL Group (Germany), Toray Industries Inc., Mitsubishi Rayon Co., Ltd., Hyosung Corporation (South Korea), Hexcel Corporation, Owens Corning Corporation, Sefar AG (Switzerland), BASF SE (Germany), and Royal TenCate N.V. (Netherlands).
Segment Analysis
The Glass Fiber Segment emerged as the Most Lucrative Type
The Three-Dimensional Fabric Market is segmented into Carbon Fiber and Glass Fiber based on type. The segment for glass fibre is predicted to increase at the quickest rate of all of them throughout the projection period. It is commonly utilized to create lightweight components in the transportation, aerospace, and automotive industries.
The Most Prominent Application is the Transportation Segment
The Three-Dimensional Fabric Market is segmented into Transportation, Aviation and Military, Building and Construction, and Others segments based on Application. Due to its growing need for lightweight components with high strength and corrosion resistance, the transportation sector is anticipated to be the market's major contributor. The necessity to cut weight and expense is another element influencing the need for 3D materials in the transportation industry.
The North American Region to render Ample Financing Opportunities
The Three-Dimensional Fabric Market is segmented into the following geographical markets: North America, Europe, Asia Pacific (APAC), Latin America (LATAM), and the Middle East & Africa (MEA). The market is predicted to be dominated by North America due to rising demand from the aerospace and defence industries. Due to rising investments in infrastructure projects in nations like China and India, APAC is predicted to have strong growth.
COVID-19 Impact and Market Status
The COVID-19 pandemic outbreak has hurt the global market for three-dimensional textiles. The market is expected to shrink in 2020 as a result of the slowdown in economic activity and supply chain disruptions. Market recovery is projected in 2021 when the global economy returns to normalcy. One of the main industries using three-dimensional cloth is transportation. Due to the slowdown in economic activity and the travel limitations put in place by several nations, the demand for three-dimensional fabric from the transportation industry has decreased. Three-dimensional cloth is also widely used in the military and aviation industries.
However, because of budget cuts for the military and a decline in air travel, these industries have been negatively damaged by the COVID-19 epidemic. Three-dimensional cloth is widely used in the building and construction industry. This industry's need for three-dimensional fabric has decreased as a result of the COVID-19 pandemic's project cancellations and delays. Three-dimensional fabric is also widely used in the fields of wind energy, maritime, sports, and leisure. The COVID-19 epidemic has also had a significant effect on several industries. The market for three-dimensional fabrics is also influenced by the availability of raw materials. The pandemic's effects on the supply chain have increased reliance on imports for several types of raw materials, which has hurt the market for three-dimensional fabrics.
Recent Developments in the Three-Dimensional Fabric Market
• H&M declared in March 2021 that it has created a three-dimensional fabric technology that increases the comfort of wearing garments. The brand-new design is based on an original mix of knit, warp, and weft yarns. In addition to offering improved comfort and fit, 3D fabric technology also prevents wrinkles and excessive stretching. To create its 3D fabric, which is constructed from premium fabrics like wool, cotton, and rayon, H&M carried out considerable research on body scanning technologies.
• NIKE introduced its new Flyknit fabric in January 2021. This thin material was created for athletes that want top-gear performance. The fabric is made of a combination of Vectran yarns and fibres, which makes it extremely light and sturdy enough to allow athletes to move freely. Additionally, the Flyknit has a 3D design for improved control while playing sports.
• Adidas unveiled its Primeknit Technology for footwear in June 2020. For all types of athletic activities, this ground-breaking 3D knitted material offers better breathability, flexibility, and support. Additionally, the shoe has an adaptable fit mechanism that enables the user to adjust the fit to their particular foot shape.
• Uniqlo debuted its Airism clothing collection in May 2020, with its distinctive 3D mesh fabric. Three-dimensional air pockets built into the Airism fabric's design offer improved comfort and breathability. Additionally, it has exceptional sweat-wicking properties, making it perfect for athletic use.
• In April 2020, Nike unveiled its Flyleather technology, a lightweight yet robust material ideal for shoes and clothing. Flyleather mixes leather fibres with recycled polyester. In addition to being more breathable, flexible, and comfortable than regular leather, Flyleather is intended to be 25% lighter.
Three-Dimensional Fabric Market Scope
| | |
| --- | --- |
| Metrics | Details |
| Base Year | 2022 |
| Historic Data | 2020-2021 |
| Forecast Period | 2022-2030 |
| Study Period | 2020-2030 |
| Forecast Unit | Value (USD) |
| Revenue forecast in 2030 | USD 9.53 billion |
| Growth Rate | CAGR of 4.1 % during 2021-2030 |
| Segment Covered | Type, Application, Regions |
| Regions Covered | North America, Europe, Asia Pacific, South America, Middle East and Africa |
| Key Players Profiled | Teijin Limited (Japan), SGL Group (Germany), Toray Industries Inc., Mitsubishi Rayon Co., Ltd., Hyosung Corporation (South Korea), Hexcel Corporation, Owens Corning Corporation, Sefar AG (Switzerland), BASF SE (Germany), and Royal TenCate N.V. (Netherlands). |
Key Segments of the Three-Dimensional Fabrics Market
Type Overview, 2021-2031 (USD Billion)
• Glass Fiber
• Carbon Fiber
Application Overview, 2021-2031 (USD Billion)
• Transportation
• Aviation and Military
• Building and Construction
• Others
Regional Overview, 2021-2031 (USD Billion)
North America
• U.S
• Canada
Europe
• Germany
• France
• UK
• Rest of Europe
Asia Pacific
• China
• India
• Japan
• Rest of Asia Pacific
South America
• Mexico
• Brazil
• Rest of South America
• Middle East and South Africa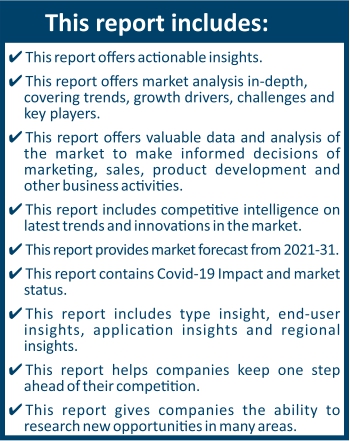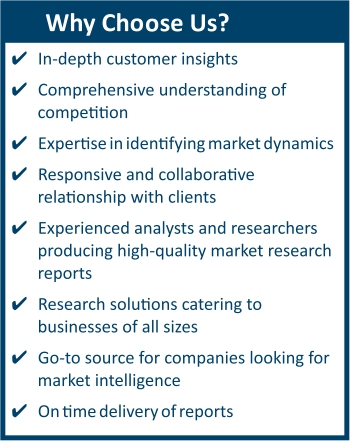 Frequently Asked Questions (FAQ) :
Three-Dimensional Fabric Market is projected to reach USD 9.53 billion by 2031, growing at a CAGR of 4.1%