The global lightweight materials market accounted for a market revenue of USD 141.2 billion and is projected to grow at a CAGR of more than 6.5% over the forecast period. Many automakers are switching towards products that reduce vehicles' weight because of the increased awareness about fuel emissions, which is also expected to drive the global market. In the lightweight materials market, increasing automobile industry and increasing vehicle modernisation are the main driving forces.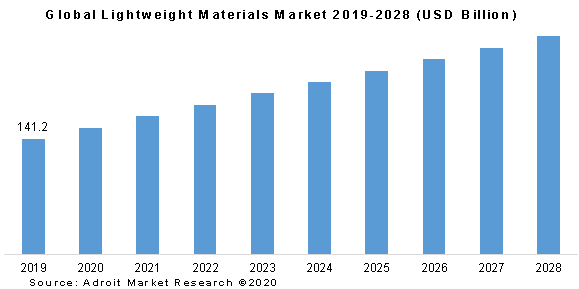 The focus of lightweight materials is to significantly reduce lightweight and heavy-duty weights without compromising other attributes such as cost performance. The use of materials like advanced high-performance steels and aluminium alloys allows vehicle weight reduction. In the long run, weight savings can be further increased by the application of magnesium alloys and carbon fibre composites.
Key segments across lightweight materials market
Material Type Overview, 2019-2028, (USD Billion)

Metals & Alloys

High strength steel
Aluminum
Magnesium
Titanium
Others (Beryllium, etc.)

Composites

Carbon Fiber Reinforced
Glass Fiber Reinforced

Plastics

Polycarbonate
Polypropylene
Others (Polyamide etc.)

Others

Application Overview, 2019-2028, (USD Billion)

Aerospace and Defense
Automotive
Energy Sector
Electronic and Electrical industry
Construction Industry
Consumer Goods

Regional Overview, 2019-2028, (USD Billion)
North America
Europe

Germany
UK
Rest of Europe

Asia Pacific

China
India
Japan
Rest of Asia-Pacific

South America

Brazil
Rest of South America

Middle East & Africa

Saudi Arabia
Rest of Middle East & Africa
Reasons for the study
The purpose of the study is to give an exhaustive outlook of the global lightweight materials. Benchmark yourself against the rest of the market.
Be prepared for how metal industry investments and lightweight materials will be impacted by socio-political and economic factors over the next few years
Ensure you remain competitive as new innovations by existing key players boost the market.
What does the report include?
The study on the global lightweight materials includes qualitative factors such as drivers, restraints, and opportunities.
The study covers the competitive landscape of existing/prospective players in the industry and their strategic initiatives for the development
The study covers a qualitative and quantitative analysis of the market segmented on the basis of derivative and application. Moreover, the study provides similar information for the key geographies.
Actual market sizes and forecasts have been provided for all the above-mentioned segments.
Who should buy this report?
This study is suitable for industry participants and stakeholders in the global lightweight materials. The report will benefit:
Every stakeholder involved in manufacturing and distributing components or solutions.
Managers within financial institutions looking to publish recent and forecasted statistics pertaining to the global lightweight materials.
Government organizations, regulatory authorities, policymakers and financial organizations looking for T&D investment trends in global lightweight materials.
Analysts, researchers, educators, strategy managers, and academic institutions looking for insights into the market to determine future strategies
The possibility of component weight reductions by more than 60% is offered by carbon-based enhanced polymer composites, but considerable technical and cost barriers have to be found in the introduction of vehicles. With the lowest density of all structural metals, magnesium (Mg) alloys are able to reduce the weight of components by more than 60%. Significant technical obstacles however limit the use of Mg by weight to about 1% of the average vehicle. In the light metal structural spectrum, aluminium (Al) alloys constitute a midfield. Despite the years of developments in the aerospace, building and automotive industries, alloys and processing systems have become well developed and well-understood
In terms of material the global lightweight materials market is segmented into metal & alloys, composites, and plastics. Metals and alloys is further segmented into high strength steel, aluminium, magnesium, titanium, others. Composites are segmented into carbon fiber reinforced and glass fiber reinforced. Plastic is divided in polycarbonate, polypropylene, and others. Similarly, in terms of application, the market divided into aerospace and defense, automotive, energy sector, electronic and electrical industry, construction industry, and consumer goods.
In terms of geography, the global Lightweight Materials is segmented into North America, Europe, Asia Pacific, South America, and Middle East & Africa. America is the world's leading electric car industry and manufactures some of today's most advanced PEVs. However, Asia Pacific is projected to dominate the global demand of lightweight materials market over the forecast period.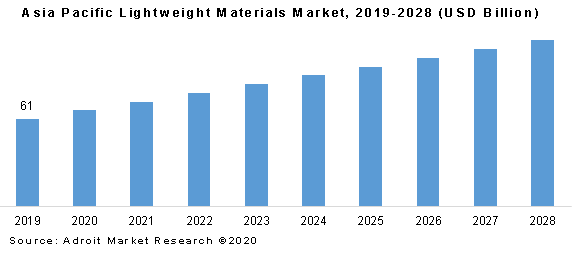 Key players include Toray Industries Inc., Evonik Industries, PPG Industries, Inc., Aleris International, Thyssenkrupp AG, Hexcel Corporation, ArcelorMittal SA, Formosa Plastics Group, Titanium Metals Corporation, Cytec Solvay Group, Bayer AG, SABIC, Allegheny Technologies Incorporated, Alcoa Inc., Precision Castparts Corp., and Novelis Inc.