The global heavy-duty truck market generated a considerable market revenue of USD 171.5 Billion in the year 2018 and is projected to grow at a CAGR of more than 4.0% over the forecast period. The rising number of infrastructure developments and the rise in the demand from the trading and logistics sectors all over the world coupled with a flourishing e-commerce industry, is anticipated to increase the appeal for the heavy-duty trucks during the given time frame.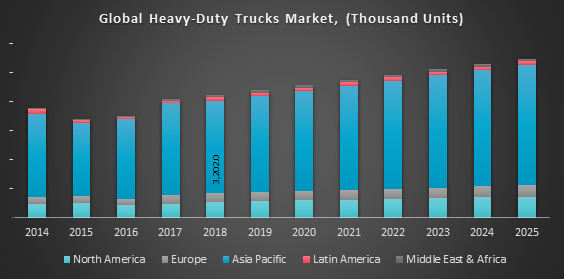 Heavy-duty trucks find multiple applications from construction, logistics, mining, and various other applications. The major factor driving this market is the rising need for fuel-efficient trucks coupled with strict laws & regulations related to carbon footprint as well as emission are contributing to the development of highly competent heavy-duty truck industry growth. Growing inclination towards high freight capability, consistent, heavy-duty components, and greater ground clearance promote the demand for heavy-duty trucks in trading and logistics sectors. Furthermore, increasing buying power for huge fleet utilization is influencing the target market in a positive way. The arrival of economized engines along with turbochargers and growing acceptance of hybrid vehicle drivetrains have considerably improved the appeal for such heavy-duty trucks.
Governing authorities such as the U.S. Environmental Protection Agency (EPA), European Union, the U.S. National Highway Traffic Safety Administration (NHTSA), and the California Air Resources Board (CARB) sanction several acts and regulations related to truck emission criteria. For instance, the U.S. National Highway Traffic Safety Administration has set the new standards for fuel economy for heavy-duty truck engines driven by diesel, natural gas and substitute fuels. Besides, governing authorities are more focused to reduce the dependency on conventional fuels for driving heavy-duty trucks, thus permitting global market players to invest in other substitute fuel.
Heavy-Duty Trucks Market Scope
| | |
| --- | --- |
| Metrics | Details |
| Base Year | 2019 |
| Historic Data | 2017-2018 |
| Forecast Period | 2020-2025 |
| Study Period | 2015-2025 |
| Forecast Unit | Value (USD) |
| Revenue forecast in 2025 | USD 171.5 Billion |
| Growth Rate | CAGR of 4.0% during 2021-2028 |
| Segment Covered | Type,Application, Regions |
| Regions Covered | North America, Europe, Asia Pacific, Rest of the World |
| Key Players Profiled | FAW Group Corporation, Daimler Trucks, Mack Trucks, Iveco, Scania, Volvo Trucks, PACCAR, Ashok Leyland, MAN Trucks & Bus, and Tata Motors. |
Key segments of the global Heavy-Duty Trucks market
Type Overview, 2015-2026 (USD Billion) (Thousand Units)
Self-Managed Fleet
Non Self-Managed Fleet
Application Overview, 2015-2026 (USD Billion) (Thousand Units)
Construction
Mining
Agriculture
Others
Regional Overview, 2015-2026 (USD Billion) (Thousand Units)
North America

U.S.

Canada

Rest of North America

Europe

UK

Germany

Rest of Europe

Asia-Pacific

India

China

Rest of Asia-Pacific

Rest of the World
Reasons for the study
Increasing demand for the heavy-duty trucks from construction and mining applications.
Asia Pacific offers a broad scope for market expansion and is the major market revenue generator depicting fastest growth, followed by Europe and North America.
Growing demand for heavy-duty trucks in the logistic industry. Changes in the logistics landscape will affect today's customer structure of truck & trailer OEMs – Further growth of large fleets expected.
Moreover, new players and business models will evolve as the transport industry continues to change towards a digital platform ecosystem.
The evolution of digital technologies and culture will create new use cases, for instance, in the context of advanced truck telematics platforms. Likewise, AI-based optimization methods drive down congestion, low utilization and costs.
What does the report include?
The global heavy-duty trucks market include revenues in USD Billion and volume in Thousand Units for the period ranging 2015 to 2025.
The report encompasses market drivers, market restraints, and market opportunity for the heavy-duty trucks over the forecast period.
The report also discuss about the upcoming technological advancement in heavy-duty trucks industry.
Porters Five Forces, value chain, and PESTLE analysis has also been included in this report.
Global revenue and volume for type and application has been covered for key geographies mentioned in the table of contents.
Who should you buy this report?
The report is appropriate for players that are currently functioning in the market and also for those who are looking to integrate their operations into this market.
This study meets the needs for various parties including government and non-government associations, consultants, analysts, researchers and academicians.
Moreover, the study can also help new entrants take informed decisions about venturing into the market.
As per Adroit market research analysis, global heavy-duty trucks are likely to experience potentially disruptive revolutionary changes in the near future. As electric vehicle technology progresses, the global market players will introduce robust heavy-duty trucks to maintain their global presence in the industry. In June 2019, at a conference on electric vehicles in Portland, market leaders conferred the potential for truck manufacturers to shift diesel-powered trucks to the electric one, which will drive 200 to 300 miles on a single charge. To meet the requirement, Daimler Trucks North America LLC, formerly known as Freightliner Corporation has started the planning for this shift in the heavy-duty trucks by launching electric truck models; eCascadia and eM2 electric trucks, which was launched in June 2018. The company intended to manufacture them at its Portland factory by 2021.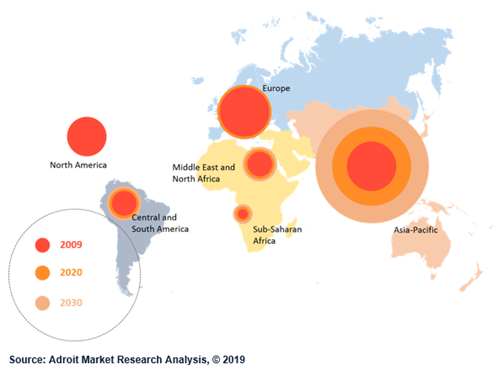 Key players operating in the market are also involved in cutting-edge testing programs to develop new advanced series of heavy-duty trucks for confirming enhanced vehicle performance in climatic conditions and diversified highway. For instance, in June 2018, Freightliner Corporation introduced a trial and development program for its new truck model in Australia. This assessment program was a part of the right-hand drive test program in New Zealand and Australia, thus posing a positive stance for the global heavy-duty trucks market share in the given time frame.
There are some organizations that have fleet assets that are completely essential to their industry and are capable enough to spend in new systems, technologies, people and developments to permit them to accomplish their fleets' assets with a huge success, these are known as outsourced fleet management. In addition, some organizations have a lesser footprint that is able to manage their assets by influencing local relationships. These kind of organizations are managed by themselves, known as self-managed Fleet.
The fleet management system that provides various services and working as a separate agency, is known as non-self-managed fleets.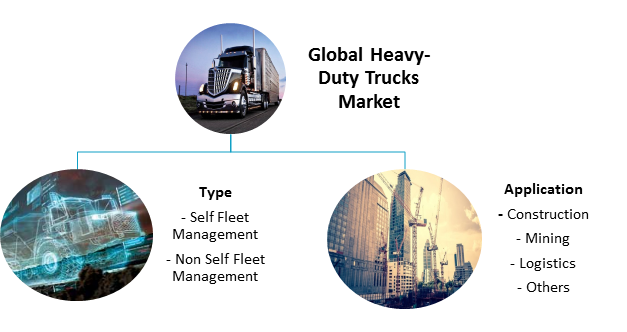 The self-management fleet segment is projected to attain the highest market share value in the coming years. The growth is primarily attributed towards its multiple advantages over non-self-fleet management systems such as reduction in fuel expenses, less severe braking incidents, less engine wasting time, reduced overtime, and better efficiency. Thereby, it is expected to gain a high growth rate in the near future.
The construction sector is anticipated to attain the highest market share value during the forecast period owing to the huge scope market resulted from the growing construction activities across the world. According to the Statista Research Department, the U.S. is one of the largest construction markets, with a spending of reaching over USD 1,231 Billion in 2018.
The global heavy-duty trucks market finds its market scope in North America, Europe, Asia Pacific, Central & South America, and Middle East & Africa. The robust industrial growth in emerging economies such as China and India is propelling the industry growth at a fast pace. The growth is mainly attributed to the growing demand for consumer goods on the account of increasing population, rapid urbanization and widespread infrastructure development in this region.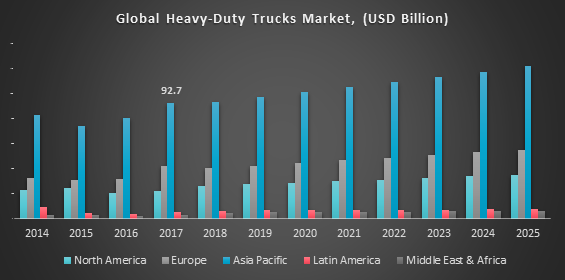 In Europe, Germany is recognized as the logistics hub owing to the huge industrialization and commercial activities. Likewise, the Middle East and South America will act as a growth engine in the global market due to increasing trading and commerce activities. With the growing demand, many countries are spending in the mining activities in South America and Africa region due to the rising consumption of metals and minerals such as shale gas, copper, iron, and limestone. In turn, the heavy-duty trucks demand is expected to surge in the coming years.
North America is anticipated to attain significant growth in the given time frame due to the strong presence of the leading global players such as Kenworth, International Harvester Company, Freightliner Trucks, Peterbilt Motors Company, and Mack Trucks, Inc. Augmented industrial, construction, and manufacturing activities alongside higher prevalence of truck service provider are further expanding the North America heavy-duty trucks market over the forecast period.
Key players in this industry include FAW Group Corporation, Daimler Trucks, Mack Trucks, Iveco, Scania, Volvo Trucks, PACCAR, Ashok Leyland, MAN Trucks & Bus, and Tata Motors.