Market Analysis and Insights
The global market for smart water management was valued at US$ 14.8 billion in 2021 and is anticipated to increase at a CAGR of 14.5% from 2021 to 2031 to reach US$ 53.9 billion.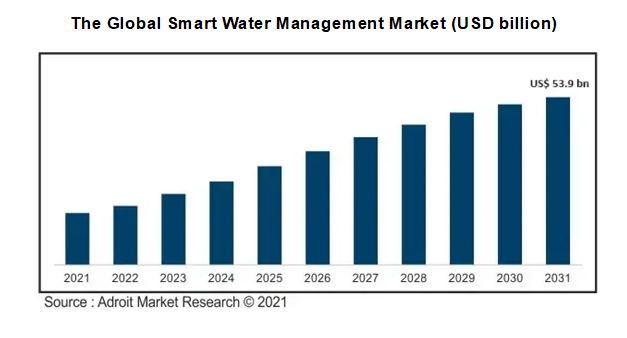 Smart water management is the practice of using contemporary technologies to supplement traditional water delivery methods. A lot of manufacturing and synthetic-based businesses are also embracing smart water management to cut down on water waste and maximize energy utilization. Management solutions also advocate the use of data and associated innovations to address various water management concerns.
Smart Water Management Market Scope :
| | |
| --- | --- |
| Metrics | Details |
| Base Year | 2021 |
| Historic Data | 2020-2021 |
| Forecast Period | 2022-2031 |
| Study Period | 2021-2031 |
| Forecast Unit | Value (USD) |
| Revenue forecast in 2030 | US$ 53.9 billion |
| Growth Rate | CAGR of 14.5% during 2021-2031 |
| Segment Covered | By Keys, By Components, By Application, Regions |
| Regions Covered | North America, Europe, Asia Pacific, South America, Middle East and Africa |
| Key Players Profiled | Honeywell International Inc., ABB Ltd., Badger Meter, Itron, Landis+Gyr, Neptune Technology, Hydropoint, IBM Corporation, Oracle Corporation, Suez, Takadu, Trimble Inc., Schneider Electric SE, Siemens AG, Xenius, Ayyeka, and Ketos. |
Market Definition
The term ""Smart Water Management"" (SWM) refers to the use of cutting-edge tools, data analytics, and creative approaches to manage water systems and resources effectively and intelligently.
Optimizing water consumption, conserving water, reducing waste, and enhancing the sustainability of the water system are the main goals of smart water management.
In order to gather real-time information regarding water supply, distribution, consumption, and quality, this method makes use of a variety of technologies, including sensors, Internet of Things (IoT) gadgets, data analytics platforms, and automation.
In order to understand how people use water, spot possible problems like leaks or inefficiency, and make well-informed decisions, data gathered from these devices is analyzed. collecting accurate and current data by using sensors and IoT devices to continually monitor water infrastructure, including water flow, pressure, and quality.
Using data analytics tools to analyze the gathered data, produce useful insights, and enable the use of evidence-based decision-making. Utilizing data-driven techniques to quickly discover and identify water distribution network leaks, minimizing water loss and resource usage.
Smart water management has a variety of advantages, such as less water being wasted, cheaper operating costs, higher system efficiency, better water quality, and more effective conservation initiatives. Additionally, smart water management is essential for resolving water scarcity and maintaining sustainable water resource management in the face of a growing population and environmental issues.
Key Market Segmentation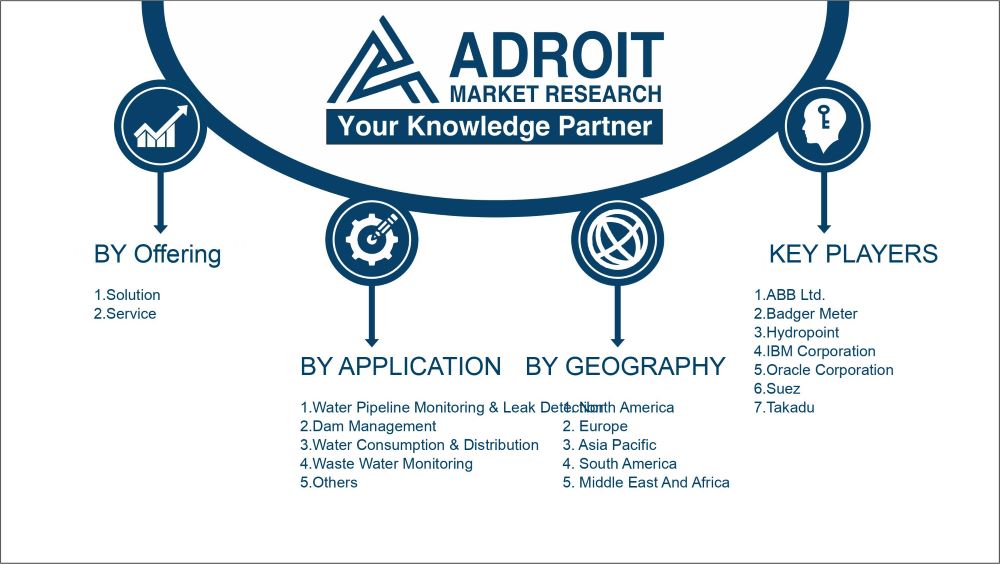 Insights on Offering
The Solution Segment Valued for the Highest Share
Due to its capacity to raise the operational efficiency of the whole water network even with minimal infrastructure investment, the solution segment commands the biggest market share for smart water management over the projection period. However, due to rising urbanization and the quick adoption of cutting-edge technology for the development of innovative smart services, the service category is anticipated to grow at the greatest pace throughout the projection period. These are the main variables that affect the market for smart water management systems.
Insights on Application
The Commercial Segment Valued for the Highest Share
In terms of application, the commercial and industrial sector is anticipated to account for the largest share of revenues in the smart water management market in 2021 and is anticipated to hold onto its leadership throughout the anticipated period. Water supply and distribution are directly managed by the government sector in both developing and wealthy nations' local authorities.
Insights on Region
The North American Region Accounted for the Highest Share
North America held a dominant regional position in the smart water management market share in 2021 and is anticipated to maintain that position throughout the forecast period as a result of rising demand for sustainable energy solutions and stringent government regulations in several of the region's nations. However, the Asia-Pacific region is anticipated to see considerable development over the course of the projection period due to an increase in the usage of smart grid solutions, a spike in urbanization, agricultural production, the use of technology in the utility sector, and the deployment of smart solutions for improved water management.
Key Company Profiles
Some key players in the global market are Honeywell International Inc., ABB Ltd., Badger Meter, Itron, Landis+Gyr, Neptune Technology, Hydropoint, IBM Corporation, Oracle Corporation, Suez, Takadu, Trimble Inc., Schneider Electric SE, Siemens AG, Xenius, Ayyeka, and Ketos.
COVID-19 Impact and Market Status
Global supply chains were disrupted by the pandemic, which had an impact on the production and delivery of components and technology for smart water management.
Timelines and installations for projects may have been impacted by delays in the fabrication and delivery of equipment and sensors. Many businesses, municipalities, and governments cut spending during the epidemic and delayed or canceled investments in new smart water management initiatives. This may have delayed the market's expansion.
Governments and organizations changed their focus during the epidemic to acute health and safety issues. Therefore, it's possible that more essential demands took precedence over programmes involving efficient water management.
Water usage patterns may have changed as a result of many individuals remaining at home and enterprises functioning at reduced capacity during lockdowns. The accuracy of data-driven models employed in smart water management systems may have been influenced by this change in demand.
Despite the difficulties, the epidemic also boosted attempts to implement digital transformation. Organizations and utilities are becoming more aware of the value of remote monitoring and data-driven decision-making, which might increase interest in smart water management systems.
Latest Trends
1. Smart water management systems are increasingly using artificial intelligence (AI) and advanced data analytics approaches. With the use of these technologies, utilities, and municipalities can evaluate massive volumes of data from sensors, meters, and other sources in order to forecast demand, spot abnormalities, and improve water distribution systems.
2. Water infrastructure was progressively incorporating IoT devices and sensors to track different characteristics including water flow, pressure, quality, and leak detection. Real-time data gathering and remote monitoring made possible by IoT allow for effective water management and rapid problem-solving.
3. To improve transparency, traceability, and accountability in water transactions, blockchain technology was being investigated for use in water management. For agricultural applications, cutting-edge smart water management systems were being created, optimizing irrigation schedules based on current meteorological information, soil moisture levels, and crop water requirements. This increases agricultural yields and aids in water conservation.
4. Water utilities might forecast equipment breakdowns and schedule maintenance in advance thanks to the growing popularity of predictive maintenance technologies. This strategy contributes to lowering downtime, lowering maintenance expenses, and raising the overall dependability of water infrastructure.
Significant Growth Factors
Water shortage and stress have developed in many areas due to the growing global population, urbanization, and industry. Technologies for smart water management provide effective methods for managing water resources, streamlining delivery, and conserving water.
The development of smart water management systems has been prompted by strict governmental requirements as well as environmental worries about water consumption, conservation, and quality in order to assure compliance and reduce environmental effects.
The incorporation of sensors and smart devices into water infrastructure has been made possible by the quick development of IoT technologies and data analytics capabilities. This has made it easier to gather, analyze, and make decisions using real-time data.
In many areas, deteriorating water infrastructure has caused leaks and inefficiencies, which have resulted in water losses. Modernization prospects for monitoring and controlling water networks are provided by smart water management systems, which also reduce losses and boost system efficiency.
The need for smart water management technologies that assist optimize water use and decreasing waste has surged in response to growing awareness of water conservation and sustainable practices.
Water management has been impacted by the continuing digital revolution occurring across several industries. Municipalities and utilities are adopting digital technology more and more to boost automation and efficiency.
Restraining Factors
Smart water management systems need substantial upfront expenditures in hardware, software, platforms for data analytics, and infrastructure changes, which may discourage some businesses from adopting them.
The broad implementation of smart water management technologies may be hampered by a lack of awareness and understanding of their advantages. Compatibility issues and complexity may arise when integrating smart water management technology with current water infrastructure and information systems. Concerns regarding data security and privacy might prevent the adoption of smart water management since it necessitates the gathering and processing of sensitive data.
Smart water management systems may require specialized technical know-how to develop and administer, and there may be a scarcity of qualified workers in some areas.
The fast spread of projects for smart water management may be hampered by inconsistent or restrictive rules, a lack of standardization, and policy uncertainty.
Recent Innovations in the Global Smart Water Management Market: A Snapshot
• To provide water utility customers with a centralized, integrated, and improved event/asset management solution in February 2022, Takadu teamed up with Asystom, a leader in universal smart monitoring for predictive maintenance.
• The ABB Ability Smart Solution for Wastewater was released in February 2022 by ABB. Operators of wastewater treatment plants no longer struggle to meet the highest operating standards while using the least amount of energy. This digital solution does it for them. The cutting-edge system is built on two primary pillars: digital twin and simulation technologies for predicting future operational demands, and advanced process control (APC).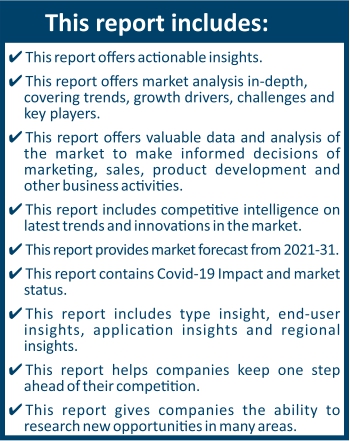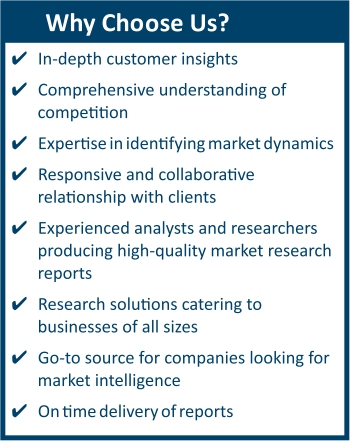 Frequently Asked Questions (FAQ) :
the smart water management market is growing at a CAGR of 12% during the forecast period.
The major contenders in the global smart water management market Honeywell Elster, IBM, Huawei Technologies, i2O Water, Oracle, Siemens, Landis+Gyr, ABB, Badger Meter, and Schneider Electric. Moreover, the other potential players in the smart water management market are Trimble Water, Sensus, Suez, Itron, and HydroPoint
The base year for the report is 2018 in smart water management market