At a compound annual growth rate of 22.7%, the size of the worldwide Synthetic Biology market is projected to reach USD 48.81 billion in 2029.
The global synthetic biology market is expected to make a total revenue of nearly USD 32.77 billion until 2028 progressing at a decent CAGR valuation of 28.5% for the projected timeline 2021-2028. The key drivers underpinning this impressive growth include increasing applications of synthetic biology across industries, growth initiatives in terms of technological development, R&D funding, dipping prices of DNA sequencing & synthesizing techniques, and government initiatives. On the flip side however, ethical concerns, growing risks of biosecurity, and instances of biosafety are consistently hampering market progression of global synthetic biology market. Furthermore, stringent regulatory standards imposed by individual governments, technical solutions addressing biosecurity in synthetic biology, and ongoing initiatives to develop advanced synthetic biology-based drugs for COVID-19 are anticipated to emerge as significant growth opportunities favoring global synthetic biology market expansion.
Synthetic biology is a rapidly growing off-shoot of science that primarily enables scientists to develop re-designed organisms for improved scientific purposes with better abilities. Researchers globally are increasingly deploying scientific biology practices to address problem areas in diverse fields such as agriculture, medicine, drug-making, and manufacturing methods. Synthetic biology is usually triggered to design, synthesize, test, and deploy antigens and variants with the ability to expedite results, improve expression, and enhance multiple capacities.
For example, developing a suite of biobased products and services. Synthetic biology applications are incorporating common engineering and biological practices under the expertise of professionals to re-design new biomolecular compounds to restructure organism engineering. Developing technologies to design and build biological organisms can also be classed under synthetic biology.
Global synthetic biology market players are committed to bringing innovation in the field and meet the ever-increasing global demand. Using AI for drug discovery, RNA based drugs, and many such areas signal the kind of innovation and competition the market has. Market participants are ceaselessly exploring these advanced technologies to remain relevant despite staggering competition in the synthetic biology market. The recent innovation in the field of synthetic biology is development of vaccines to tackle Covid-19 virus promptly.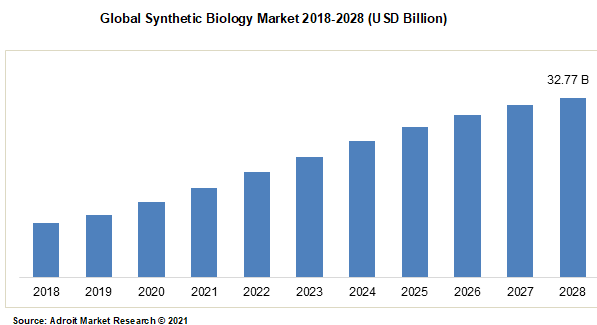 The largest public and private companies who spearheaded the synthetic biology financing rush during the historic years are Eurofins Scientific, Creative Enzymes, Synthego, Synthetic Genomics, Codexis, Twist Bioscience, GenScript, Precigen, Amyris, Ginkgo Bioworks, Novozymes, Agilent, Merck KGaA, and Thermo Fisher. These companies have made a valuable contribution in accelerating and scaling the synthetic biology field thereby boosting the global synthetic biology market. These market players are advancing drug discovery and attracting the biopharma giants among their collaboration partners, maintaining a dominant position in the market.
Synthetic Biology Market Scope
| | |
| --- | --- |
| Metrics | Details |
| Base Year | 2021 |
| Historic Data | 2019-2020 |
| Forecast Period | 2022-2029 |
| Study Period | 2019-2029 |
| Forecast Unit | Value (USD) |
| Revenue forecast in 2029 | USD 48.81 billion |
| Growth Rate | CAGR of 22.7% during 2021-2029 |
| Segment Covered | Tool, Application, Regions |
| Regions Covered | North America, Europe, Asia Pacific, South America, Middle East and Africa |
| Key Players Profiled | Thermo Fisher Scientific Inc. (U.S), Merck KGaA (Germany), Agilent Technologies, Inc. (U.S), Novozymes (Denmark), Ginkgo Bioworks (U.S), Amyris (U.S), Precigen Inc. (U.S), GenScript (China), Twist Bioscience (U.S), Synthetic Genomics (U.S), Codexis Inc. (U.S), Synthego (U.S), Creative Enzymes (U.S), Eurofins Scientific (Luxembourg), Cyrus Biotechnology Inc. (U.S), ATUM (U.S), TeselaGen (U.S), Arzeda (U.S), Integrated DNA Technologies Inc. (U.S), New England Biolabs (U.S) |
Key Segments of the Global Synthetic Biology Market
Tools Overview, 2018-2028 (USD Billion)
Oligonucleotides
Enzymes
Synthetic Cells
Technology Overview, 2018-2028 (USD Billion)
Gene Synthesis
Genome Engineering
Application Overview, 2018-2028 (USD Billion)
Tissue Regeneration
Biofuel
Consumer Care
Food & Agriculture
Environmental
Regional Overview, 2018-2028 (USD Billion)
North America
Europe
Germany
UK
France
Rest of Europe
Asia Pacific
China
Japan
India
Rest of Asia-Pacific
South America
Brazil
Mexico
Rest of South America
Middle East and Africa
Reasons for the study
The research study is put forward for a better understanding of the market players operating in the global synthetic biology market.
Latest challenges and opportunities in the field are discussed in the report which helps you make well-informed decisions and navigate well through the market.
To ensure you maintain the competitiveness.
This study presents a comprehensive outlook of the market focusing on all the forces having a major influence on the market. This makes the market entities abreast with knowledge about the market at one place.
What does the report include?
Financial information about the market such as market size, CAGR, GDP based on all the segments mentioned above and other financial details essential for the market players.
2020 Rankings of public and private companies are disclosed based on their revenue, collaborations, R&D activity, and market capitalization. Each company listed in the study also contains short explanation of their recent activities.
Significant events taken place in the market in recent months in the context of technology, policies, and collaborations.
The research studies the market by bifurcating it into tools, technologies, application, and region so as to give detailed insights on the niche markets and underlying opportunities.
Who should buy this report?
The report is specially intended for the researchers, scientists, public & private firms, and investors looking to capture valuable opportunities in the market.
The global synthetic biology market is intended for all the players across the supply chain including raw material providers, manufacturers, distributors, and other entities across the supply chain.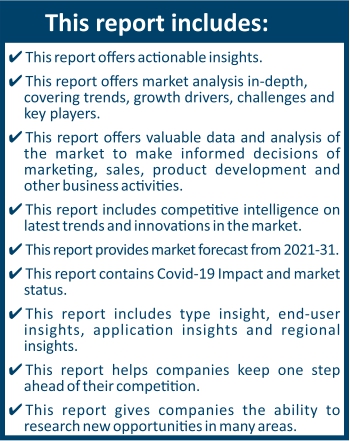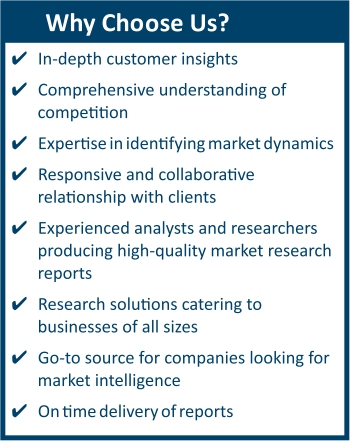 Frequently Asked Questions (FAQ) :
The application of the synthetic biology market tissue regeneration, biofuel, consumer care, food & agriculture, environmental
The market value of synthetic biology market in 2028 was USD 32.77 billion
The major contenders in the global market are Eurofins Scientific, Creative Enzymes, Synthego, Synthetic Genomics, Codexis, Twist Bioscience, GenScript, Precigen, Amyris, Ginkgo Bioworks, Novozymes, Agilent, Merck KGaA, and Thermo Fisher.
The growing focus on creating new life forms, products, or devices with extraordinary properties to purely meet human needs is the key reason driving the demand for synthetic biology solutions. Synthetic biology incorporated solutions are becoming primary for therapeutics including drug-target identification, drug-discovery platform, drug development, therapeutic treatment, etc. Need for deploying novel biological systems has gradually shaped large scale adoption of synthetic biology.
Synthetic biology is an efficient platform for the scientists, researchers, and all the entities involved for bring biological innovations and serve mankind. The growing focus of all the firms including upcoming, new-entrants, and well-established public and private firms implement technology enabled methods for introducing new solutions in the market. Also, synthetic biology solutions enable biological innovations in a more advanced form. An increasing number of companies are investing in this field to meet the ever-increasing demand of people offering numerous benefits through their product or service to the people.
Tools Segment
Depending upon the tools segment, the market is bifurcated into three key categories namely oligonucleotides, enzymes, and synthetic cells. In the previous years, the oligonucleotides segments gathered larger share than the other two segments and is expected to boost more in the forecasted years. The key factors fueling the growth of the oligonucleotides segment include rising demand for synthetic DNA & RNA, and synthetic genes.
Technology Type Segment
Depending upon the technology segment, the market is classified into two key categories namely gene synthesis and genome engineering. The technology gene synthesis segment incurred the lion's share of the market revenues in the global synthetic biology market. This impressive growth of the segment can be attributed to advantages offered by gene synthesis over traditional gene cloning methods.
Applications Segment
Depending upon the applications segment, the market is bifurcated into several important categories namely tissue regeneration, biofuel, consumer care, food & agriculture, and environmental. The tissue regeneration segment received more revenue in the historic years as healthcare is one of the largest booming fields in the market today. This growth has led to factors like invention of new treatment methods coupled with huge funding from public and private firms, and other.
The North American region witnessed major growth and is expected to capture good growth in the forecasted years as well. This is due to the presence of well-established research and development firms, high disposable incomes, and research studies undertaken at a huge level in this region. Also, APAC and MEA gathered considerable market returns in the synthetic biology market due to rising demand for synthetic biology tools and technologies, presence of research institutions, and academic institutions promoting research and development in this field in the regions.