The global remote patient monitoring market is estimated to reach USD 1.9 billion mark by 2026, growing at a CAGR of 12.7% during the forecast period from 2020 to 2026. The role of remote patient monitoring systems in monitoring and management of chronic diseases is proven and well-established. The introduction of novel systems with alert systems and tracking has made the position of remote monitors more vital in the field of healthcare. As the global geriatric population base is increasing consistently, it is anticipated that the pool of non-communicable disease patients will also increase in-tow. Favorable government initiatives and support programs will assist the growth of this market. Furthermore, it is also witnessed that in order to reduce the duration of hospital stays, patients are either moved to post-acute care centers or home care. In such cases, remote monitoring devices have become incumbent for ensuring optimum self-health management.
Management of chronic and non-communicable diseases form over 75% of the healthcare expenditure, with conditions such as cardiovascular diseases, diabetes, and obesity topping the charts. Healthcare services providers are leveraging the power of remote monitoring for collecting vital patient statistics for ensuring prompt services through tools such as telemedicine as well as to make quick and appropriate treatment plan. Such streamlining in healthcare through remote patient monitoring allows healthcare personnel early intervention even before the patient experiences life-threatening complications.
Elective wellness is becoming the most popular trend among consumers, as more and more individuals are becoming health conscious and are believing in preventive healthcare. Fitness trackers and heart rate monitors form among the most prominent form of remote care devices which have surpassed the barrier of being used only for clinical purposes. The senescent population is also contributing to the growing demand for remote patient monitoring systems, as this set of population is highly vulnerable to develop chronic illnesses and their age challenges them in terms of care access.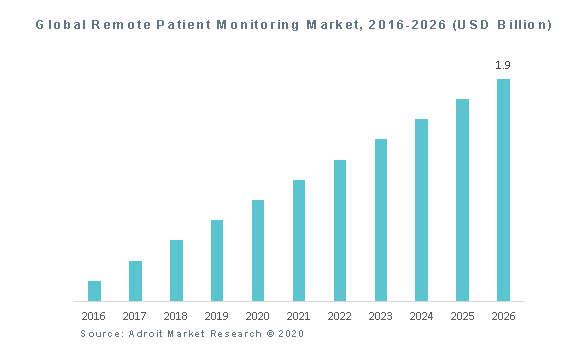 Some most prominent players in the global remote patient monitoring market are Nihon Kohden Corporation, Omron Corporation, Koninklijke Philips N.V., Shenzhen Mindray Bio-Medical Electronics Co., Ltd., OSI Systems, Inc., Welch Allyn, F. Hoffmann-La Roche Ltd., Smiths Medical, ALTEN Calsoft Labs, Abbott, Boston Scientific Corporation, American TeleCare, Dräger Medical, Honeywell Life Care Solutions, GE Healthcare, Johnson & Johnson Services, Inc., Masimo, Medtronic Plc and LifeWatch among others.
Key Segments of the Global Remote Patient Monitoring Market
Product Overview, 2016-2026 (USD Million)
Vital Signs Monitors

Heart Rate Monitors
Blood Pressure Monitors
Pulse Oximeters
Respiratory Rate Monitors
EEG Equipment
Temperature Monitors

Special Monitors

Blood Glucose Monitors
Anesthesia Monitors
Cardiac Rhythm Monitors
Respiratory Monitors (Spirometers & Capnographs)
Prothrombin Monitors
Multiparameter Monitors
Fetal Heart Monitors
Others
Application Overview, 2016-2026 (USD Million)
Cardiovascular Diseases
Diabetes
Sleep Disorders
Weight Management and Fitness Monitoring
Cancer
Others
Usage Area Overview, 2016-2026 (USD Million)
Institutional Care
Home Care
Regional Overview, 2016-2026 (USD Million)
North America
Europe

Germany
United Kingdom
France
Rest of Europe

Asia Pacific

China
Japan
India
Rest of Asia Pacific

Latin America

Brazil
Mexico
Rest of Latin America

Middle East & Africa
Reasons for the study
Increasing activities in terms of R&D efforts enabling more user-friendly and affordable devices
Growing penetration n opportunities for international players in Asia Pacific market
Growing pool of geriatric population, vulnerable to non-communicable, chronic diseases
Increasing preference of patients towards home-care to retain independence and reduce the cost of healthcare
and new establishments in Asia Pacific and Latin America
What does the report include?
The study on the global remote patient monitoring market includes qualitative insights such as drivers, restraints, challenges and opportunities
Additionally, the market has been evaluated using the Porter's five forces analysis
The study covers qualitative and quantitative analysis of the market segmented on the basis of component, deployment mode and function. Moreover, the study on remote patient monitoring market provides similar information for the key geographies.
Actual market sizes and forecasts have been provided for all the above-mentioned segments
The study includes the profiles of key players operating in the market with a significant global and/or regional presence
Who should buy this report?
The report on the global remote patient monitoring market is suitable for all the players across the value chain including component, sensor and raw material providers, medical device manufacturers, distributors, and other intermediaries
Venture capitalists and investors looking for more information on the future outlook of the global remote patient monitoring market
Consultants, analysts, researchers, and academicians looking for insights shaping the global remote patient monitoring market
The technology of remote patient monitoring relied of dependable and secure networks and internet connection for transferring patient data from implants, and other devices to user interfaces. For many devices including the sophisticated continuous glucose monitors, the patients and care givers can have real time access to patient data through apps. This assists and empowers the patients to take the onus of their own health and allow healthcare personnel to devise an appropriate treatment plan and detect potential issues before emergencies.
Without reliable internet connections or networks, patients data cannot be efficiently and seamlessly transmitted, which means that the patients will need to manually alert the healthcare providers. Therefore, penetration of remote patient monitoring devices still remains a major challenge in rural and remote locations where the use of apps, internet and other connections is limited. Additionally, cybersecurity is also another prime concern for healthcare providers. The providers should adhere to HIPAA regulations for access and transmission of patient data.
Among the different vital signs monitors and specialty monitors, heart rate monitors is high, and the trend shall continue through the forecast period. Heart rate monitors are identified as prominent segment due to the growing patient pool for cardiovascular diseases. The growth in the number of patients with heart diseases has therefore led to high adoption of heart rate monitors in the global market. The market share of special monitors is also significantly high despite their moderate volume because of their high prices and sophisticated technologies. These devices and systems are capable of monitoring critical clinical data pre- and post- surgical intervention, and prevent complications or emergencies through prompt identification of symptoms. Based on applications, cardiovascular diseases segment occupies the largest market share in the base year 2019.
Between institutional and home care segments, institutional care segments takes the larger revenue share in the global market. High patient footfall and greater purchasing power of institutions enables the prominent position of this segment. Additionally, the home care segment is anticipated to garner rapid growth during the forecast period.
Based on regional demarcation, the global remote patient monitoring market is segmented into North America, Europe, Asia Pacific, Latin America and Middle East & Africa. Among these region, North America led the global market in terms of both revenue and volume. Large pool of geriatric population, significantly high prevalence of chronic diseases, and demand for portable and wireless devices both among patients and care givers, along with greater purchasing power makes North America the largest market for remote patient monitoring devices. Moreover, the region also houses some of the largest market players, therefore giving early bird advantage to North America. Asia Pacific shall be witnessing the fastest growth during the forecast period. The region stores several untapped opportunities for market players in terms of both ready to adopt patients, as well as growing awareness in the consumers. Furthermore, increasing disposable incomes and healthcare expenditure in this region also enables potential growth in opportunity in Asia Pacific market.