The major growth force for the world fitness tracker market is rising awareness of the need of staying active and healthy across various demographic segments. Other reasons such as increased disposable income across various demographic segments and growing population suffering from insomnia disorders are projected to boost the fitness tracker market in the future.
At a compound annual growth rate of 18.9%, the size of the worldwide Fitness Tracker market is projected to reach USD 138.7 billion in 2028.
Covid-19 Impact & Market Status
During the COVID 19 epidemic, there was an increase in demand for fitness tracker goods due to the widespread use and use of these devices to measure pulse rate and blood oxygen levels in the blood. The leading players in this market have expanded their research and innovation operations in the fitness tracker segment as a consequence of the rising popularity. Moreover, the need for such fitness trackers is growing since they can help spot Covid-19 instances ahead of time. Smartwatches like Apple, Gramin, and Fitbit, for example, assist detect Covid-19 instances among asymptomatic patients, according to a study done at Stanford University in California in 2021. Rising health awareness, rising incidence of cardiovascular problems (CVD) and obesity, increased internet and smartphone penetration, and other reasons are all contributing to the market's rise.
Many individuals are concerned about their health and participate with physical activities such as jogging, walking, cycling, and other leisure pursuits. Cardiovascular activity has been found to help prevent and treat noncommunicable illnesses like stroke, diabetes, heart disease and a variety of cancers. It also helps with hypertension prevention, maintaining a good body weight, and mental healthcare, quality of life, and general well-being.
Smartwatch Is To Propel The Fitness Tracker Market Growth
Because of the increasing demand for smartwatches, the smartwatch sector led the market in 2022, accounting for almost 48 percent of total sales. In the next years, constant product advancements in respect of features and functionalities will fuel segment expansion. Smartwatches combine fitness and health tracking with communication, acting as either a phone on the wrist thanks to smartphone alerts and calling functions.
The global market is divided among smartwatches, smart apparel, smart bands and others based on type. Due to the comparably minimal price of these devices and constant product development in terms of features including such stress and sleep monitoring, the fitness band category is predicted to grow at the quickest CAGR from 2022 to 2029.
Aside from smartwatches, the market for these gadgets is increasing since they have high-end activity monitoring functions and interactive operating systems. During the projected period, smart glasses and smart clothes are expected to grow at a high rate. Because of its evolving characteristics, the category is gaining popularity. Heartbeats, pulse rate, as well as other physical and medical parameters are monitored by sensors embedded in the fabric. Customers are increasingly adopting wearable fitness trackers as a result of the advancement of technology such as glucose monitoring. As a result, there is a huge demand for these items, moving the market forward.
Running Followed By Sports Will Gains The Highest Market Share In Fitness Tracker Market
In 2020, the running application sector had the highest share of the revenue of more than 22%. Due to increased competition and customer preferences, many of these applications are now available just on majority of fitness bands. Certain devices, such as Garmin's Forerunner and Nurvv's Nurvv Run, are expressly developed for sporting applications, including features like lap counting, Hill Divider, and goal-setting.
By 2029, sports is projected to be the second application sector. The glucose monitoring category, on the other hand, is expected to grow at the quickest rate from 2022 to 2029. The market is segmented into heart rate monitoring, sleep monitoring, cycling tracking, glucose monitoring, sports, running, and other applications. To stay competitive, major corporations concentrate on product creation and research.
Online Distribution Channel Stays Atop In Fitness Tracker Market Globally
The digital or online distribution channel segment led the global market in 2020, accounting for more than 61 percent of total revenue. The increasing use of smartphones and the internet, as well as the increasing popularity of e-commerce websites due to their high convenience and rapid service, will move the industry forward in the coming years. The offline distribution channel sector is expected to develop significantly, as it allows customers to see products before purchasing them. Furthermore, physical storefronts offer fast help from a knowledgeable crew, resulting in increased sales revenue through online distribution channel due to less customer acquisition costs.
North America Region Will Dominate The Fitness Market Growth.
Because of the increased awareness and acceptance of fitness trackers, North America will have the greatest share of the revenue of more than 42 percent in 2020. Furthermore, the regional market will be driven by rising incidences of health conditions associated to sedentary lifestyles, the introduction of novel products by leading market players, and the growing adoption of smartphones and social media in North America.
However, from 2022 to 2029, Asia Pacific is predicted to become the fastest-growing regional market, owing to the widespread use of fitness trackers and rising awareness of general fitness and health among the working-class population. Furthermore, rising consumer disposable income, simple availability of modern items from numerous brands, and increasing e-commerce adoption in Asia Pacific will all contribute to the region's growth.
In the years ahead, improvements to current fitness tracker devices, such as the incorporation of new technologies, are expected to propel the global fitness tracker market's growth. In addition, the rising incidence of various health-related illnesses such as obesity may contribute significantly to the overall fitness tracker market's rise in the approaching years.
In 2020, the global fitness tracker market valued at USD 34.6 billion and is expected to grow at a CAGR 19.5% over the forecast timeframe and value at USD 78.1 billion by 2029.
A wrist-worn or a wearable gadget that can track a variety of activities including running distance, heart rate, walking steps, sleep patterns, and swimming laps. Fitness bands communicate with a mobile device through Bluetooth, which configures the gadget and uploads the user's activity data. Most smartwatches have a health app that lets you track a variety of physical activities; however, specialist trackers prefer to evaluate extra features.
Overweight as well as the risk for heart disease are on the rise in the population. For example, according to the Health Survey of England 2019, 28 percent of working age adults are obese, with 36.2 percent being overweight. The majority of overweight or obese persons would be between the ages of 45 and 74, according to the same source. This demonstrates that becoming older raises the likelihood of obesity. Obesity, in combination with age, will raise the risk of cardiovascular disease.
Obesity causes cardiovascular risk factors such hypertension, dyslipidemia, type 2 diabetes and sleep disturbances, according to several studies, leading in a higher incidence of cardiovascular illnesses and mortality throughout the world. According to the World Health Organization, cardiovascular diseases claimed the lives of 17.9 million people worldwide in 2019, accounting for 32% of all deaths. 85 percent of the fatalities were caused by heart attacks and strokes.
As a consequence of increased health consciousness as well as the rise in prevalence of cardiovascular illnesses and obesity, consumers will use fitness monitoring devices at a faster rate, driving the market forward.
The market's expansion is mostly driven to expanding health and fitness consciousness, higher internet and smartphone penetration, and rising consumers ' disposable income levels. Activity and health awareness is increasing, particularly among younger folks and the working age population, who have been the target clients for fitness trackers. Furthermore, the Covid-19 epidemic has raised awareness of these devices dramatically. As more market competitors race in to meet the expanding demand and take a larger portion of the market, gadget development and innovation has increased.
Fitbit Inc., for example, released Sense, a sophisticated wristwatch with an skin temperature sensor, ECG monitor, stress management, sleep monitor, built-in GPS, period tracker, SpO2 levels monitor, and 20 plus workout modes in August 2020. The increasing incidence of Cardiovascular Diseases (CVDs) and obesity, as well as other health conditions linked to sedentary lifestyles, are expected to drive product demand. In 2017, around 13% of the adult population worldwide was obese, and 39 percent were overweight.
The industry is being driven by an increment in the amount of companies provides different fitness trackers at costs acceptable for all income levels. Furthermore, the development of other forms of wearable, such as smart jewellery, insoles, and apparel, is attracting a growing number of customers. Furthermore, the industry is being propelled by a growing e-commerce sector, a strong distribution network, and retail cooperation among market participants, all of which allow for worldwide access to the most recent products.
Though the use of consumer-based wearable devices in health research is still relatively young, the area is fast evolving. Several wearable technologies are making their way into healthcare settings to incorporate into wellness programmes and provide real-time monitoring data. For example, the Geisinger Orthopedic Institute started a study programme using wearable devices to capture real-time patient data to monitor and track their activities, as well as personal data. The information gathered can assist doctors and other caregivers in researching, understanding, and analysing what techniques should be used to promote rapid recovery, enhance decision-making, and achieve desired health results. Due to a rise in the use of these trackers among young people, the worldwide market is now rising at a significant rate. In addition, higher disposable income and increased spending on wearable technologies are projected to drive market expansion.
Breakthroughs in just about any market are encouraging in terms of maximising market potential and value. Because of its widespread acceptance and great salability, the fitness monitoring market has a large market value. People's fitness routines are rapidly incorporating technology. Aside from innovation, technology's simplicity of use is unparalleled. Furthermore, there is a shift in customer awareness.
Gym-goers want to know more about their progress, such as their body fat percentage and sleep quality, in addition to basic statistics like their weight. As a result, technology is changing from both the consumers' and suppliers' perspectives. For example, Apple revamped and introduced an electrocardiogram (ECG) capability to the Apple Watch Series 4 in 2018, allowing for a more detailed inspection of the device.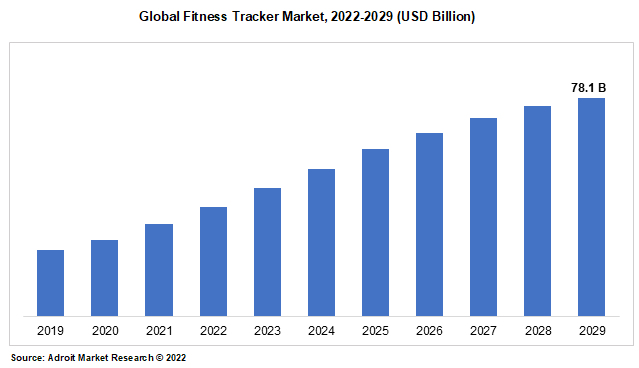 Key players operating in the global Fitness tracker market include Garmin Ltd., Beienda, Apple, Inc., Fitbit, Inc., Huami Corporation Ambiotex GmbH, Hexoskin, Nurvv, Oura Health Ltd., Huawei Technologies, Withings, and others. For example, Apple Inc. will invest 6.23 percent of its entire revenue on R&D in 2020. In 2019, Garmin Ltd. spent roughly 16.10 percent of total revenue on innovation.
The rising e-commerce industry, as well as an increasing number of businesses selling fitness trackers boasting cutting-edge technology, constant development of features delivering the greatest customer satisfaction and at costs suitable for all income levels, all contribute to market growth.
Latest Innovation in the Global Fitness Tracker Market: A snapshot
Huami Corporation has released the Amazfit BIP S, an ultra-lightweight and thin body fitness device, in India for Rs 4,999. The Amazfit Bip S has a sleep tracker, 64-color display, 5-meter water resistance, and Bluetooth audio control. It includes dual-mode GPS and GLONASS location built in, allowing users to properly track their journeys and distances. It's available on Amazon, Flipkart, Myntra, and Amazfit's own website, among other e-commerce sites.
The Fitbit Charge 4 is the company's most sophisticated health and fitness tracker, with built-in GPS, Spotify, sleep features, activity zone minutes, Fitbit pay, and more.
Fitness Tracker Market Scope
| | |
| --- | --- |
| Metrics | Details |
| Base Year | 2020 |
| Historic Data | 2018-2019 |
| Forecast Period | 2021-2028 |
| Study Period | 2018-2028 |
| Forecast Unit | Value (USD) |
| Revenue forecast in 2028 | USD 78.1 billion. |
| Growth Rate | CAGR of 19.5% during 2021-2028 |
| Segment Covered | Type, Application, Distribution Channel, Regions |
| Regions Covered | North America, Europe, Asia Pacific, South America, Middle East and South Africa |
| Key Players Profiled | Garmin Ltd., Beienda, Apple, Inc., Fitbit, Inc., Huami Corporation Ambiotex GmbH, Hexoskin, Nurvv, Oura Health Ltd., Huawei Technologies, Withings & among others. |
Key Segments of the Global Fitness Tracker Market
Type Overview, 2022-2029 (USD Billion)
Smartwatches
Smart Bands
Smart Clothings
Others
Application Overview, 2022-2029 (USD Billion)
Sleep Monitoring
Cycling Tracking
Glucose Monitoring
Heart Rate Tracking
Sports
Running
Others
Distribution Channel Overview, 2022-2029 (USD Billion)
Regional Overview, 2022-2029 (USD Billion)
North America
Europe
Germany
France
UK
Rest of Europe
Asia Pacific
China
India
Japan
Rest of Asia Pacific
South America
Mexico
Brazil
Rest of South America
Middle East and South Africa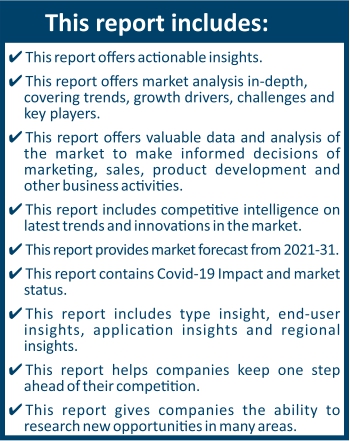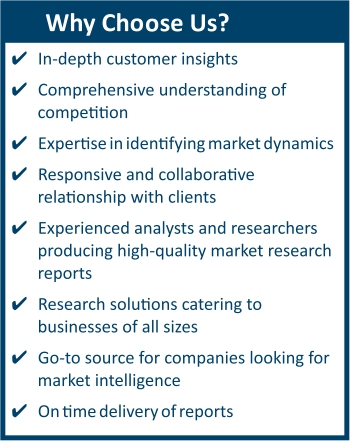 Frequently Asked Questions (FAQ) :
The market value of fitness tracker market in 2029 was USD 78.1 billion.
The fitness tracker market is growing at a CAGR of 19.5% over the forecast period.
The application of the fitness tracker market Heart Rate Tracking, Sleep Monitoring, Glucose Monitoring, Sports, Running, Cycling Tracking and other.
North America dominated the market for fitness tracker market and accounted for the largest revenue share.
The top companies that hold the market share in fitness tracker market are Garmin Ltd., Beienda, Apple, Inc., Fitbit, Inc., Huami Corporation Ambiotex GmbH, Hexoskin, Nurvv, Oura Health Ltd., Huawei Technologies, Withings & among others.