The U.S. post-acute care market was valued over USD 430.0 billion in 2020 and is expected to grow at a CAGR of 6.0% over the forecast period. Increasing elderly population within the country is expected to drive the demand for geriatric care services in coming years.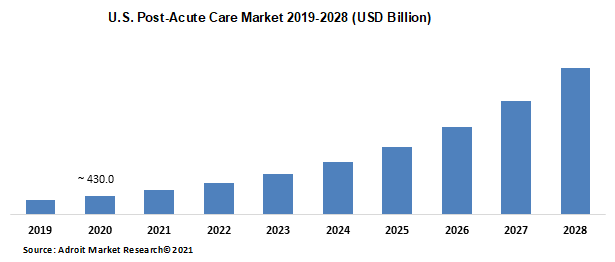 The nursing needs of the elderly community of the United States continue to be a concern for healthcare providers. In the near future, the United States is projected to see a rapid increase in its elderly population. By 2050, the cumulative number of people aged 65 and over in the United States is projected to exceed 88.5 million, owing mostly to the aging of the baby boomer generation. The rapid growth of the over 65-year-old population, especially the 75-84-year-old cohort, is expected to fuel the post-acute care market.
Chronic diseases, which are among the most common and expensive health disorders, are on the rise in the United States. About 45 percent of Americans are actually afflicted with at least one chronic illness, and the figure continues to rise.
The shift of the bulk of the population to treatment outside of hospitals and clinics is predicted to lower costs in the coming years and will be a critical component in healthcare investment in the United States. On the other hand, PAC companies have underinvested in technological (software) aspects. In the past, the landscape looked different, but that has changed in recent years. In order to accommodate large patient numbers, increased investments in the introduction of new technologies have been seen. As a result, technology companies that have solutions that help PAC caregivers strengthen care management are projected to grow in popularity in the coming years.
The post-acute care sector in the United States is set to benefit from new value-based pricing and care models. Furthermore, policymakers, suppliers, and payers are steering outcomes-based payment and service delivery strategies in the health-care industry's pursuit of high quality at reduced prices. Customer-centered medical homes and health centers, for example; this approach provides improved treatment for chronic illnesses. Furthermore, the payment bundling approach allows for a single payment for an episode of treatment and, in the end, it allows for the sharing of benefits from more forms of providing services.
Key Segments of the U.S. Post-Acute Care Market
Type Overview, 2019-2028 (USD Billion)
Skilled Nursing Facilities
Home Health
Long Term Acute Care Hospitals
Inpatient Rehabilitation Facilities
Hospice
Application Overview, 2019-2028 (USD Billion)
Regional Overview, 2019-2028 (USD Billion)
West
Southwest
Middle Atlantic
New England
South U.S.
Midwest
Reasons for the study
The purpose of the study is to give an exhaustive outlook of the U.S. post acute care market
Ensure you remain competitive as innovations by existing key players to boost the market
What does the report include?
The study on the U.S. post-acute care market includes qualitative factors such as drivers, restraints, and opportunities
The study covers a qualitative and quantitative analysis of the market segmented based on type and application. Moreover, the study provides similar information for the key geographies.
Actual market sizes and forecasts have been provided for all the above-mentioned segments.
The study covers the competitive landscape of existing/prospective players in the U.S. post-acute care industry and their strategic initiatives for product development.
Who should buy this report?
This study is suitable for industry participants and stakeholders in the U.S. post-acute care market
Product managers looking to publish recent and forecasted statistics pertaining to the U.S. post-acute care market
Government organizations, regulatory authorities, policymakers, and organizations looking for investments in trends of the U.S. post-acute care market
Analysts, researchers, educators, strategy managers, and government institutions looking for insights into the market to determine future strategies
Shift of majority of population towards care outside hospital and clinics is expected to reduce the costs in coming years and will be a vital element of healthcare spending in the U.S. PAC providers, on the other hand, have underinvested in technology (software) aspects In the past, but now the landscape has been changing in past few years. Increased investments regarding adoption of latest software has been seen in order to cater high patient volumes. As a result, technology providers that offer tools to aid PAC providers for improvement in coordination of care is expected to gain traction in coming years.
New value-based payment and care models is expected to create opportunities for post-acute care industry in United States. Moreover, health care industry's pursuit for high quality at lower cost; regulators, providers, and payers are steering outcomes based payment and care delivery models. For instance, customer-oriented medical homes and health homes; this model offers better care for chronic conditions. In addition, payment bundling model offers single payment for an episode of care and it ultimately share savings from more ways of delivering services.
Mergers & Acquisitions played an important role in consolidation of the market. ResMed's acquired Brightree for USD 800 million and was considered as Mid-Market Deal of the Year. Not only this was the 2nd largest healthcare SaaS acquisition, but the acquisition also showed how post-acute care software are becoming area of interest for software providers, strategic acquirers and private equity firms. Since 2016, post-acute care services market has been observing various mergers & acquisitions and a surge in private capital investments.
Type Segment
Based on type, the U.S. post-acute care market has been segmented into skilled nursing facilities, home health, inpatient rehabilitation facilities, long term acute care hospitals, and hospice. Skilled nursing facilities formed the largest segment in 2020, with more than 40% market share and is expected to retain its dominance by 2028. On the other hand, home health segment is expected to emerge as most lucrative segment. Home care represents a cost-effective alternative to facility-based care. The IMPACT Act is anticipated to better match patient acuity with service needs, likely resulting in augmented downstream flow of patients from SNF. Near-term reimbursement pressures are expected to abate, resulting in the normalization of operating margins. A possible increase in the minimum wage as mandated by municipal and / or state governments requires monitoring. Shift in demographic profile of the country will result in potential growth for agencies.
Long-term acute care hospitals (LTACHs) grew rapidly between 2000 and 2010 and then stagnated due to a flattening of reimbursement growth and a construction moratorium imposed by The Centers for Medicare & Medicaid Service (CMS). Long-term acute care services are for patients who require specialized treatment and ongoing care for critical illness. More than 400 long term acute care hospitals were opened in the U.S. from 1985 to 2010. Some of the prominent hospitals offering long-term acute care are Promise Hospital, Kindred Hospital, National Rehabilitation Hospital, and Whittier Hospital.
Application Segment
Based on application, the U.S. post-acute care market is categorized into child, adult, and elderly. Adult segment accounted for over 49% in 2020 and is expected to grow at a CAGR of 6.2% over the forecast period. Adults often are dependent on post-acute care facilities after hospital discharge to speed up the recovery cycle and maintain good health.
Heart diseases are most common medical conditions prevalent in the U.S. approximately 600,000 people die of cardiac arrest or procedure annually. Variety of care services are available in the U.S. depending on the condition of the patient. HHC is suggested for patients with minimal functional impairment. On the other hand, elderly population with physical limitations are offered skilled nursing facilities. The fastest growing fragment of the population are 85 and above and this class of population is most susceptible to chronic diseases. With such surge in 85 and above population, prevalence of Alzheimer's is expected to reach new highs in coming years.
The west U.S. states include Alaska, Arizona, California, Colorado, Hawaii, Idaho, Montana, Nevada, New Mexico, Oregon, Utah, Washington, Wyoming. Increasing geriatric population coupled with presence of highly populous states such as California, is expected to act as support for growing point of care serves market in the region. Additionally, high concentration of geriatric population in states such as California, New Mexico, and Arizona is anticipated to be potential markets for post-acute care in coming years. States such as New Mexico has around 41 hospitals and a population of 2.09 million as of 2018.
New England incudes of 6 states namely Vermont, Rhode Island, Connecticut, Maine, New Hampshire, and Massachusetts. According to the estimates by UMass Donahue Institute, the population in Massachusetts will increase by 11.8% from 2010-2035. Also, according to the U.S. Census Bureau, 65 and above population is expected to increase from 16% in 2015 to 22% by 2025. Additionally, increasing life expectancy is expected to attract large number of geriatric population opting for post-acute care as elderly population are most prone to chronic diseases which require long term care.