Telemedicine technology is a game-changer for the healthcare industry because it brings healthcare directly to patients' doorstep. Telemedicine uses digital technologies, which include email, smartphones, and video conferencing, for changing the medical data of the patient.
Covid-19 Impact:
Globally virtual consultations are gracing the new normal: The unforeseen outbreak of the COVID-19 pandemic has brought the whole world to a halt. As hospitals are getting crowded with COVID-19 positive cases, the strain on healthcare staff is rising. Furthermore, the postponement and cancellation of surgeries, including appointments, have minimized patient volume in hospitals and clinics.
The value of the Telemedicine market is projected to grow to $423 Billion with an estimated CAGR of 22.1% by 2030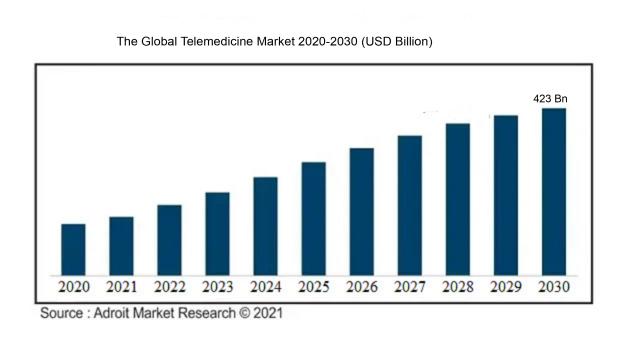 In this era of adversities, telemedicine has emerged as a powerful weapon in the war against the COVID-19 pandemic. The global influence of COVID-19 has been unprecedented and tremendous, with telemedicine witnessing a positive demand shock across all regions amid the pandemic. Additionally, most virtual visit service providers are showcasing a tremendous increase in users and subscribers.
Globally, the adoption of digital technologies and teleconsultations has become a helpful tool for addressing a health issue. Teleconsultations offer cheaper services and also lessen the work strain on healthcare professionals. This is the primary reason for increasing emphasis by government organizations on deploying digital health technologies, favouring the market's growth rate. Moreover, with social distancing being the new normal, the demand for teleconsultations and digital health services peaked.
By Application,
The teleradiology segment dominated the marketplace for telemedicine and accounted for the biggest sales proportion of over 26.0% in 2020 as a result of factors that include growth in imaging practices, teleradiology workflow adoption through healthcare providers, and the streamlining and regulation of teleradiology practices. Integration of Artificial Intelligence (AI) into teleradiology, implementation of Picture Archiving and Communication System (PACS), and developing R&D sports pertaining to eHealth are key growth propellers over the forecast period.
By end-user.
The patients' segment dominated the telemedicine market and accounted for the largest revenue share of 43.6% in 2020. This is because patients seek telemedicine services for various purposes starting from mild or moderate health issues to emergency situations. The payers segment consists of insurance companies that pay the telemedicine service providers on behalf of patients. Presently, not all telemedicine services are covered by insurance. Although Medicare covers limited telehealth services in specific rural areas, patients need to visit clinics for completion of a session. This segment is expected to witness steady growth in the coming years.
Telehealth solutions improve healthcare quality and offer convenience for healthcare providers in terms of quick access to patient records, improved decision support, provides clinical alerts, and real-time quality reporting. eHealth solution offers great convenience to healthcare professionals in terms of patient workflow and data management, these benefits are expected to boost the usage of telemedicine by providers over the forecast period.
By Region,
North America dominated the market for telemedicine and accounted for the largest revenue share of 34.4% in 2020 owing to high demand in the recent past followed by Europe. These regional markets are expected to show a similar trend over the forecast period due to rising healthcare awareness coupled with cloud-based technologies acceptance over the forecast period. A developed region such as North America has accounted for the maximum revenue share in the global industry due to the constant research and development initiatives.
Developing regions such as Asia Pacific and the Middle East and Africa are expected to experience positive growth in the industry owing to rapid demand for healthcare assistance, especially in the rural areas. Emerging economies including India and China are estimated to witness growth over the next eight-year period. Innovation and development towards telecommunication are anticipated to enhance further the growth in this region in near future.
This technology has helped healthcare vendors to increase their offerings to remote regions effectively. Furthermore, this technology is likewise appreciably getting used for the elderly population in addition to for folks who are not able to attain healthcare providers because of the incapacity to walk or chronic disease.
The global telemedicine marketplace size was expected at USD 55.9 billion in 2020 and is anticipated to amplify at a compound annual growth rate (CAGR) of 22.4% from 2021 to 2028. The marketplace holds many possibilities to develop throughout the forecast duration as a result of the lack of access to care and rising provider adoption of telemedicine, growing consumer demand and affected person acceptance and improved excellent of care. Telemedicine has been extensively used during the COVID-19 pandemic as it aids in decreasing contact with healthcare facilities, healthcare staff, and patients, in order to minimalize the risk of COVID-19. In China, online mental health surveys along with communication programs, such as Weibo, TikTok, and WeChat, among others, assisted health authorities and mental health professionals to render safe mental health services online during the pandemic. Such factors have assisted in market growth during the COVID-19 pandemic.
Increasing access to fundamental healthcare together with improved healthcare quality and patient protection is the primary goal of telemedicine solutions. According to a report posted through the Agency for Healthcare Research and Quality (AHRQ), the implementation of telehealth or telemedicine solutions improves care delivery to patients. Applications including e-ICU and eCare assist in providing apt care and decrease adverse consequences or signs and symptoms from going unnoticed. By providing better protection and quality requirements to patients, the demand for such structures is predicted to increase over the forecast period and boost the marketplace growth.
Telemedicine is taken into consideration because the most versatile technology available to deliver fitness education, fitness statistics, and health care at a distance. Through the technologies, advanced patient-centred care, and increased access to remote places are possible. It additionally enables in reducing emergency room visits and hospitalization rates, thereby augmenting the marketplace growth. However, certain challenges confronted by this enterprise are resistance in technology attractiveness by practitioners and patients, an high cost of implementation, and data privacy and protection issues. These elements may also hamper the accelerating increase to a positive extent.
McKesson Corporation, Koninklijke Philips N.V., GENERAL ELECTRIC COMPANY, Cerner Corporation, IBM, Honeywell Life Care Solutions, AMD Global Telemedicine, Inc., Cisco Systems, Inc., Medtronic, Aerotel Medical Systems (1998) Ltd., Allscripts, and InTouch Technologies, Inc. are the leading players present within the global telehealth (telemedicine) market. Vendors are investing in product launches, partnerships, collaborations, acquisitions, and mergers, to sustain in the market. The market for telemedicine is expected to become highly competitive as many start-ups are seeking opportunities in this sector. For instance, in August 2020, AMD partnered with iTelemed, an Ontario based company providing virtual healthcare solutions. This partnership aimed to cater to the unmet healthcare needs of the marginalized populations within Canada during the COVID-19 pandemic. Furthermore, in July 2020, Teladoc Health, Inc. acquired InTouch Health, a U.S.-based company. With this, the company integrated InTouch Health's portfolio with its existing products and enhanced health care across in-patient, outpatient, and home care settings.
Telemedicine Market Scope
| | |
| --- | --- |
| Metrics | Details |
| Base Year | 2022 |
| Historic Data | 2020-2021 |
| Forecast Period | 2022-2030 |
| Study Period | 2020-2030 |
| Forecast Unit | Value (USD) |
| Revenue forecast in 2030 | $ 423 Billion |
| Growth Rate | CAGR of 22.1% during 2021-2030 |
| Segment Covered | By Service Type, Deployment, Application, End Users, Regions |
| Regions Covered | North America, Europe, Asia Pacific, South America, Middle East and Africa |
| Key Players Profiled | CardioNet,Aerotel Medical Systems Ltd.,CareClix,Koninklijke Philips N.V.,SHL Telemedicine,Medtronic,Cisco,TeleVital,Aerotel Medical Systems,Cardiocom |
Key Segments of the Global Telemedicine Market
Component Outlook (Revenue, USD Million)

Product
Services

Tele-consulting
Tele-monitoring
Tele-education

Technology Outlook (Revenue, USD Million)

Store and forward
Real time
Others

Application Outlook (Revenue, USD Million)

Teleradiology
Telepsychiatry
Telepathology
Teledermatology
Telecardiology
Others

Delivery Mode Outlook (Revenue, USD Million)
Type Outlook (Revenue, USD Million)
End-use Outlook (Revenue, USD Million)

Providers
Payers
Patients
Other
Regional Overview, (USD Billion)
North America
Europe
Germany
France
UK
Rest of Europe
Asia Pacific
China
India
Japan
Rest of Asia Pacific
South America
Mexico
Brazil
Rest of South America
Middle East and South Africa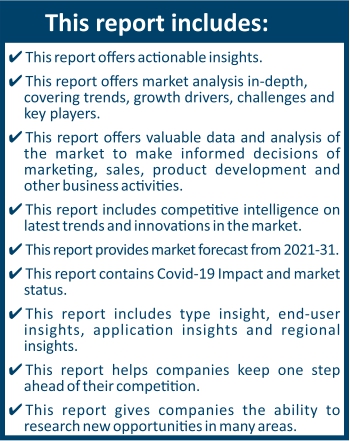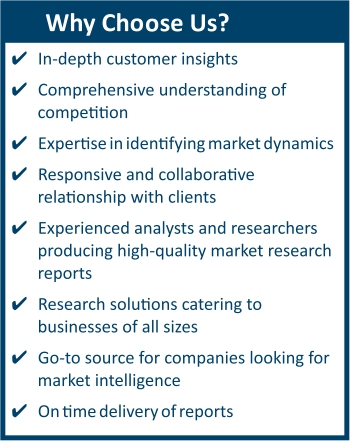 Frequently Asked Questions (FAQ) :
The total market value of telemedicine market is USD 55.9 billion in 2020.
Telemedicine find their applications are teleradiology, telepsychiatry, telepathology, teledermatology, telecardiology & among others.
The telemedicine market is growing at a CAGR of 22.4% over the forecast period.
North America is expected to hold the largest market revenue share of 34.4% in 2020.
The major players of the global telemedicine market are McKesson Corporation, Koninklijke Philips N.V., GENERAL ELECTRIC COMPANY, Cerner Corporation, IBM, Honeywell Life Care Solutions, AMD Global Telemedicine, Inc., Cisco Systems, Inc., Medtronic, Aerotel Medical Systems (1998) Ltd., Allscripts, and InTouch Technologies, Inc.
In 2017, the global telemedicine market was dominated by Europe contributing more than 40% market share. Countries such as France are promoting use of telemedicine for treatment of long-term conditions such as Adrenoleukodystrophy (ALD) and rare disease to provide efficient care to the patients. Furthermore, U.S. telemedicine market size is also expected to spur in coming years on account of high acceptance rate within the U.S. population.
On the other hand, Asia Pacific region is expected to grow with the highest CAGR in the forecast period. In Asia Pacific region, India is one of the fastest growing country in the telemedicine market. The growth of telehealth market within India is attributed to the population of India which is predominantly rural and spread over a distant geographical locations, the top priorities of healthcare administration is to provide basic minimum healthcare facilities to the people present in these regions.
Indian Space Programme is one such initiative taken by ISRO in order to address the healthcare facilities for the people living in rural areas. The pilot project of ISRO started in 2001 and since then it has treated over 24,000 patients across India. Currently, ISRO's Telemedicine Network is spread across more than 95 Hospitals across country with comprises of 78 Remote/Rural/District Hospitals/Health Centres connected to 22 Specialty Hospitals located in the urban cities.