The global Telehealth market is expected to develop by , at a compound annual increase in price (CAGR) of 36.5 % throughout the forecast period.
Telehealth is rapidly growing industry that, at its broadest level, uses technology to connect patients to physicians and to provide healthcare services remotely. In practice, the industry's uses are wide-ranging and multifaceted. A telehealth visit can range from a simple video chat between a physician and patient to an experience that mirrors a physical hospital visit, complete with full diagnostic technology and an on-site nurse practitioner. At its core, the goal of the telehealth industry is to become a natural extension of in-person healthcare services, supplementing existing doctor-patient relationships and extending care to underserved population.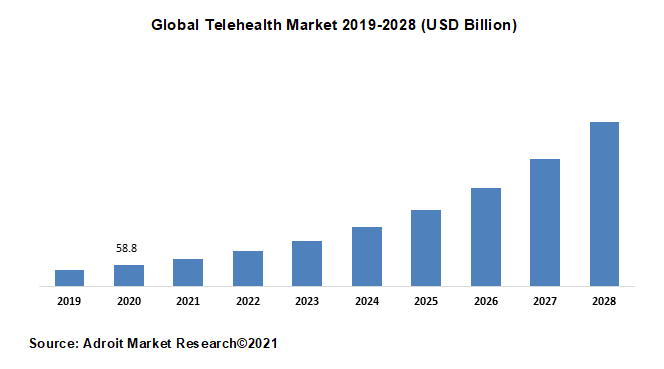 The global telehealth market size is valued over USD 58 billion in 2020. This can be ascribed to the increase in prevalence of chronic diseases along with rapidly growing geriatric population across the globe. Besides, rapid advancements in technology and rising adoption of teleconsultations are other key factors driving the market growth for telehealth.
Telehealth Market Scope
| | |
| --- | --- |
| Metrics | Details |
| Base Year | 2020 |
| Historic Data | 2018-2019 |
| Forecast Period | 2021-2028 |
| Study Period | 2018-2028 |
| Forecast Unit | Value (USD) |
| Revenue forecast in 2028 | USD 58 billion |
| Growth Rate | CAGR of 35.1% during 2021-2028 |
| Segment Covered | Product, Application, Users, Distribution, End-users, Regions |
| Regions Covered | North America, Europe, Asia Pacific, South America, Middle East & Africa |
| Key Players Profiled | Koninklijke Philips N.V., Siemns Healthineers AG, McKesson Corporation, AMD Global Telemedicine, Inc., Honeywell International, Inc., IBM, Intel and others. |
Key Segments of the Global Telehealth Market
Product Overview, 2019-2028 (USD Million)
Hardware
Software
Services
Application Overview, 2019-2028 (USD Million)
Teleradiology
Telecardiology
Teledermatology
Telepsychiatry
Others
Users Overview, 2019-2028 (USD Million)
Distribution Channel Overview, 2019-2028 (USD Million)
Direct Sales
Indirect Sales
End-users Overview, 2019-2028 (USD Million)
Hospitals
Clinics
Homecare
Regional Overview, 2019-2028 (USD Million)
North America
Europe
UK
Germany
France
Russia
Rest of Europe
Asia Pacific
China
Japan
India
Rest of Asia Pacific
South America
Brazil
Mexico
Rest of South America
Middle East and Africa
GCC
South Africa
Rest of Middle East and Africa
Reasons for the study
The purpose of the study is to give an exhaustive outlook of the global telehealth industry
Impact of increased demand for teleconsultations across the globe. Major companies are therefore striving to offer innovative solutions coupled with the latest technological advancements to address the increasing demand.
What does the report include?
The study on the global telehealth market includes qualitative factors such as drivers, restraints, and opportunities
The study covers a qualitative and quantitative analysis of the market segmented based on product, application, users, distribution channel, and end-users. Moreover, the study provides similar information for the key geographies.
Actual market sizes and forecasts have been provided for all the above-mentioned segments.
The study covers the competitive landscape of existing/prospective players in the telehealth industry and their strategic initiatives for product development.
Who should buy this report?
This study is suitable for industry participants and stakeholders in the global telehealth market. The report will benefit every stakeholder in the market.
Managers within the telehealth industry looking to publish recent and forecasted statistics about the global telehealth market.
Government organizations, regulatory authorities, policymakers, and organizations looking for investments in trends of the global telehealth market.
Analysts, researchers, educators, strategy managers, and government institutions looking for insights into the market to determine future strategies.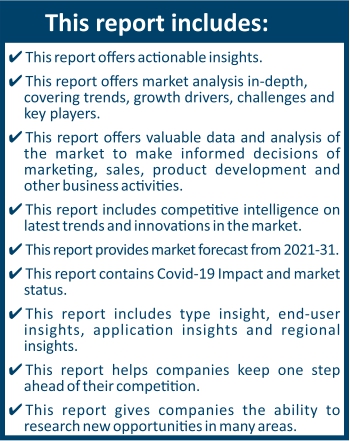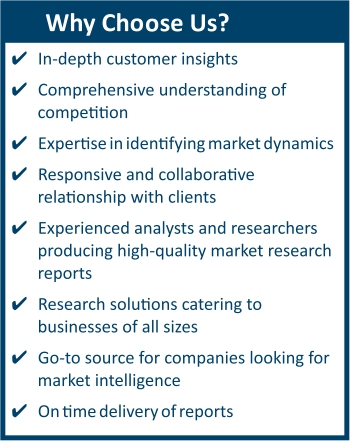 Frequently Asked Questions (FAQ) :
The global telehealth market size is valued over USD 58 billion in 2020.
The global telehealth market size is likely to project a CAGR of 35.1% during the forecast years 2021-2028.
The major players of the global telehealth market are Koninklijke Philips N.V., Siemns Healthineers AG, McKesson Corporation, AMD Global Telemedicine, Inc., Honeywell International, Inc., IBM, Intel and others.
Europe is projected to grow at a CAGR of 33.9% over the forecast period. 
The forecast period for Telehealth market is 2019 to 2028
Telehealth is a technology known for telecommunication, also called e-Health or telemedicine. Telemedicine Industry Benchmark Survey conducted among healthcare physicians, executives, nurses and other healthcare professionals throughout the U.S., it was noticed that participants picked telemedicine at higher priority service in respective organizations. It facilitates patients residing in remote location with services as healthcare professionals can diagnose, evaluate and treat patients online. According to E-health and Telemedicine survey conducted, it was revealed that ample of population faces shortage of primary healthcare facilities in rural and urban areas.
Telehealth industry encompasses broad range of technologies and tactics to deliver health, education and medical services. Telehealth is an array of services that is it means to enhance education and care delivery. It is used as medium of exchanging information for clinical care, public health, administrative services and education at a distance. It improves relationship between patients and healthcare providers for enhanced patient satisfaction and care along with reduced cost.
Cardiology and radiology stands at leading applications of telehealth. Mental and behavioral health has major imprint of telehealth. Significant rise observed in health issues with lack of health providers is an acknowledged opportunity for global telehealth industry to meet the increased demand for mental health services.
Product Segment
Based on product, the market is segmented into hardware, software, and services. In 2020, the hardware segment accumulated the maximum market share and it is likely to continue its dominance throughout the forecast years. However, services segment is anticipated to witness lucrative growth over the forecast timeline. The telehealth services consist of a broad range of modalities, but the core functions of telehealth services are real-time services, store-and-forward services, and remote patient monitoring (RPM) services. Growing aadoption of these teleconsultation services will drive the growth of the segment in the future.
End-users Segment
Based on end-users, the market is segmented into hospitals, clinics, and homecare. The hospitals segment dominated the market with more than 60% share in 2020 and it is likely to maintain its place throughout the forecast years. Hospitals and health systems are discovering a diversity of virtual care models, several of which are reinforced by telehealth technology. Hospitals by now are using telehealth to increase access and bung up gaps in care; deliver services 24/7; and magnify access to medical professionals.
Application Segment
Application-wise, the market is segmented into teleradiology, telecardiology, teledermatology, telepsychiatry, and others. Telecardiology is one of the most exceedingly developed of the medical disciplines roofed by telemedicine. The use of telecardiology in rural regions is particularly essential since it eliminates the impediment of enormous distances that would otherwise have to be travelled to obtain medical assistance. Remote competent counselling can avoid the intrinsically dangerous and even unnecessary transfer of critically ill patients for the purpose of diagnosis.
Asia Pacific, with emphasis on China, Japan and India is likely to grow at a lucrative 37.4% CAGR through the forecast years 2021-2028. The major contributing factors to this growth are favorable initiatives for the adoption of telepathology in China, geriatric population in Japan and high internet penetration in India. Moreover, growing number of HCIT programs, increasing medical tourism in Singapore, Malaysia, Thailand and India; and up-scaled funding in telehealth in Australia are most significant drivers for telehealth market growth in Asia Pacific region.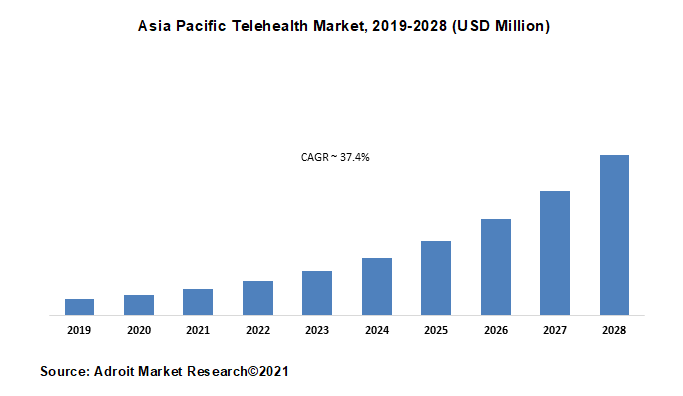 The rate at which geriatric population is increasing within Asia Pacific is high compared to other regions. According to the estimates given by United Nation Population Fund, 1 out of 4 individual within the continent will be aged over 60 creating a large potential market for telehealth. Additionally, from 2010-2050, population over 60 years is expected to grow 3 times to reach 1.3 billion. Such demographic changes is expected to drive the demand for telehealth in coming years.
The implementation of digital healthcare solutions comprising EHRs in these markets may perhaps change radically in the succeeding few years. By means of the internet and smartphone diffusion growing and the technology infrastructure touching to cloud-based services, these boons the prospect to grow innovative and cost-effective solutions to bring telehealth services.