The market for recycled glass fibre is driven by a number of variables. The growing preference for eco-friendly and sustainable products is one of the main factors. Waste glass is used to make recycled glass fibres, which would otherwise end up in landfills. They are therefore more environmentally friendly than virgin glass fibres, which need to be mined and go through various processes that might have an adverse effect on the environment. The growing demand for strong and lightweight materials is another factor driving the market for recycled glass fibre. Because they offer excellent strength-to-weight ratios, glass fibres are frequently employed in construction applications. As a result, they can contribute to a reduction in the overall weight of structures, increasing their energy efficiency.
The growing usage of recycled glass fibres in automotive applications is the third market-driving factor. Plastics and composites used in automobiles and other vehicles can be strengthened with the help of glass fibres. This decreases weight while simultaneously enhancing the strength and longevity of these materials. The support provided by the government for recycling programmes is the fourth market driver. There are laws and rules that either demand or encourage recycling in various nations. The market for recycled glass fibre benefits from this as the demand for these goods rises. Technology advancement is the last market-influencing component. Recycled glass fibres are now more affordable and simpler to make thanks to new production techniques. This has expanded the uses for these materials, driving increasing demand even more.
To lessen the quantity of garbage transported to landfills and incinerators, which can help slow down climate change and avoid air pollution, the recycled glass fibre market is crucial. It also aids in the preservation of natural resources like sand and limestone, which are frequently utilised in the production of glass. Additionally, recycling glass generates employment in the manufacturing sector, particularly in regions with a focus on making glass-based goods. Recycled glass fibres can also be used to make insulation, building materials, and a variety of other items. This aids in lowering the need for raw materials and lowers the amount of energy used during manufacture. In addition, recycled glass fibres are frequently less expensive than virgin materials, making them a sensible choice for many projects.
Glass fibres are employed in a variety of processes, including filtration, reinforcement, and insulation. Glass trash is crushed and processed to create glass fibres of the correct length and diameter, which are then used to make recycled glass fibres. After undergoing surface treatment, these glass fibres can be applied in a variety of ways. Glass fibres can be recycled mechanically or by calcination. The discarded glasses are crushed and then put through a furnace to create glass fibres in the mechanical process. The waste glass used in the calcination process is first melted at a high temperature and then quickly cooled to produce glass fibres.
The global market for recycled glass fibre is anticipated to expand at a CAGR of 6.8% from 2021 to 2031, with a value of USD 11.0 billion in 2021 and an estimated USD 18.5 billion by 2031.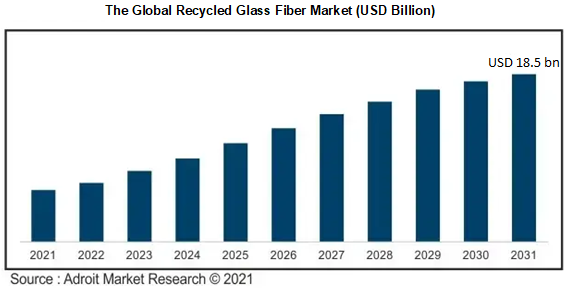 In end-use industries where lightweighting is a top priority, such as construction, automotive, aerospace and defence, electrical and electronics, infrastructure, and others, recycled glass fibres are being employed more frequently. The increased demand for lightweight materials in industries like building, aerospace, and transportation is mostly to blame for this expansion.
The market for recycled glass fibres is constrained by customers' ignorance about the advantages of adopting recycled glass fibres. In addition, one of the major issues limiting the growth of the recycled glass fibre market is the high cost of recycling glass fibres and the lack of suitable infrastructure. The lack of regulations in the recycling industry and the accessibility of substitute materials are also anticipated to impede the market's expansion for recycled glass fibre. But, it is anticipated that in the upcoming years, the market for recycled glass fibre will experience growth due to the increased demand for eco-friendly products and the expansion of government efforts to encourage recycling. Additionally, the market for recovered glass fibre is anticipated to benefit from the development of sophisticated glass recycling methods.
Owens Corning, Johns Manville, PPG Industries, Inc., Knauf Insulation GmbH, CertainTeed Corporation, Rockwool International A/S, Armacell International S.A., Mineral Wool Manufacturing Co., and Saint-Gobain are the leading producers of recycled glass fibre. EnviroGlass, LLC, Fiber Glass Industries LLC, and Owens Corning Composites are just a few examples of small businesses that are contributing to the market.
Segment Analysis
The Aluminum Cargo Trailer Segment emerged as the Most Lucrative Type
The Market for recycled glass fibre is separated by kind into the mechanical method, calcination method, and other categories. Due to the widespread use of the mechanical approach in structural and automotive applications, it had the biggest market share in 2020 and is anticipated to continue to hold this position during the anticipated time period. The presence of multiple providers of glass fibre scrap is another factor in the segment's expansion.
The Most Prominent Application is the Construction Sector
The primary end-use industry for recycled glass fibres is building. The expansion of construction operations around the world is responsible for this sector's expansion. Recycled glass fibres are utilised extensively in the municipal sector, namely in sewage treatment plants and wastewater treatment facilities.
North America followed by European Region to render Ample Financing Opportunities
The market for recycled glass fibre can be divided into North America, Europe, Asia Pacific, Middle East & Africa, and Latin America based on a regional study. Due to the existence of large producers and the rising trend of environmental sustainability, North America and Europe are predicted to experience the greatest development in the market for recycled glass fibre.
COVID-19 Impact and Market Status
The market for recycled glass fibre has been significantly impacted by the COVID-19 pandemic epidemic. The lockdown implemented by several governments around the world to stop the virus's transmission is expected to cause the industry to fall in 2020. The epidemic has had a negative effect on the building and municipal industries, which are key users of recycled glass fibre. As the economies begin to revive in 2021, the market is anticipated to rebound. The market is anticipated to rise as a result of the rising demand for green building materials.
Recent Developments in the Recycled Glass Fiber Market
• The largest producer of recycled glass fibre in the world, Owens Corning, announced intentions to invest in a new production line for its recycled glass fibre facility in the US in February 2022. The new production line will be utilised to create high-performance insulation and diverse building materials, with an estimated annual capacity of 10,000 tonnes of recycled glass fibres.
• A new line of recycled glass fibre-based nonwoven goods for hygiene applications like baby wipes, feminine care, and adult incontinence products was introduced in September 2021 by Fibertex Personal Care, a US-based leading manufacturer of sustainable nonwoven textiles. According to the company, its goods are ideal for demanding applications where softness and absorbency are regarded as crucial qualities.
• Through its Green Deal project, the European Union announced intentions in December 2020 to encourage the use of recycled glass fibres in buildings. By implementing energy-saving measures, including encouraging the use of more effective insulating materials like those manufactured from recycled glass fibres, the EU hopes to reduce CO2 emissions by 40% by 2030.
• One of India's major manufacturers of spunbond nonwoven textiles, JBF Industries, debuted a new line of polyester-recycled glass fibre composite fabrics in October 2020. These fabrics are intended for use in the manufacture of filters and other industrial applications. The firm asserts that its goods are more affordable, lighter, and stronger than conventional fabrics.
Recycled Glass Fiber Market Scope
| | |
| --- | --- |
| Metrics | Details |
| Base Year | 2022 |
| Historic Data | 2021-2022 |
| Forecast Period | 2022-2031 |
| Study Period | 2021-2031 |
| Forecast Unit | Value (USD) |
| Revenue forecast in 2031 | USD 18.5 billion |
| Growth Rate | CAGR of 6.8 % during 2021-2031 |
| Segment Covered | Type, Application, Regions |
| Regions Covered | North America, Europe, Asia Pacific, South America, Middle East and Africa |
| Key Players Profiled | Owens Corning, Johns Manville, PPG Industries, Inc., Knauf Insulation GmbH, CertainTeed Corporation, Rockwool International A/S, Armacell International S.A., Mineral Wool Manufacturing Co., and Saint-Gobain |
Key Segments of the Coating for Recycled Glass Fiber
Type Overview, (USD Billion)
• Mechanical Method
• Calcination Method
Application Overview, (USD Billion)
• Construction
• Municipal
• Other
Regional Overview,(USD Billion)
North America
• U.S
• Canada
Europe
• Germany
• France
• UK
• Rest of Europe
Asia Pacific
• China
• India
• Japan
• Rest of Asia Pacific
South America
• Mexico
• Brazil
• Rest of South America
• Middle East and South Africa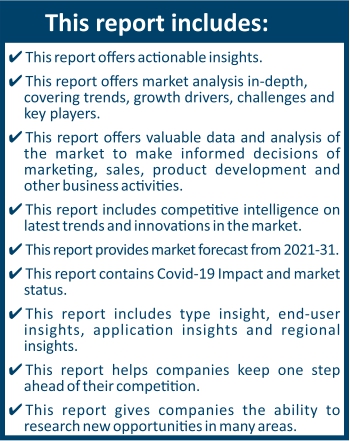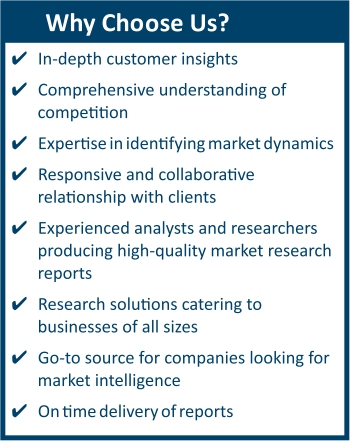 Frequently Asked Questions (FAQ) :
Recycled Glass Fiber Market is projected to reach USD 18.5 billion by 2031, growing at a CAGR of 6.8