The market size for energy storage is estimated to value at US$ 2,789.4 million by the end of 2016, at a CAGR of 8.9% over the forecast period. The energy storage market is growing owing to the increasing production of electricity. Artificial intelligence (AI) for energy storage is expected to boost growth of this market during the forecast period.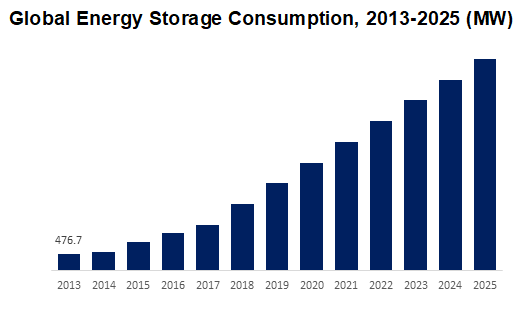 Lithium batteries are likely to witness the largest market growth over the forecast period. Lithium ion batteries are preferred over conventional batteries. As lithium ion do not have a memory consequence (loss of capacity by not complete loading / unloading) and also achieve high efficiency up to 95%.
Lower cell voltage of a Lithium ion battery surges the safety factor. Lithium Titanate Oxide (LTO) based Lithium batteries belong to the low cell voltage sector, faster recharge periods, offers good operating efficiency due to their stable chemical composition that is appropriate across a widespread temperature array. Drawbacks comprise relatively high material cost and low energy density. Though, rising demand for Li-ion batteries in the automotive sector and large-scale mass production will drive expenses down. Both, manufacturing technology and material research will subsidize to drive down the costs. Extensive R&D activity and rising demand specify that costs are expected to drop significantly until 2025 with only small downside risk.
Electric Car Company Panasonic and Tesla have been working on decreasing costs of their lithium-ion batteries considerably and with Tesla's "Gigafactory". Tesla's PR is difficult to beat, but several other Li-Ion manufacturers in Asia-Pacific and in the world are also in progress with construction of 'giga-facilities' – including Lishen, BYD and Samsung.
Vanadium redox flow batteries (VRFBs) are an emerging share of the energy storage market, which also comprises pumped hydro power, solar thermal power plants, and lithium-ion batteries. Unlike lithium-ion batteries, vanadium redox flow batteries are too huge to be used in electric vehicles; but, they have much extended lifespans, and are well suitable to utility and industrial applications.
In November 2017, StorEn Technology announced the progress of a new generation of VRFBs to fulfil the rising market demand for commercial viable energy storage. Unlike traditional batteries which store their reactive materials in their cells, VRFBs are a sort of rechargeable battery in that the energy is warehoused chemically in a liquefied electrolyte confined in two tanks.
Vanadium batteries are also considered as best technology followed by lithium ion batteries for stationary energy storage application. This is a recognized technology with advantages like long-scale duration with no or very less memory effect and self-discharge or ghost effect that continuously runs at 100% discharge.
Furthermore, based on application, utility solution segment is expected to dominate the global energy storage market at the end of forecast period. The most vital driver of utility-scale energy storage systems is the considerable growth in the amount of renewable energy installed across the world. Growing investments in renewable energy is anticipated to enhance the demand for energy storage systems in utility solutions. These variable methods of power generation presents challenge to electrical grids situated locally, that are typically not designed to handle different output generated and are often stretched-out in providing the existing electricity. Issues arrives from the need to safely incorporate variable resources and to align demand and supply to evade restraining energy. Energy storage systems are chiefly well suited to smoothing the fluctuating output of renewables and regulating the rapid ramping up and down of wind and solar generation. The curtailment or waste of renewable energy production presents a major opportunity for long-duration, utility-scale energy storage systems to permit greater utilization of these resources by shifting energy supply in ways to better line up with demand.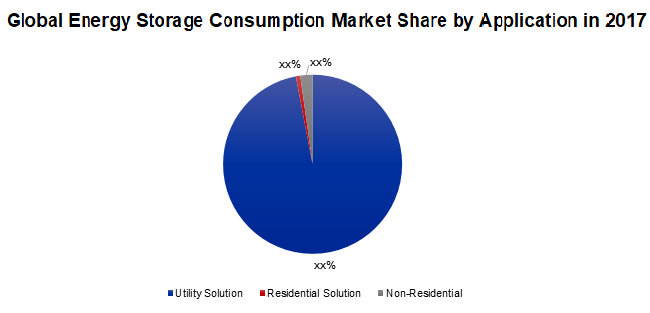 The key driver is the effort by governments across the world in order to reduce carbon emissions. During late 2015's, the Paris Agreement was negotiated by 197 countries which agreed to set emissions reduction targets with the objective of limiting global warming, less than 2°C compared to pre-industrial levels. The agreement was attended by a set of targets for emissions moderation in various countries. In the aggregate, the IEA approximates that $13.5 trillion in additional investment will be mandatory just to attain these goals. These directives and the decreased costs of renewable generation are resulting in dropping competitiveness and departure of many coal-fired power plants. As new coal plant deployments are replaced by distributed resources and renewables, the grid will require new sources of inertia to conserve stability. Inertia on the grid has conventionally delivered by the rotary mass of thermal power generators, that permits the system to uphold stability if a portion of transmission or generation assets go offline. Energy storage is evolving as an ideal solution for providing synthetic and real inertia as ever-expanding clean power sources come online and cannot replicate the inertia provided by large-scale fossil-fuelled generators.
North America has portrayed a strong market growth over the recent years. Strong expansion of the battery energy storage sector in the region has been primarily driven by the enhanced requirement for energy efficient storage organizations to support electrical grids, particularly under highly stressed circumstances and to evade power blackouts.
Key segments of the global Energy Storage market
Type Overview, 2013-2025 (Mega Watts) (USD Million)
Lithium Ion Battery

All-Vanadium Flow Battery

Zinc-bromine Flow Battery

Others
Application Overview, 2013-2025 (Mega Watts) (USD Million)
Utility Solution

Residential Solution

Non-Residential
Regional Overview, 2013-2025 (Mega Watts) (USD Million)
North America

U.S.

Rest of North America (Canada)

Europe

Spain

UK

Ireland

Italy

France

Germany

Rest of Europe

Asia-Pacific

Australia

India

South Korea

Japan

Rest of Asia-Pacific

Latin America

Brazil

Mexico

Chile

Argentina

Rest of Latin America

Rest of the World
Reasons for the study
The purpose of the study is to give an exhaustive outlook of the global energy storage market industry

We have been following the overall energy storage systems and its segments, especially the lithium ion battery. This sector has been gaining immense importance, as a key fragment of the energy storage market. Globally vanadium redox flow battery market is relatively untapped and has tremendous growth potential in tandem with the increase in automobile sales.

•Robust expansion of the energy storage industry in North America has been mainly driven by the increased necessity for energy efficient storage systems to support electrical grids, especially under highly stressed conditions to avoid power blackouts.

•While conducting research on the energy storage systems on a regional and country level, we noticed that the use of a single storage facility in multiple applications for utility grid systems is expanding and being recognized for its value. With the decrease in cost of energy storage systems and the advent of improved technologies, consumers are being more reliable on battery storage technologies, making it an essential part of the energy storage system.
What does the report include?
The study on the global energy storage market includes qualitative factors such as drivers, restraints, and opportunities

Additionally, the market has been evaluated using the value chain and Porter's Five Forces' analysis

The study covers qualitative and quantitative analysis of the market segmented on the basis of type, application and region. Moreover, the study provides similar information for the key geographies.

Actual market sizes and forecasts have been provided for all the above-mentioned segments

The study includes the profiles of key players in the market with a significant global and/or regional presence
Who should buy this report?
This study is suitable for industry participants and stakeholders in the energy storage industry, who want an in-depth insight into the movement of the vanadium redox battery market. The report will benefit:
Executives of flow battery manufacturing companies that are engaged in the energy storage and distribution

Managers within financial institutions looking to publish recent and forecasted statistics pertaining to energy storage systems

Venture capitalist looking into investing capital

Government organizations, regulatory authorities, policymakers and financial organizations looking for innovative solutions for power backup

Analysts, researchers, educators, strategy managers, and academic institutions looking for insights into the market to determine future strategies