The global lithium-ion battery market has been expanding steadily and is likely to reach an overall market size worth 117 USD billion at a CAGR of 13% during the forecasted period 2018-2028. As consumers seek new mobility options and ignition alternatives, new transport media such as plug-in vehicles has emerged to suit sustainable commutation needs. This has also favored adoption of lithium-ion-based automotive. Additionally, besides the automotive sector lithium-ion batteries are requisite for manufacturing industry to operate bulky devices. Inclusion of smart devices is also a growth initiator offering promising growth impetus in recent times.
Electric cars use lithium-ion batteries as a source of electricity. The increasing usage of plug-in hybrid electric vehicles (PHEVs) and electric vehicles (EVs) has unavoidably increased the use of lithium-ion batteries, which is anticipated to continue in the future.
The popularity of electric cars is growing due to benefits such as less need for vehicle engine maintenance, less usage of toxic oil waste, and reduction in pollution generated by fuel combustion engines, as well as the development of better battery technology. Electric vehicles are considered as the transportation networks' and automobile industry's future and their growing use will eventually raise demand for lithium-ion batteries. Opportunities are underway as the global lithium ion batteries are witnessing ample adoption to replace conventional fuels.
However, gaps in storage infrastructure are likely to eclipse the onward growth. In July 2007, a fire caused by lithium-ion batteries ignited more than 132,000 liters of chemicals, forcing the closure of two major highways in the United Kingdom. It is therefore necessary to store used lithium ion batteries in waterproof containers, away from other flammable and combustible items. Market participants are also investing significantly in improving the storage infrastructure which would underpin strong growth prospects in the coming years. Because of the aforementioned hazards, state or national governments control the storage and transportation of used lithium-ion batteries.
Ever since their launch in the 1990s, the lithium-ion batteries industry has faced critical challenges owing to magnificent pricing structure. The cell is the most expensive component of any lithium-ion battery, accounting for about half of the total cost; electronics, assembly, and packaging account for the remaining costs. However, recent advancements and promises made by lithium-ion battery manufacturers and vehicle manufacturers indicate that the price of these batteries is anticipated to fall significantly.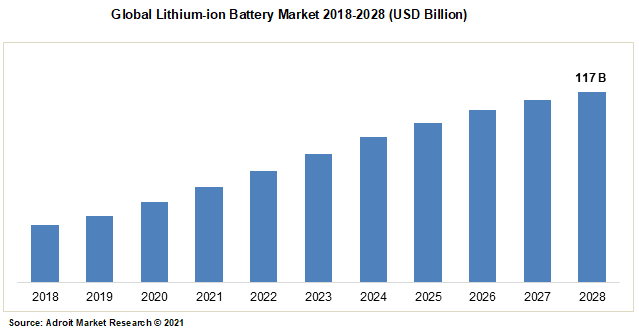 The major players of the global lithium-Ion battery market are BYD Company, LG Chem, Contemporary Amperex Technology Co. Ltd. (CATL), Panasonic Corporation, Samsung SDI, BAK Group, Hitachi, Clarios, GS Yuasa Corporation (GS Yuasa), and Toshiba Corporation. To improve their market offers, lithium-ion battery firms have used a variety of organic and inorganic growth methods, such as new launches, product development, and acquisitions.
Lithium Market Scope
| | |
| --- | --- |
| Metrics | Details |
| Base Year | 2019 |
| Historic Data | 2017-2018 |
| Forecast Period | 2020-2025 |
| Study Period | 2015-2025 |
| Forecast Unit | Value (USD) |
| Revenue forecast in 2025 | USD 5.88 billion |
| Growth Rate | CAGR of over 7.0% during 2015-2025 |
| Segment Covered | Type, Capacity,Voltage, Industry, Regions |
| Regions Covered | North America, Europe, Asia Pacific, South America, Middle East and Africa |
| Key Players Profiled | BYD Company, LG Chem, Contemporary Amperex Technology Co. Ltd. (CATL), Panasonic Corporation, Samsung SDI, BAK Group, Hitachi, Clarios, GS Yuasa Corporation (GS Yuasa), and Toshiba Corporation |
Key Segments of the Global Lithium-Ion Battery Market
Type Overview, 2018-2028 (USD Billion)
Lithium Nickel Cobalt Aluminum Oxide (NCA)
Lithium Nickel Manganese Cobalt (LI-NMC)
Lithium Iron Phosphate (LFP)
Lithium Cobalt Oxide (LCO)
Lithium Titanate Oxide (LTO)
Lithium Manganese Oxide (LMO)
Capacity Overview, 2018-2028 (USD Billion)
0 to 3,000 mAh
3,000 to 10,000 mAh
10,000 to 60,000 mAh
60,000 mAh and Above
Voltage Overview, 2018-2028 (USD Billion)
Low (Below 12V)
Medium (12V – 36V)
High (Above 36V)
Industry Overview, 2018-2028 (USD Billion)
Consumer Electronics
Aerospace
Automotive
Marine
Industrial
Medical
Telecommunication
Power
Regional Overview, 2018-2028 (USD Billion)
North America
Europe
France
UK
Germany
Rest of Europe
Asia Pacific
China
Japan
India
Rest of Asia Pacific
South America
Brazil
Mexico
Rest of South America
Middle East and Africa
Reasons for the study
The research examines important developments in the global lithium-ion battery sector, as well as organic and inorganic growth strategies.
The industrial chain structure of the global lithium-ion battery industry, raw material costs, production base, and marketing channel analysis are all discussed.
What does the report include?
Comprehensive company profiles for the key market participants include corporate insights, a business description, a SWOT analysis, and product benchmarking.
Includes a comprehensive study of the market from a variety of perspectives, including Porter's five forces model.
The industry's features and the prospects for market expansion will be investigated.
Who should buy this report?
Strategy managers, researchers, and government agencies seek market data to help in the planning of future operations.
The report on the global lithium-ion battery market is a handy investment guide for all the audiences willing to gauge futuristic growth statistics, besides having substantial knowledge of the current developments.
Lithium has the highest electrochemical potential and specific energy per weight of any metal, while being the lightest. Cycling, on the other hand, resulted in undesirable dendrites on the anode, which may breach the separator and create an electrical short in rechargeable batteries with lithium metal on the anode.
Due to the inherent instability of lithium metal, particularly during charging, research has focused on a non-metallic solution based on lithium ions. Although it has lower specific energy than lithium-metal, Li-ion is safe as long as cell makers and battery packers adhere to safety precautions such as maintaining voltage and currents at safe limits.
A lithium-ion (Li-ion) battery is a type of high-tech battery in which lithium ions play a major role in electrochemistry. The lithium ions are so small that they can flow through a micro-permeable separator that divides the anode and cathode. Rising penetration of mobile phones, computers, tablets, and other electronic devices would indicate an increase in the value of the lithium-ion battery industry. Rising globalization, as well as increased spending on R&D capabilities by lithium-ion battery producers, would provide profitable growth possibilities for the industry in the long run.
Growing demand for plug-in automobiles, as well as the increased need for automation and battery-powered material-handling equipment in industries, will drive development in the lithium-ion battery market. Greater demand for electric cars, combined with increased government measures to encourage electric vehicles, will drive the lithium-ion battery market growth rate upward.
However, growing storage and transportation problems will offer a significant barrier to the lithium-ion battery market's growth. Furthermore, growing occurrences of lithium-ion battery overheating would serve as a market restraint in this industry. Furthermore, rising demand-supply mismatches in raw material sourcing would also slow down industry development.
Capacity Segment
In 2020, the 10,000–60,000 MAh segment held the highest market share. More than 10,000 mAh Li-ion batteries are used in high-capacity applications such as electric vehicles, e-motorcycles, plug-in hybrid electric vehicles, material handling equipment, industrial, marine, robots, telecommunication systems, standby power supplies, electronic cash registers, golf cart vehicles, buses, hybrid trucks, smart grid, automation, and aviation industry.
Industry Segment
The automotive segment is likely to hold the maximum revenue share of the global lithium-ion battery market in the coming timeframe. Lithium-ion batteries are widely used in battery-powered vehicles such as electric automobiles, e-bikes, and self-driving cars. Based on their power source and use, EVs are classified into three types: hybrid electric vehicles (HEVs), battery-electric cars (BEVs), and plug-in hybrid electric vehicles (PHEVs). Adoption and awareness of EVs are increasing, which aids market growth. The COVID-19 epidemic has had a particularly severe impact on automobile original equipment manufacturers (OEMs) and participants in the mobility industry.
The Asia Pacific lithium-ion battery market is anticipated to expand at the fastest CAGR over the forecast period. Continuous advancements in the consumer electronics and automotive industries have led to a growth in the use of lithium-ion batteries, which provide several benefits such as greater power capacity, enhanced safety, and decreased pollution.
However, the COVID-19 epidemic has disrupted manufacturing plants in all sectors throughout the world, causing them to shut down. However, production has resumed at a few Chinese factories, resuming production of some facilities.