The global orthopedic braces and supports market generated USD 4,762.1 million in 2018 and is anticipated to grow at a CAGR of 5.9% over the forecast period from 2019 to 2025. Growing sports and road accident across North America and Europe is fuelling the growth of orthopedic braces and supports market, while presence of large geriatric population across Japan & China in need of better healthcare facilities is anticipated to boost orthopedic braces and supports market in Asia Pacific.
Orthopedic braces are medical devices designed to address musculoskeletal problems; they are used to align, correct position, help, stabilize and protect certain parts of the body as they recover from injury, trauma (especially muscles, joints and bones), or musculoskeletal weakness. Such medical devices are often used during the healing and rehabilitation period by patients. Orthopedic injuries are a common reason for emergency department (ED) visits. Orthopedic injuries should be diagnosed promptly and accurately and treated to optimize the outcome. Orthopedic injuries may be associated with chronic disability or pain.
Orthopedic braces and supports Market Scope
| | |
| --- | --- |
| Metrics | Details |
| Base Year | 2019 |
| Historic Data | 2017-2018 |
| Forecast Period | 2020-2025 |
| Study Period | 2015-2025 |
| Forecast Unit | Value (USD) |
| Revenue forecast in 2025 | USD 4,762.1 million |
| Growth Rate | CAGR of 5.9% during 2021-2028 |
| Segment Covered | Product, End User, Regions |
| Regions Covered | North America, Europe, Asia Pacific, Middle East & Africa, Latin America |
| Key Players Profiled | 3M, Alcare Co., Ltd., Bauerfeind AG, Bird and Cronin, Inc. (A Part of Dynatronics Corporation), Breg, Inc., DJO Global LLC, medi GmbH & Co. KG, Össur, Ottobock, Remington Products, Thuasne, TRULIFE, and Zimmer Biomet, among other |
Key segments of the global orthopedic braces and supports market
Product Overview, 2015-2025 (USD Million)
Upper extremity braces and supports
Spinal orthoses
Foot and ankle braces & supports
Knee braces & supports
End User Overview, 2015-2025 (USD Million)
Hospitals
Orthopedic clinics
OTC
Regional Overview, 2015-2025 (USD Million)
North America
Europe

UK
Germany
France
Italy
Rest of Europe

Asia Pacific (APAC)

Japan
China
India
Australia
Rest of APAC

Latin America

Brazil
Mexico
Rest of Latin America

Middle East & Africa (MEA)

UAE
South Africa
Rest of MEA
Reasons for the study
The purpose of the study is to give an exhaustive outlook of the global orthopedic braces and supports industry
The overall segmentation of orthopedic braces and supports market, especially key segments such as products, and end users are thoroughly studied. Knee braces and supports hold the maximum share and is anticipated to continue growth till 2025
Presence of major players and their wide product portfolio across developed countries is anticipated to further boost the growth of orthopedic braces and supports market
What does the report include?
The study on the global orthopedic braces and supports market includes qualitative analysis of factors such as drivers, restraints, opportunities, and competitive landscape analysis
Additionally, the market has been evaluated using the industrial value chain analysis comprising upstream and downstream analysis, cost analysis and product type analysis
The study covers qualitative and quantitative analysis of the overall market segmented on the basis of product, end users and breakdown of the same at regional level
Actual market sizes and forecasts have been provided for all the considered segments
The study includes the profiles of key market players with a significant global and/or regional presence along with top company positioning
Who should buy this report?
This study is suitable for industry participants and stakeholders in the orthopedic braces and supports industry, who want an in-depth insight into the movement of the orthopedic braces and supports market. The report will benefit:
Executives of orthopedic braces and supports manufacturing companies that are engaged in spreading knowledge about advantages of orthopedic braces and supports
Managers within financial institutions looking to publish recent and forecasted statistics pertaining to orthopedic braces and supports
Venture capitalists, investors, financial institutions, analysts, government organizations, regulatory authorities, policymakers ,researchers, strategy managers, and academic institutions looking for insights into the market to determine future strategies
Manufacturers of orthopedic braces and supports products who are looking for new avenues of revenue generation
The market is driven by the growing incidence of orthopedic injuries. In addition, rising presence of specialized orthopedic hospitals and rehabilitation centres is anticipated to further boost the orthopaedic braces and supports market during the forecast period from 2019-2025.
Several factors can be linked to the increasing prevalence of orthopedic surgery, including a rising geriatric population, increased prevalence of degenerative bone diseases, and increased surgical outcomes. In addition, the occurrence of orthopedic injuries associated with sports and road accidents is also rising. Such factors contribute to the rising need for orthopedic procedures, such as joint replacement surgery and musculoskeletal repair surgery. As a result, there will also be an increase in demand for orthopedic braces and supports, which will fuel market growth over the forecast period 2019-2025.
The increase in orthopedic disorders has resulted in a growth in the number of specialized orthopedic hospitals, clinics and surgical centers. As a result, hospitals around the globe are expanding their orthopedic centers due to the increasing emphasis on healthcare services and the increasing demand for orthopedic surgery.
The orthopedic product line is often described as a crucial opportunity as healthcare marketers try to drive growth for their organizations. Not only because of its growth potential, but also because of its accessibility across a wide range of age bracket from aging baby boomers who are in need of knee and hip replacements to younger people dealing with sports injuries. However, there are specific challenges to growing an orthopedic service line with targeted marketing campaigns. First of all, it is incredibly competitive; and it is one of the most sought-after health care services. Stiff competition is taking place as orthopedics involves a range of procedures that run the gamut from OTC knee braces and supports to hip replacement surgery.
At the same time, customers seeking orthopedic treatment also have a sense of urgency. People look for solutions more often than not because they are in pain. Addressing their fears, providing quick and effective care, thus alleviating discomfort is a critical part of gaining and maintaining them.
Based on product segment, knee braces and supports hold majority of the global orthopedic braces and supports market share. However, it is anticipated that xx segment is going to witness maximum CAGR of ~xx% over the forecast period owing to xx.
Healthy knee joints are essential to maintain an active lifestyle, but as the most significant joint in the body, the knee is also one of the most vulnerable to injury, according to the American Academy of Orthopedic Surgeons (AAOS). In fact, knee injury is one of the most common reasons people visit a doctor, with over 10.4 million U.S. patients seek treatment every year for serious knee injuries such as sprains and tears of ligaments. The need to relieve chronic knee pain, prevent injury, improve rehabilitation, and move the physical and athletic performance limits has led to increased use of specific braces such as unloader braces, functional knee braces, and neoprene sleeves.
Although specific knee braces are well known to be used and their purpose as injury and disease prevention and management devices is well defined, these devices primarily serve the purposes of providing lateral stabilization and correcting knee joint structure alignment. Since technology has advanced, there is now much more concrete prospect of going beyond structural support and alignment-correction to also improve the muscle strength of the legs.
North America and Europe cumulatively account for over 60% of the total orthopaedic braces and supports market. The regional market is anticipated to progress on account of growing sports injuries and road accidents in the region. The primary factors attributed to growth of North America orthopaedic braces and supports market is better reimbursement policies for orthopaedic treatment, high healthcare expenditure, and better adoption of advanced solutions in the field of orthobiologics.
The APAC orthopedic braces and supports market is driven by the rising geriatric population globally. Osteoarthritis, sports injuries, other serious wounds, orthopedic surgery, obesity, and osteoporosis are some of the major healthcare conditions driving this market. The industry revenue is expected to be fuelled by companies and distributors who produce and promote braces and supports for prophylactic and performance-enhancing products. Also with the growing internet penetration and e-commerce distribution channel in developing economies such as India, Japan and China, the Asia Pacific orthopedic braces and supports market is anticipated to grow further.
The growing trend of lifestyle diseases in the elderly population has resulted in an increasing occurrence of osteoarthritis, and growing awareness regarding braces and supports will certainly fuel market growth in Asia Pacific over the forecast period. Also, Japan orthopedic braces and supports segment is anticipated to grow at a lucrative growth rate owing to presence of 30% of population over the age of 65.
Global Orthopedic Braces and Supports Market, by Region 2015-2025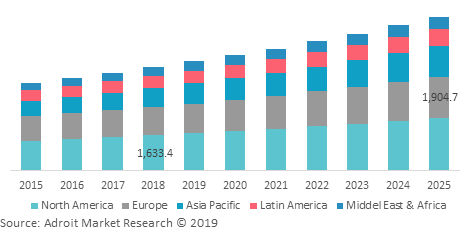 Global Orthopedic Braces and Supports Market, by Region 2018, (%)