The global emergency medical supplies market was valued at USD 23.84 billion in 2020 and is projected to grow at a CAGR of 6.9% during the forecast period. Factors driving the growth of the emergency medical supplies market include increasing incidence of trauma injuries, growing incidence of COVID-19 cases and rising healthcare expenditure across the world.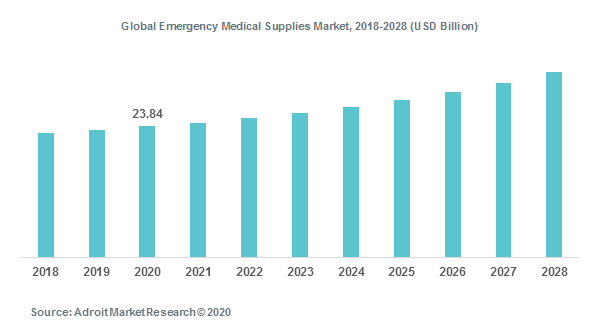 The industry for emergency medical supplies has many dynamic establishments marketing their products through retail or in a self-owned web store. In many developed countries, pre-hospital settings have a unique procuring system, for instance the ambulance building companies do not buy any supplies for the ambulances, but it is the health care regions centralized purchasing or ambulance stations themselves that do the purchasing. There are monetary constraints to the purchasing and the key concern is that the products bought by the consumer cannot be high in value, but have to be a quality produce from a reliable supplier.
Regionally, North America accounted for the largest market share of the global emergency medical supplies market attributable to growing emphasis of healthcare providers. Leading players of the global emergency medical supplies market include Bound Tree Medical, Henry Schein, Inc., McKesson Medical-Surgical, Inc., Medline Industries, Inc., Stryker Corporation, Emergency Medical Products, Inc., Cardinal Health, Smiths Medical, Inc., Life-Assist, Medtronic plc. among others.
Key segments of the global emergency medical supplies market
Product Overview, 2018-2028 (USD Billion)
Life support & emergency resuscitation
Patient monitoring systems
Wound care consumables
Patient handling equipment
Infection control supplies
Other EMS products
Regional Overview, 2018-2028 (USD Billion)
North America
Europe

Germany
United Kingdom
France

Asia Pacific
South America
Middle East & Africa
Reasons for the study
High demand for emergency care
Increasing incidence of trauma injuries
Growth in investments, funds, and grants by government bodies worldwide
What does the report include?
The study on the global emergency medical supplies market includes qualitative factors such as drivers, restraints and opportunities
The study covers qualitative and quantitative analysis of the market segmented on the basis of product. Moreover, the study provides similar information for the key geographies.
Actual market sizes and forecasts have been provided for all the above-mentioned segments
The study includes the profiles of key players in the market with a significant global and/or regional presence
Who should buy this report?
The report on the global emergency medical supplies market is suitable for all the players across the value chain including product manufacturing companies, suppliers/distributors, R&D labs, CROs, healthcare organizations, medical reimbursement and insurance providers
Venture capitalists and investors looking for more information on the future outlook of the global emergency medical supplies market
Consultants, analysts, researchers, and academicians looking for insights shaping the global emergency medical supplies market
The COVID-19 outbreak has disrupted the supply of critical medical equipment and supplies throughout the world. With the People's Republic of China (PRC) restarting production through various sectors, transportation networks are flabbergasted with limited capacity and intensified demand. Backlogs in manufacture, export timelines, and delivery liability have obstructed all sectors. Stocks for medical supplies are limited, and accessibility is changing at short notice. Even UN agencies and private sector with profound market understanding and proven relationships with companies are facing large bottle necks. Added complications in transportation (air and sea), quarantine restraints and customs approval create challenges to foretell. Western suppliers are gradually being instructed by their governments to prioritize supply for native requirements.
The life support & emergency resuscitation dominated the global emergency medical supplies market by product in 2020.
EMS is delivered by a variety of individuals, by means of various methods. To a certain level, these are dogged by nation and setting, with each country having its own 'approach' in what manner EMS should be delivered, and by whom. In certain parts of Europe, for instance, regulation asserts that efforts at providing Advanced Life Support (ALS) services must be physician-led, whereas others authorize specific elements of that skill set to especially trained nurses, but have no paramedics. In other regions, as in the UK, North America and Australia, ALS services are executed by paramedics, but hardly ever with the kind of direct "hands-on" physician guidance seen in Europe.
In India, EMS is a fairly new notion, where the peak dominant model is the EMRI (Emergency Management and Research Institute). EMRI operates around 10 states in India. A number of other states like Delhi, Kerala, Bihar and Himachal Pradesh have embraced EMRI-like model, but have various agencies in service for EMS in those states. States like West Bengal and Madhya Pradesh chose simple transportation services (without stabilization care) in the Public Private Partnership mode through NGOs contracted at area level. The central government upkeep to the above stated system is largely in the form of monetary provision.