The global ambulance services market was valued at USD 26.70 billion in 2020 and is projected to grow at a CAGR of 9.8% during the forecast period. Factors driving the growth of the ambulance services market include increasing number of road mishaps, growing prevalence of chronic diseases and rising medical tourism.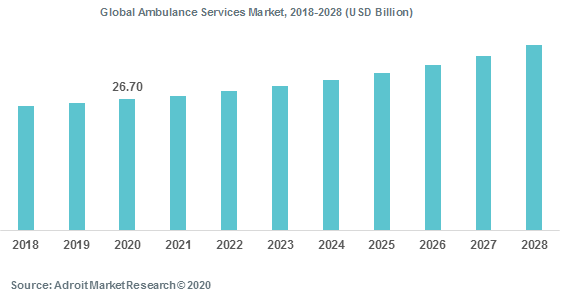 The global ambulance services market is segmented based on mode of transport, service and equipment. Mode of transport is further split into ground, air, and water ambulance services. The ground segment dominated the market in 2019. On the basis of service, the market is segmented into emergency and non-emergency ambulance services. The emergency segment was the largest market in 2019. By equipment, the advanced life support ambulance services segment accounted for the largest share of the global ambulance services market and is projected to sustain its dominance over the forecast period.
Regionally, North America accounted for the largest market share of the global ambulance services market attributable to increasing per capita healthcare spending. Leading players of the global ambulance services market include London Ambulance Service NHS Trust, BVG India Limited, Acadian Ambulance Service, Lufttransport, America Ambulance Services, Inc., Air Medical Group Holdings Inc., Falck A/S, Harmonie Ambulance, Air Methods Corporation, Ziqitza Healthcare Limited. among others.
Key segments of the global ambulance services market
Transport Vehicle Overview, 2018-2028 (USD Billion)
Ground Ambulance Services
Air Ambulance Services
Water Ambulance Services
Services Overview, 2018-2028 (USD Billion)
Emergency Ambulance Services
Non-Emergency Ambulance Services
Equipment Overview, 2018-2028 (USD Billion)
Advance Life Support Ambulance Services (ALS)
Basic Life Support Ambulance Services (BLS)
Regional Overview, 2018-2028 (USD Billion)
North America
Europe

Germany
United Kingdom
France

Asia Pacific
Latin America
Middle East & Africa
Reasons for the study
Favorable reimbursement policies
Rising medical tourism
Increasing number of road accidents
What does the report include?
The study on the global ambulance services market includes qualitative factors such as drivers, restraints and opportunities
The study covers qualitative and quantitative analysis of the market segmented on the basis of mode of transport, service and equipment. Moreover, the study provides similar information for the key geographies.
Actual market sizes and forecasts have been provided for all the above-mentioned segments
The study includes the profiles of key players in the market with a significant global and/or regional presence
Who should buy this report?
The report on the global ambulance services market is suitable for all the players across the value chain including product manufacturing companies, suppliers/distributors, R&D labs, CROs, healthcare organizations, medical reimbursement and insurance providers
Venture capitalists and investors looking for more information on the future outlook of the global ambulance services market
Consultants, analysts, researchers, and academicians looking for insights shaping the global ambulance services market
Growth in immigration, rising birth rates, increasing disease and life expectancies, along with emergency medical events, are fuelling the demand for ambulance services. The success of different companies rest on on swift and effective retort and operating efficiency. Big corporations have advantages of scale in contract negotiations, service competences, technology, and geographic coverage. Small establishments can contest effectively by providing superior service in particular locations. The ambulance service industry can prosper in the coming years, if it embraces modification. For this it must, decide the value of ambulance services for payers, healthcare providers, patients and healthcare organizations; encounter the varying customer demands of patients, healthcare organizations , and healthcare providers; adopt and exploit the budding mobile technology to benefit the business become more efficient and pioneering.
On the basis of mode of transport, air ambulance is anticipated to witness lucrative growth during the forecast period. Air ambulance services transport patients both from the sight of a mishap to a hospital, or amid hospitals so that a patient may be given more sophisticated medical care at a specialty facility for instance a trauma, cardiac center or burn care. Air ambulances themselves are either jets or fixed-winged airplane that are particularly furnished for carrying ill or seriously wounded people needing emergency or specialized treatment. Air ambulance suppliers can be either hospital held operations, municipalities, a government service or a privately owned establishments that indenture with hospitals. In the U.S. air ambulance business is categorized by rigid pricing. In other words, the expense of air ambulance services has no bearing on the whole demand for such services. Traditionally, private insurers have augmented reimbursement charges in comparative proportion to air ambulance providers' price increases. The air ambulance industry informs that the net profit from air ambulance service price increases usually varies from 8% -12% per annum.
Asia Pacific is anticipated to observer the fastest growth rate over the forecast period. In India, mainstream of the population lives in rural areas. By identifying the need to deliver timely medical care in hospitals, mainly to pregnant women and infants, with a view to reduce the maternal mortality ratio (MMR) and infant mortality ratio (IMR), National Rural Health Mission (NRHM) funds state governments in initiating and enhancing the Emergency Response Services (ERS). The NRHM delivers 100% sponsoring for the capital disbursement of ambulances for 108 services. For 102 services, National Health Mission NHM offers funding for both capital and operational costs. NRHM mandates the global positioning system (GPS) be fitted in ambulances of all state governments to safeguard consistent and secure free transport for expectant women and babies, and create control rooms for opportune response and delivery of services.