The emerging trend of digitization, along with the increasing utilization of cloud-based MRM solutions across the globe, are expected to be the key factors driving the growth of the market
Covid-19 Impact & Market Status
The report offers an exhaustive overview of the business dynamics and new investment strategies that are being adopted by business leaders across countries and regions to overcome the acute challenges and financial instabilities that have emerged in the post pandemic times.
The report highlights some of the best industry strategies and practices that are adopted by the players across local and global markets. Ever since the Covid-19 broke out in 2019, it has spread aggressively, resulting in rapid declaration by the WHO affirming Covid-19 as a global pandemic and an emergency.
These developments are hampering operations resulting in supply chain breaches, stock market inefficiencies, and vendor chaos. These are constantly interfering with the normal functioning of industries.
Ever since the outbreak of the global crisis, impact on upstream, downstream, and midstream industries have been appalling. The report delivers a quick ready-to-deploy approach to counter such crisis and steer the global MRM solutions market towards steady growth and systematic progression.
Amidst the pandemic, aligning with new dynamics, global MRM solutions market has been witnessing new dynamics which are further necessitating new business models and approaches to recoup growth and revenue streams.
In this report, inquisitive business players would be provided with sufficient guidelines regarding business transformation, integral to sustain stiffening competition in the pandemic and beyond pandemic era global MRM solutions market.
Solutions to be the dominant segment
Solutions segment to be a larger contributor to the marketing resource management market growth during the forecast period. MRM solutions are modularized and interconnected, yet comprehensive marketing operations management technology that addresses critical business issues related to the management of marketing budgets, marketing calendars, and digital assets. Vendors in the market offer such solutions in the form of an integrated platform, as a capability, as standalone solutions, or as differentiated yet interconnected bundled solutions. MRM solutions enable companies to create, update, and maintain content to optimize content sharing and collaboration and publishing, ensure faster TTM, increase brand awareness, drive online traffic and sales, and enhance customer experience and satisfaction. Emerging technologies, such as AI, and the integration capabilities of MRM solutions with various business platforms, such as ERP, CRM, and marketing platforms, have facilitated streamlined marketing operations and better resource management.
On-premise deployment to be the Most Lucrative
On-premises deployment of MRM solutions empowers organizations by giving them the ownership of their data; the flexibility to customize the solution as per their requirements; an option to integrate with the existing business applications, such as ERP, CRM, marketing automation, and sales enablement platforms; manage risks, business processes, and organization's internal policies; and adhere to external compliance requirements. Organizations across industry verticals, such as BFSI and healthcare and life sciences, are expected to prefer the on-premises deployment of MRM solutions because these organizations deal with critical and sensitive data, unauthorized accesses, losses, or misuse of that which might incur hefty losses to them. Moreover, due to the variety of benefits related to the system pattern and customization, the acceptance of on-premises resolutions increases. The on-premises deployment of resolutions gives power to businesses by giving them possession of their information. Besides, this deployment technique permits businesses to administer and possess total control above their integrations of the organization. The installation of the on-premises MRM solution is massive owing to the associated advantages of configuration and multiple customization options and low vendor dependency.
APAC to Sweep the Largest Revenue Streams Followed by North America
The APAC region is among the digital hubs of the world. Businesses in this region have been quick to identify the benefits of tech-enabled marketing solutions as a facilitator of digital transformation. The high growth of the market in APAC can be attributed to the high consumer spending and internet penetration, rising number of business processes, springing startups having limited IT budgets, and increasing adoption of cloud technologies. Furthermore, various global MRM solution providers, including Oracle, IBM, SAP, HCL Technologies, have their businesses in the region due to the region's low-cost benefits and high availability of the workforce, with which adoption of MRM solutions is expected to increase rapidly in future across the region. The region has witnessed increasing support from the government for the growth of SMEs and has a growing retail and e-commerce market, which drives the demand for MRM solutions. Furthermore, the adoption of cloud-based solutions and services is further boosting the market growth in the region. Additionally, the growing number of startups focusing on developing MRM solutions for enterprises across various verticals is expected to drive the regional market growth during the forecast period.
The integration of MRM with artificial intelligence (AI) and big data tools for data-driven marketing, is also providing a boost to the market growth
Marketing resource management (MRM) is a category of marketing technology that focuses on helping organizations consolidate their resources — their processes, operations, content, workflows, and information — into a single system to better support their marketing campaigns and programs. The goal of MRM software is to help organizations improve the day-to-day efficiencies of running their marketing campaigns, programs, and initiatives. It focuses on fine-tuning backend operations, so marketers can spend their time and energy on more creative and strategic aspects of their job.
The main features of MRM solutions are online proofing and approval to simplify review processes, creative review stages and project timelines to keep collaborators organized, project management and file-sharing integrations to sync and share files across systems, adobe creative cloud integration to pull approved assets directly into design tools, robust search capabilities to connect people with the best assets for the job, automatic file conversions to eliminate bottlenecks and free designers from one-off requests, share links and embed codes for easy content distribution and updates, collections and portals to curate subsets of assets and information for anyone, customizable metadata, categories, and collections for flexibility, no matter the business need, image recognition and auto tagging to make files available faster, batch uploading and editing for time-savings, version control and auditing for historical data and accuracy, do-it-yourself automation for custom notifications, asset-level analytics, system reporting, and dashboards for smarter content planning, rights management to prevent copyright violations, secure, scalable cloud infrastructure via a quality provider like amazon web services (aws), global content delivery network (cdn) for reliability, enterprise governance controls for brand consistency and compliance, and granular roles and permissions so only the right people have access to the right assets.
Marketing resource management (MRM) technology is witnessing rampant adoption in the marketing industry, allowing market expansion in the MRM industry. The emerging trend of digitization, along with the increasing utilization of cloud-based MRM solutions across the globe, are expected to be the key factors driving the growth of the market. Advances in the artificial intelligence (AI) and its integration in MRM solutions are also likely to push the market size.
Further, increased awareness related to cloud benefits among small enterprises is driving its adoption are expected to ravel new growth opportunities in the global MRM market during the forecast period.
In present times, the retailers shifting business operations online to continue businesses during lockdown imposed due to COVID-19 is boosting the cloud based MRM solutions demand.
Forward-looking players in the global MRM market are furthering investments towards developing advanced Marketing Resource Management to address current limitations improve the features of next generation marketing resource management solutions.
As new generation MRM solutions are underway with promising performance, this is expected to serve as an apt opportunity for the global MRM market in the projected timeline. Also, advantages reduction of cycle time projections is anticipated of offer growth opportunities for the Marketing Resource Management market.
Marketing Resource Management enable swift signal transmission via differential sequencing across bidirectional data lines. Differential protocols of data transmission via LVDS also help in reducing connections for display-interface connectivity. These factors fuel ample growth in the global LVDS market, and the growth trend is likely to continue in the coming years.
MRM solutions are made up of applications and technologies that help coordinate processes, workforces, and assets for marketing. These solutions are widely adopted by enterprises for various functionalities, such as performance management, knowledge management, and strategic planning. The advancements in enterprise technology, coupled with global changes in consumer behavior, are expected to drive the demand for MRM solutions over the forecast period. Furthermore, the increasing consumer demand for digital marketing experiences is expected to propel the market growth.
The marketing resources are expected to increase the integration of big data sets and include connected Internet of Things (IoT) technologies into business operations, thereby creating growth opportunities for the MRM solutions in various end-use industries. Brand managers across the globe are focusing on adopting Marketing Technology (MarTech) in their business operations. These MarTech tools include Content Management System (CMS), Marketing Automation (MA), and Customer Relationship Management (CRM), among others. These tools offer major benefits in terms of performance and asset management.
The absence of cost visibility while implementing marketing resource management applications is expected to hamper the market growth. Furthermore, the lack of trust in new marketing technologies is creating challenges for MRM vendors.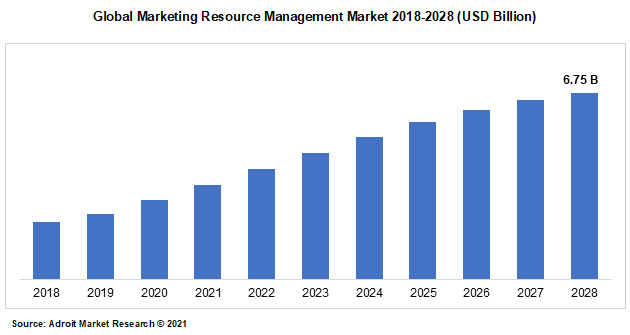 The major players of the global Marketing Resource Management market are Oracle, SAP , SAS, Adobe, Aprimo, Brandmaker, Allocadia, HCL Technologies, Wedia, Welcome, Infor, inMotionNow, Seismic and Sitecore. Other players include Contentserv, IBM, Smartsheet, Capital ID, BrandMaster, Simple, Wrike, Widen, Marcom Central, TapClicks, Admation, Marvia, Resolut, IntelligenceBank, MRMCentral, Bynder, Hive9, Plannuh, Shopperations, Central De Marca, Optimatica, Dreamdata, SharpSpring, and myBrand.
The Marketing Resource Management market is a rapidly progressing industry and is characterized to have industrial frontliners as well as aspiring new players aiming to penetrate into the aggressive competitive landscape across global and local markets. Additionally, various new and aspiring players are improving their product lines and upgrading technological capabilities to improve revenue streams amidst Covid-19 impact.
BFSI, Consumer Goods & Retail, Manufacturing, IT & ITeS, Telecom, Healthcare, Media, Education and Others
Latest Innovations in the Global MRM Market: a Snapshot
In 2017, Aprimo LLC, one of the leaders in the marketing resource management (MRM) market acquired ADAM software which delivers a digital asset management software solution. The acquisition will allow Aprimo to offer efficient and integrated marketing operations in terms of production and publication content.
Recently, Broadridge Financial Solutions, Inc., a leading provider of marketing resource management (MRM) solutions acquired ActivePath, an Israeli-based digital technology company to strengthen Broadridge's governance and communications businesses.
Bynder, a prominent leader in the marketing resource management (MRM) market has recently announced the acquisition of Webdam, a Shutterstock digital asset management business. The acquisition is targeted to deliver scalable and cloud-based digital marketing solutions.
Marketing Resource Management (MRM) Market Scope
| | |
| --- | --- |
| Metrics | Details |
| Base Year | 2020 |
| Historic Data | 2018-2019 |
| Forecast Period | 2021-2028 |
| Study Period | 2018-2028 |
| Forecast Unit | Value (USD) |
| Revenue forecast in 2028 | USD 6.75 billion |
| Growth Rate | CAGR of 11% during 2021-2028 |
| Segment Covered | Component, Deployment Type, Industry Vertical, Regions |
| Regions Covered | North America, Europe, Asia Pacific, South America, Middle East and South Africa |
| Key Players Profiled | Oracle, SAP , SAS, Adobe, Aprimo, Brandmaker, Allocadia, HCL Technologies, Wedia, Welcome, Infor, inMotionNow, Seismic and Sitecore. Other players include Contentserv, IBM, Smartsheet, Capital ID, BrandMaster, Simple, Wrike, Widen, Marcom Central, TapClicks, Admation, Marvia, Resolut, IntelligenceBank, MRMCentral, Bynder, Hive9, Plannuh, Shopperations, Central De Marca, Optimatica, Dreamdata, SharpSpring, and myBrand. |
Key Segments of the Global Marketing Resource Management (MRM) Market
Component Overview, 2018-2028 (USD Billion)
Deployment Type Overview, 2018-2028 (USD Billion)
Industry Vertical Overview, 2018-2028 (USD Billion)
BFSI
Consumer Goods & Retail
Manufacturing
IT & ITeS
Telecom
Healthcare
Media
Education
Others
Regional Overview, 2018-2028 (USD Billion)
North America
Europe
Germany
France
UK
Rest of Europe
Asia Pacific
China
India
Japan
Rest of Asia Pacific
South America
Mexico
Brazil
Rest of South America
Middle East and South Africa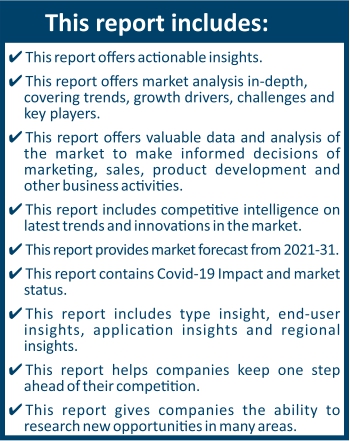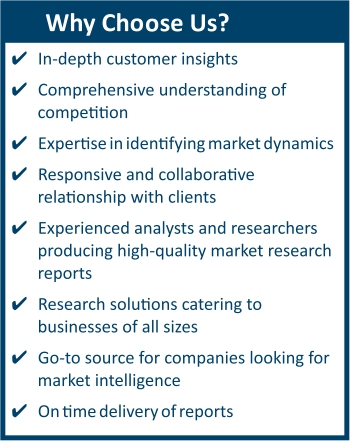 Frequently Asked Questions (FAQ) :
The marketing resource management market is studied from 2018 - 2028.
The marketing resource management market is growing at a CAGR of 11% over the next 7 years.
APAC is growing at the highest CAGR over 2021- 2028.
Oracle, SAP , SAS, Adobe, Aprimo, Brandmaker, Allocadia, HCL Technologies, Wedia, Welcome, Infor, inMotionNow, Seismic and Sitecore. Other players include Contentserv, IBM