The global Infotainment System market is projected to reach $15.13 Billion by 2030, growing at a CAGR of 9.3%
The infotainment system market is estimated to expand reaching near about USD 38 billion with an estimated CAGR of 8% during the projected timeline, 2021-2028. One of the primary factors driving demand for automotive infotainment systems is the rising need for greater comfort, safety, and convenience in driving experience, which includes features like smartphone connectivity, live audio streaming, on-demand music, and a range of other entertainment services.
Innovation in display material, mainstream commercialization of e-vehicles, along with the integration of advanced technologies such as advanced sensor technology, ADAS integration and vehicle-to-everything availability are expected to open up new growth avenues in the forthcoming years. However, prevalent downsides such as high cost of maintenance and exorbitant pricing of the high-resolution display glasses could mar optimistic growth in the infotainment system market in the coming times.
The automotive infotainment system industry is expanding rapidly. With the changing mobility industry, infotainment systems are developing to provide passengers with enhanced safety capabilities, new functions, and entertainment alternatives. Smartphone connectivity, via Wi-Fi and Bluetooth, allows a user to access messages and information, making it even easier to work on the move.
In the automobile industry, an infotainment system is a combination of hardware and software that provides entertainment and information material linked to the car. Bluetooth technology or cell phones are used to aid drivers in managing the system via touchscreen input, voice instructions, or physical control. Because of the advancements in the smartphone and IT industries, there has been a surge in the use of entertainment services such as live music and cloud services, which in turn are bolstering growth milestones in automotive infotainment system market.
Similarly, the use of navigation and vehicle control systems in commercial vehicles reduces reaction time during crises, decreasing the risk of accidents. Similarly, growing smartphone use, along with strong internet connectivity, has a substantial influence on worldwide market growth. Aside from that, a growing number of automakers are offering low-cost infotainment systems, increasing product affordability.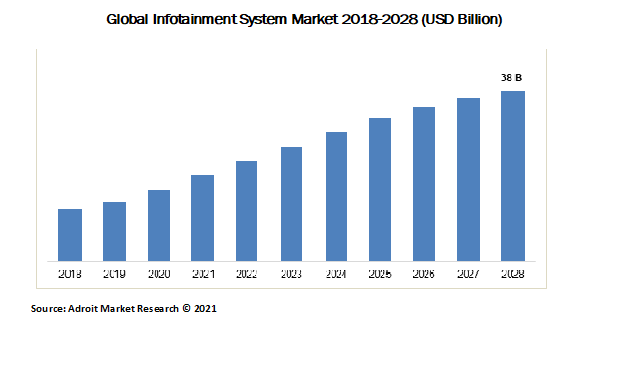 The prominent players of the infotainment system market are Continental AG, Clarion Co., Ltd., Alpine Electronics, Visteon Corporation, Denso Corporation, Panasonic Corporation, Delphi Automotive PLC, Pioneer Corporation, Harman International, and JVC KENWOOD Corporation.
To enhance their market position, market participants in infotainment system market are also pursuing strategic initiatives such as geographical expansions, acquisitions, mergers, partnerships, and collaborations to justify their lead.
To elevate market participants' position on the competition graph and follow their strategic practices resulting in geographical expansion, M&A ventures and collaborative initiatives.
For instance, Continental AG and Pioneer Corporation, established a strategic collaboration to combine infotainment technologies in May 2020. Both firms intended to build a comprehensive user experience for the Asian market as part of this collaboration.
Infotainment System Market Scope
| | |
| --- | --- |
| Metrics | Details |
| Base Year | 2020 |
| Historic Data | 2018-2019 |
| Forecast Period | 2021-2028 |
| Study Period | 2018-2028 |
| Forecast Unit | Value (USD) |
| Revenue forecast in 2028 | USD 38 billion |
| Growth Rate | CAGR of 8% during 2021-2028 |
| Segment Covered | Product Type, Fit Type, Vehicle Type, Regions |
| Regions Covered | North America, Europe, Asia Pacific, Middle East and Africa, South America |
| Key Players Profiled | Pioneer Corporation, Alpine Electronics, Panasonic Corporation, Visteon Corporation, Continental AG, Denso Corporation, Delphi Automotive PLC, Harman International, Clarion Co., Ltd., and JVC KENWOOD Corporation. |
Key Segments of the Global Infotainment System Market
Product Type Overview, 2018-2028 (USD Billion)
Audio Unit
Heads-Up Display
Display Unit
Communication Unit
Navigation Unit
Fit Type Overview, 2018-2028 (USD Billion)
Vehicle Type Overview, 2018-2028 (USD Billion)
Commercial Vehicles
Passenger Cars
Regional Overview, 2018-2028 (USD Billion)
North America
Europe
France
UK
Germany
Rest of Europe
Asia Pacific
China
Japan
India
Rest of Asia Pacific
South America
Brazil
Mexico
Rest of South America
Middle East and Africa
Reasons for the study
To understand the exact industrial segment that is likely to expand at the fastest and dominate revenue streams. This identification is applicable to the types of products, services, technologies, and geographical dominance.
To obtain a comprehensive study of the industry from multiple viewpoints using Porter's five forces analysis.
The competitive landscape comprises the market ranking of the major rivals, as well as the firms' partnerships, acquisitions, and corporate expansions.
What does the report include?
The present and future market perspectives of the industry in terms of recent changes, including growth prospects and drivers, as well as obstacles and restraints in both emerging and developed areas.
Geographic analysis focuses on product/service consumption in the region as well as determining the elements influencing the market within each region.
The research sheds insights on the industry and market sector that is likely to dominate.
Save and minimize time spent on entry-level research by discovering the worldwide market's growth, size, top players, and segments.
Who should buy this report?
• This study will benefit every player in the infotainment system market.
• Government agencies, regulatory organizations, policymakers, and businesses interested in investing in infotainment system market trends are encouraged to contact us.
• Managers in the infotainment system market who wish to discuss current and upcoming worldwide market data.
• Market data is sought by strategy managers, researchers, and government agencies to guide future operations.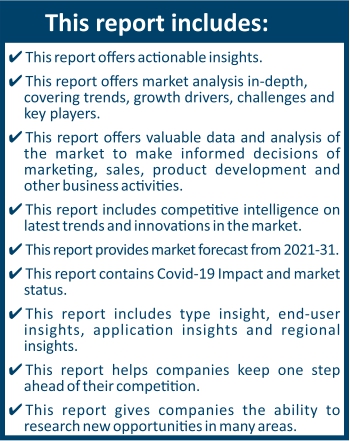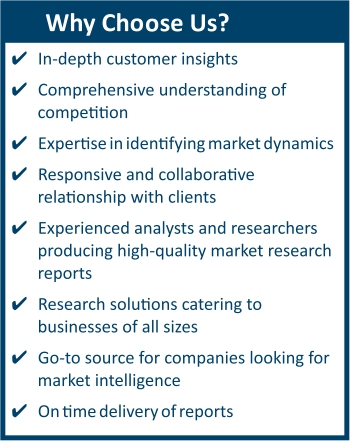 Frequently Asked Questions (FAQ) :
The market value of infotainment system market in 2028 was USD 38 billion
The major contenders in the global market are Pioneer Corporation, Alpine Electronics, Panasonic Corporation, Visteon Corporation, Continental AG, Denso Corporation, Delphi Automotive PLC, Harman International, Clarion Co., Ltd., and JVC KENWOOD Corporation
The base year for the report is 2021 in infotainment system market.
Automotive infotainment is an umbrella term defining a gamut of technologies that allow seamless integration of entertainment and services within automobile to facilitate on-the-go access.
Hands-free phone connections, navigational services, vehicle voice control, internet access, climate management, parking assistance, two-way communication tools, and other security services are provided by the system. These elements contribute to the cars' operating efficiency while also boosting safety and driving experience. Smartphone functionalities are increasingly being integrated into in-vehicle infotainment systems. Developed countries across North America and Europe have unhindered in-car internet connectivity via smartphones. As the usage of mobile phones has grown, so has the use of smartphones in vehicles to achieve the same goals.
Automobile manufacturers are using modular hardware design as well. This enables consumers to save money on the procurement of information and entertainment systems. They are working on technology that will allow smartphone features to be integrated into in-vehicle infotainment systems at a cheap cost. Manufacturers are working hard to balance processing power and system competitiveness. Digital services produce huge quantities of data that carmakers may use to improve the operation of linked cars. There is also an increasing need for rear-seat infotainment devices, which has increased over time. Giving control over these systems via smartphones will increase the penetration of infotainment systems incorporated into automobiles.
Product Type Segment
In 2020, the communication unit segment represented the biggest part of the entire market volume, accounting for approximately 26 percent of the total market volume. Because of the advent of the 4G LTE network, communication devices have become more dependable, allowing sophisticated onboard functions such as 3D navigation, hands-free calling, satellite radio, and media streaming, Increased attempts to create 5G networks are also likely to boost connection functions in infotainment systems. Furthermore, some automakers want to provide sophisticated communication systems in economical and mid-segment car types. All of these elements are likely to promote segment expansion.
Fit Type segment
In 2020, the OE fitted segment had the highest revenue share, accounting for almost 70% of the whole market. Because they are standardized, OE-fitted items are more costly and provide less personalization. They are available from authorized distributors and dealers. These items provide consumers with advantages such as simpler service and maintenance, and they are protected by the automobile manufacturer's guarantee. Furthermore, an OE-fitted setup has access to automobile data, allowing the firm to conduct direct marketing campaigns for servicing and maintenance.
Vehicle Type segment
In 2020, the passenger car segment was responsible for around 80% of the entire market. The growing demand for connected car technologies in passenger vehicles, as well as the introduction of self-driving vehicles, is projected to fuel category growth. Furthermore, automakers are increasingly concentrating on providing a better user experience to their consumers, which has increased demand for car infotainment systems.
In the near future, Asia Pacific will have the highest revenue share of the worldwide market. This rise can be linked to the region's growing passenger automobile sales and manufacturing. Rising income levels and increased vehicle demand in the region have led in the rise of the luxury and mid-sized premium automobile segments.