ADAS or Advanced Driver Assistance Systems warns the driver of hazardous road conditions or making drivers experience simpler, comfortable and most importantly safe. Some ADAS are built-in traits and others can be add-on features. These ADAS are apt for applications such as lane-keep assistance, spot monitoring, and forward collision warning. Some of the platforms take ADAS to the next level by employing software libraries and deep learning, source packages, and frameworks that researchers and developers can use to validate, optimize and deploy their work. This offers developers a strong foundation for developing applications that leverage computationally intensive algorithms for map localization, object detection, and path planning.
The Global ADAS Market was valued at USD 16.35 billion in 2018 and is likely to surge during the forecast period. The factors that have bolstered the market growth include rising public spending on luxury vehicles which raised the automobile sales and road traffic, which in turn, spurred the probability of accidents, fatalities and property loss. According to National Highway Safety Traffic Administration (NHTSA) of United States, death tolls in road accidents increased from 37,461 in 2016 to 40,100 in 2017 even after government initiatives related to speed level enforcement, safety seat belt, and warnings for alcohol consumption. This out-turned in higher demand for automated warning systems and collision mitigation technologies and become the driving force for the advanced driver assistance system market.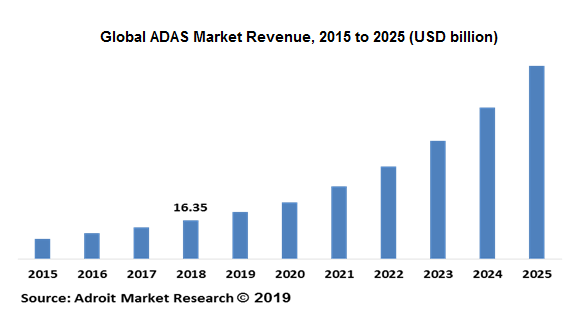 Moreover, the aforementioned factors have impetus manufacturers to opt for vehicle safety technologies to lower road casualty. By including multiple features offered by ADAS, manufacturers mainly focus on crash avoidance and injury prevention to address the safety of all road users, thereby escalating industry growth. Noting the great revenue generation, automobile manufacturers are constantly investing in R&D to deliver crash avoidance technologies which offer human-machine interface (HMI) to enhance driver behavior while mitigation system lower crash severity with help of intelligent speed adaption and advanced braking system. Further, OEMs are using these systems as a differentiating feature for higher automobile sales and fuelling the overall ADAS market share.
Advanced Driver Assistance Systems (ADAS) Market Scope
| | |
| --- | --- |
| Metrics | Details |
| Base Year | 2019 |
| Historic Data | 2017-2018 |
| Forecast Period | 2020-2025 |
| Study Period | 2015-2025 |
| Forecast Unit | Value (USD) |
| Revenue forecast in 2025 | USD 16.35 billion |
| Growth Rate | CAGR of 29% during 2021-2028 |
| Segment Covered | Sensors, System, Vehicle Type, Component, Regions |
| Regions Covered | North America, Europe, Asia Pacific, Middle East & Africa, South America |
| Key Players Profiled | Continental, Bosch, Denso, Delphi, TRW Automotive, BMW, Mobileye, Hitachi Automotive, Valeo, Magna International, and others. |
Key Segments of the Global ADAS Market
Sensors Overview, 2015-2025 (USD Billion)
Ultrasonic
Radar
Lidar
Camera
System Overview, 2015-2025 (USD Billion)
Adaptive Cruise Control (ACC)
Adaptive Front Light (AFL)
Automatic Emergency Braking (AEB)
Blind Spot Detection (BSD)
Cross Traffic Alert (CTA)
Driver Monitoring System (DMS)
Forward Collision Warning (FCW)
Park Assist (PA)
Lane Departure Warning (LDW)
Night Vision System (NVS)
Pedestrian Detection System (PDS)
Road Sign Recognition (RSR)
Traffic Jam Assist (TJA)
Ecall
Vehicle Type Overview, 2015-2025 (USD Billion)
Component Overview, 2015-2025 (USD Billion)
Regional Overview, 2015-2025 (USD Billion)
North America
Europe

France
UK
Germany
Italy
Russia
Rest of Europe

Asia Pacific

India
Japan
China
Australia
Rest of APAC

Central & South America

Brazil
Mexico
Rest of Latin America
Reasons for the study
The purpose of the study is to give an exhaustive outlook of the global ADAS market. Benchmark yourself against the rest of the market.

Be prepared for how ADAS technology trends and the global ADAS market will be impacted by socio-political and economic factors over the next few years

Ensure you remain competitive as new innovations and insurance models begin to enter the market.
What does the report include?
The study on the global ADAS market includes qualitative factors such as drivers, restraints, and opportunities

Additionally, the market has been evaluated using the Porters 5 Forces and Value Chain Analysis.

The study covers the qualitative and quantitative analysis of the market segmented on the basis of sensors, system, vehicle type, component, and region. Moreover, the study provides similar information for the key geographies.

Actual market sizes and forecasts have been provided for all the above-mentioned segments.

The study includes the profiles of key players in the market with a significant global and/or regional presence.
Who should buy this report?
This study is suitable for industry participants and stakeholders in the Global ADAS market. The report will benefit:
Executives of ADAS design and development companies

Executives from Automotive companies who are evaluating the applications and vendors of ADAS.

Managers within financial institutions looking to publish recent and forecasted statistics pertaining to the global ADAS market.

Government organizations, regulatory authorities, policymakers and financial organizations looking for innovative global ADAS market.

Analysts, researchers, educators, strategy managers, and academic institutions looking for insights into the market to determine future strategies.
With the vigorous growth in digital-data sources in vehicles, wireless networks have a vital role to play in in-vehicle as well as external connectivity. Besides that, with critical systems like anti-lock braking systems and tire-pressure monitoring, wireless options offer greater flexibility for standard automotive communications protocols such as XCP, CAN and FlexRay among others.
Apart from removing cables and wires, the evolution of highly integrated wireless devices offers a flexible foundation for services which help drivers stay informed about traffic conditions, vehicle status, and alternative routes. Key trends like the Internet of Things (IoT) and automated predictive maintenance systems promise to link smart devices within vehicles with the help of cloud-based applications.
Seeing the upcoming trends industry giants are acquiring startups or mid-sized companies to add value to their company. Likewise, Uber declared the USD 680 million acquisition of Otto which is a self-driving trucking company. Along with that, it also unveiled a USD 300 million tie-up with Volvo focused on vehicle development and production.
Sensors Segment
Based on the sensors, global ADAS market covers categories like ultrasonic, radar, lidar and camera. Ultrasonic has dominated the market by occupying 58.0% market share in 2018 but the camera is anticipated to have the fastest growth rate during the forecast period. Many customers opt for multiple types of sensor or sensor-fusion for the same application as just one sensor cannot safely monitor all the conditions. Automakers may build LiDAR-centric systems with backup from cameras or vice-versa. For example, BMW Group Research and Technology created a system called emergency stop assistant which require to surround environment perception. When the driver becomes incapacitated due to a medical emergency, this system safely drives the vehicle on automated driving mode on the emergency lane.
Vehicle Type Segment
Based on vehicle type, the market covers categories: PC, LCV and HCV. PC has the highest share in this segment i.e. 67.9% but HCV is predicted to surge up with 29.3% CAGR during the forecast period. The total cost of ownership (TCO) and fuel efficiency are critically important for an HCV or LCV. It's very important for them to improve their driving range and save fuel cost. ADAS enables trucks to plan paths more efficiently and prepare better for mountain climbs.
System Segment
On the basis of the system, the market is divided into Adaptive Cruise Control (ACC), Adaptive Front Light (AFL), Automatic Emergency Braking (AEB), Blind Spot Detection (BSD), Cross Traffic Alert (CTA), Driver Monitoring System (DMS), Forward Collision Warning (FCW), Park Assist (PA), Lane Departure Warning (LDW), Night Vision System (NVS), Pedestrian Detection System (PDS), Road Sign Recognition (RSR), Traffic Jam Assist (TJA) and Ecall. Forward Collision Warning has dominated the system segment by occupying 5.71% out of total share. The demand for FCW has increased due to the rising concern of society towards safety in autonomous vehicles.
Component Segment
Furthermore, based on the components of ADAS, the market is bifurcated into Software and Hardware. Hardware is projected to dominate the Global ADAS market by occupying 84.7% of market share.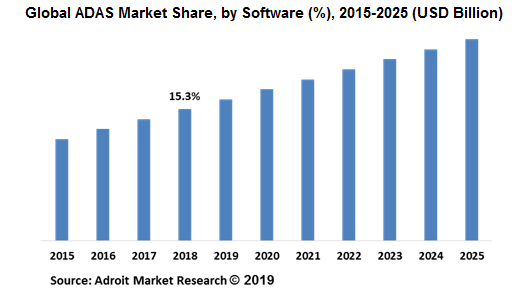 On the geographical front, the major market comes under North America, Europe, Asia Pacific, Latin America, and MEA. In 2018, North America dominated the market with a value of USD 5.72 Billion with a positive CAGR. After the 2009 recession, the United States has registered significant car sales, indicating an optimistic growth prospect for the automotive sector. This has majorly driven the U.S. market. The U.S and Canadian automotive industry are closely linked due to the Automotive Products Trade Agreement, along with the North American Free Trade Agreement (NAFTA), which in turn thriving the market in this region.
The major players of global ADAS market include Continental, Bosch, Denso, Delphi, TRW Automotive, BMW, Mobileye, Hitachi Automotive, Valeo, Magna International, and others. These leading players are part of mergers and acquisitions to remain on the competitive edge of the market. For instance, General Motors acquired Cruise Automation which is a startup, building self-driving technology. The acquisition is worth a value of USD 1 billion. Auto-components giant Delphi declared that its fleet offering of the self-driving vehicle with software for a mobility-on-demand program at Singapore Land Transport Authority.