benefits like improved customer service, increased sales, and increased customer loyalty. The use of in-store music services can improve the shopping experience, draw in new customers, and persuade current ones to stay longer. As a result, businesses may see an increase in revenue and customer satisfaction levels.
In-store Music Service Market's primary goal is to give customers a distinctive and pleasurable shopping experience. This experience must include music because it can help create a more enjoyable, inviting, and relaxed atmosphere. Additionally, it contributes to the development of a welcoming environment that motivates customers to browse the store longer, thereby boosting sales potential. Having music playing in the background can also help employees and customers feel less stressed, which can improve customer service and satisfaction in general.
The provision of in-store music allows businesses to create a welcoming environment that encourages customer engagement and loyalty. This is just one of the many benefits of the in-store music service market. Music has a significant impact on the shopping experience, which can increase customer satisfaction and encourage more repeat business. In-store music is a more affordable way for companies to reach their target audience and build brand awareness than other forms of advertising like television or radio ads. Businesses can quickly get access to a wide selection of music that suits their needs thanks to the simplicity of setting up and maintaining in-store music services. This enables them to concentrate on other aspects of their business while continuing to offer their clients high-quality background music. With the help of in-store music services, businesses can easily choose the right background music that their patrons will like because they have access to the newest releases and well-liked songs from a variety of genres.
A CAGR of 8.1% is anticipated to be achieved by the global in-store music service market, which was valued at USD 388.1 million in 2020 and is anticipated to reach USD 591.2 million by 2031 (2021-2031).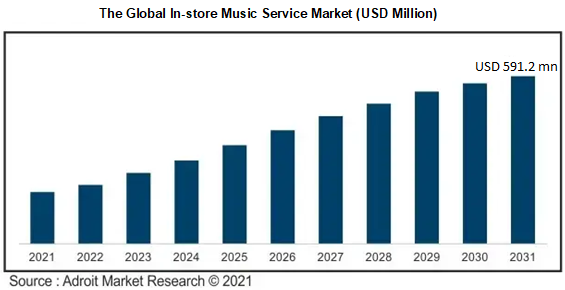 The market is primarily driven by the rising demand for music libraries and streaming services to meet the needs of customers in physical stores. The market is expanding due to the increasing popularity of ambient music in retail settings. This market has expanded as a result of retailers now offering personalised music solutions that are suited to their customers' preferences and the growing need for better customer experience. Additionally, a number of technological developments have given retailers access to vast amounts of data about consumer preferences and behaviour, which enables them to select the right music according to customer preferences.
The market for services that play soundtracks, background music, and other audio content in restaurants, hotels, and other establishments is known as the "in-store music service market." These services range from jukeboxes or kiosks where customers can choose the music they want to hear to subscription-based music streaming services that offer pre-programmed or custom playlists. Additionally, the market offers speakers and amplifiers so that companies can assemble their own in-store sound system.

The In-store Music Service Market is being driven by a number of factors. Businesses can now more easily access personalised music for their stores thanks to the accessibility of streaming services like Spotify, Apple Music, and Pandora. For instance, using these services, businesses can select particular genres or artists to foster a mood that appeals to their patrons. Because it helps create a calm and relaxed environment that encourages customers to stay longer and buy more items, ambient music is becoming more and more popular in retail settings. Each store can have a distinctive atmosphere that supports their brand identity thanks to customised music. This enables customers to form an emotional bond with the company, boosting loyalty and sales over time.
Technology advancements have made it easier for retailers to implement in-store music services at low cost by giving them access to higher quality sound systems at lower prices. Customized music is one way to accomplish this goal by fostering a pleasant atmosphere while customers shop, which is something that customers are increasingly looking for when they visit stores.
The market for in-store music services is being constrained by a number of factors. Users might not have access to all of the music in the in-store music service due to restrictions or limitations on geography, just like with other streaming services. For those who are unable to access particular content, this may reduce the market potential. Offering in-store music services can be very expensive because it frequently calls for the purchase of pricey hardware and software licences.
Due to this, it might be challenging for small businesses to provide their clients with this service. When using an in-store music service, streaming quality can also be a problem because the connection speed and sound quality might not be what users are used to from online streaming services. When compared to larger streaming services like Spotify and Apple Music, which have millions of tracks available for listeners, in-store music services frequently have a limited selection of content. Customers may need some time to get used to using a new in-store music service, particularly if they are already accustomed to using other streaming services on the internet or through mobile apps.
Apple Inc., Google LLC, Spotify AB, Sirius XM Holdings Inc., Pandora Media Inc., Soundtrack Your Brand AB, Rockbot, Inc., Ambie Music Ltd., and Elevator Music GmbH are just a few of the major companies/manufacturers/vendors profiled in the report.
According to type, the market for in-store music services is segmented into two categories: streaming media services and audio equipment. In terms of revenue, the market for in-store music services is anticipated to be dominated by the Streaming Media Service segment. One of the key factors driving this market is retailers' growing adoption of streaming services. Amplification devices, speakers, and microphones are also increasingly used in stores to improve the shopping experience for customers, and they can be linked to online music streaming services and programmes like Apple Music, Pandora, and Spotify. During the forecast period, it is anticipated that this factor will propel the Audio Equipment segment.
On a basis of application, retail establishments command the largest market share. Retail Stores, Cafes and Restaurants, Leisure Places and Hotels, Public Institutions, and Others make up the segments of the in-store music service market. Since customers frequent retail stores for both shopping and entertainment purposes, these stores hold the largest market share for in-store music services. Retail establishments offer their customers a unique experience by combining music, entertainment, and shopping. The cafes and restaurants market is expanding quickly because it is one of the most well-liked places for customers to enjoy food, drinks, and music. Hotels and leisure facilities provide their guests with in-room entertainment by offering them music services, which draws in more visitors.
North America is in control.
North America is anticipated to hold a significant share of the in-store music service market in 2020 based on region analysis of the market. The In-Store Music Service market in North America is expanding most significantly in the US and Canada. The market for in-store music services is anticipated to grow rapidly in this region due to the rising demand for customization, heavy foot traffic, and shifting consumer attitudes toward music in retail settings. During the forecast period, significant growth is anticipated in Europe's UK, Germany, France, Italy, Spain, Russia, and other nations. This is attributed to the growing use of streaming services in retail establishments throughout these nations and the penetration of digital music services. Leading companies like Mood Media Corporation and PlayNetwork Inc., which provide personalised music solutions, are also contributing to this region's growth. Due to the increasing adoption of digital technologies in retail stores across numerous nations, including China, Asia Pacific is anticipated to experience one of the fastest growth rates during the forecast period. India Japan Australia Korea, South Singapore Malaysia Thailand Vietnam Indonesia and the remainder of APAC
Impact of COVID-19 and Market Situation for In-Store Music Services
The market for in-store music services has been significantly impacted by the COVID-19 outbreak. The demand for in-store music services has decreased as a result of the COVID-19 outbreak. This is a result of the closing of various retail stores, eateries, cafes, hotels, and other places of recreation. However, as these companies begin to reopen, the demand for in-store music services is anticipated to increase starting in 2021. The market for in-store music services is very cutthroat. Spotify, Pandora Radio, iTunes Radio, Deezer, iHeartRadio, and Napster are the leading competitors in the market. These businesses are engaged in fierce competition to take a bigger market share. Additionally, the players are concentrating on creating unique and personalised music services for their audience. Despite the COVID-19 pandemic's effects, demand for in-store music services is anticipated to rise starting in 2021 as businesses begin to reopen. Additionally, businesses are putting a lot of effort into offering unique and tailored services to draw in customers. Over the course of the forecast period, this may help to fuel market growth.
Developments in the Market for In-Store Music Services
• The growing use of in-store music services by restaurants, retail stores, and other businesses to create a distinctive atmosphere and customer experience is one of the factors driving the global in-store music service market's growth in 2019. Additionally, over the course of the forecast period, this market is anticipated to grow as a result of the growing trend of tailoring music playlists for specific stores.
• The demand for in-store music services is expected to increase significantly in 2020 as a result of growing demand from domestic and international markets. An increase in the number of customers who prefer personalised in-store music experiences based on their preferences will be the main driver of this. Additionally, this market's players are now able to offer their clients highly customised and interesting music solutions thanks to technological advancements.
• By 2021, it's anticipated that vendors in the in-store music service market will concentrate on offering cutting-edge solutions like interactive kiosks, voice-activated search, and AI-powered playlists. They are also using social media platforms more frequently for customer engagement activities.
• In 2022, it is anticipated that vendors providing these services will increasingly adopt cloud technology as it enables them to provide a broad range of content at lower costs while reducing operational complexity. Additionally, major players are likely to work with retail chains to provide individualised solutions that can meet their particular needs.
In-store Music Service Market Scope
| | |
| --- | --- |
| Metrics | Details |
| Base Year | 2022 |
| Historic Data | 2021-2022 |
| Forecast Period | 2022-2031 |
| Study Period | 2021-2031 |
| Forecast Unit | Value (USD) |
| Revenue forecast in 2031 | USD 591.2 million |
| Growth Rate | CAGR of 8.1% during 2021-2031 |
| Segment Covered | by Type, By Application , Regions |
| Regions Covered | North America, Europe, Asia Pacific, South America, Middle East and Africa |
| Key Players Profiled | Apple Inc., Google LLC, Spotify AB, Sirius XM Holdings Inc., Pandora Media Inc., Soundtrack Your Brand AB, Rockbot, Inc., Ambie Music Ltd., and Elevator Music GmbH |
Key Segments of the In-store Music Service Market
By Type Overview,
• Streaming Media Service
• Audio Equipment
By Application Overview,
• Retail Stores
• Cafes and Restaurants
• Leisure Places and Hotels
• Public Institutions
• Others
By Regional Overview,
North America
• U.S
• Canada
Europe
• Germany
• France
• UK
• Rest of Europe
Asia Pacific
• China
• India
• Japan
• Rest of Asia Pacific
South America
• Mexico
• Brazil
• Rest of South America
Middle East and Africa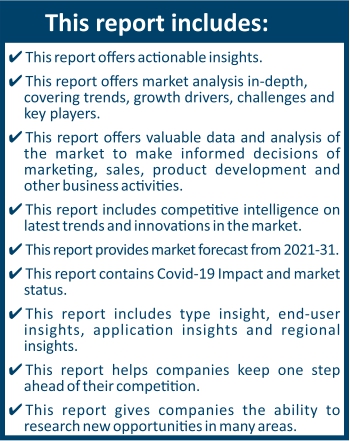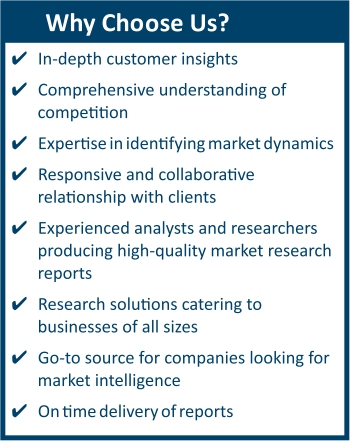 Frequently Asked Questions (FAQ) :
In-store Music Service Market is projected to reach USD 591.2 million by 2031, growing at a CAGR of 8.1%