In today's ever-evolving technology landscape, it's important to stay up-to-date on the latest tools and products available. From wireless to wired microphones, we'll look at the different types available and how they can be applied in various settings from conference or meetings to entertainment or performance.
Drivers of the Microphones Market
1. Growing Demand for Consumer Electronics: The rapid growth of consumer electronics is another major driver of the microphones market. These products require high-quality audio components such as microphones to provide a better user experience. This has led to an increase in demand for microphones from manufacturers of consumer electronics products.
2. Increase in Adoption of Audio-Conferencing Solutions: The adoption of audio-conferencing solutions such as Skype, Zoom, and Google Hangouts is on the rise, driving demand for microphones. These solutions require microphones to allow users to communicate effectively with each other during conferences or meetings.
3. Increasing Use of Live Streaming Platforms: With more people working from home due to the pandemic, there has been a surge in demand for live streaming platforms that allow users to interact with each other in real time without being physically present in one place. This has increased the demand for microphones from these platforms as they need high-
Advantages of the Microphones Market
1. Cost-Effectiveness: Microphones are relatively inexpensive compared to other audio equipment, making them a cost-effective solution for recording and sound reinforcement applications.
2. Variety of Options: From dynamic to condenser to lavaliere microphones, there are a variety of microphone types and sizes from which to choose depending on your specific needs and budget.
3. Easy to Use: Microphones are simple to use and most modern models come with helpful features like automatic gain control that make setup easy.
4. Durability: Microphones are usually designed to be durable and withstand regular use in a variety of environments.
5. Quality Sound: Many microphones on the market today can produce high-quality sound recordings or live performances, which can help you showcase your talent or product in its best light.
Market Value and CAGR of the Microphones Market (2021-2032)
The market Value and CAGR of the Microphones Market is expected to reach around US$ 6.3 billion in 2021 and is expected to increase at a CAGR of 5.3% during the forecast period 2021-2032.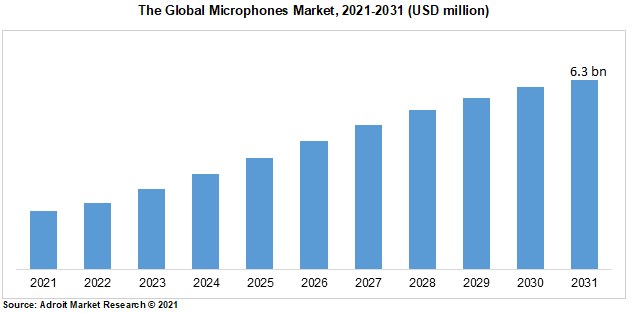 The increasing demand for headsets and microphones in the gaming industry, rising demand for digital audio solutions, increasing adoption of wireless microphones and growing trend of karaoke streaming will drive the growth of the market during the forecast period.
Challenges of the Microphones Market
1. Intense competition in the market: With the increasing demand for microphones and many companies offering various types, it is becoming increasingly difficult to differentiate among different microphone models and brands. This leads to fierce competition, making it difficult for companies to maintain their market share.
2. High cost of production: The cost of producing quality microphones has increased significantly over the years due to the need for better materials and more advanced technology. This makes it difficult for companies to produce high-quality products at affordable prices, which can put them at a disadvantage in a highly competitive market.
3. Increasing sophistication of users: As more users become familiar with audio engineering concepts, they are demanding higher-quality sound from their microphones. Companies must be able to meet this demand or risk losing customers who want more sophisticated products than what they can provide.
Key Players of the Microphones Market
The key players of the Microphones Market are Shure Incorporated, Sennheiser Electronic GmbH & Co. KG, Audio-Technical Corporation, Olympus Corporation, RODE Microphones, Yamaha Corporation, Sony Corporation, Harman International Industries Inc., Blue Microphones (Logitech International S.A.), and AKG Acoustics GmbH.
Segment Analysis
The most demanded product of the Microphones Market is expected to be the condenser microphones, which are widely used in recording studios, audio production and live sound applications. They have advantages over dynamic mics such as higher sensitivity, greater frequency response range and better transient capture capabilities.
By application, the most demanded product would be vocal microphones, which are commonly used in various applications such as studio recordings, stage performances, live streaming and podcasting. Additionally, they are widely used for vocal recording in karaoke bars and home theatres.
The market is segmented by end users into professional and amateur users. Professional users usually use higher quality microphones for studio recordings and live performances, while amateur users typically opt for more affordable options.
By region, the Microphones Market is expected to be dominated by North America due to the presence of a large number of audio production companies and professional recording studios in the region. It is followed by Europe and Asia Pacific due to the increasing popularity of audio production services in these regions. Other regions such as South America and the Middle East & Africa are also expected to grow at a healthy pace over the forecast period.
Impact of Covid-19
Covid-19 has impacted the microphone market in a number of ways. The most significant impact has been on the production and supply of microphones. Many manufacturers have had to halt or scale back production due to the pandemic, which has led to shortages of certain types of microphones. This has driven up prices for many types of microphones, especially wireless models.
The pandemic has also had an impact on demand for microphones. Conference and meeting applications have been hit hard by the pandemic, as many events have been cancelled or moved online. This has resulted in lower demand for conference and meeting microphones. On the other hand, demand for classroom and training microphones has remained strong, as many schools and businesses have shifted to online learning.
Key developments in the Microphones Market
In January, 2021, audio technology company Shure launched the next generation of its Micro flex® Advance™ Array Microphones, which are designed to capture sound accurately and clearly in a wide range of environments. The updated microphones feature advanced acoustic technology and provide better sound quality than their predecessors.
In April, 2021, Sony released its flagship microphone, the Sony ECM-B1M. The microphone is designed for studio recordings and broadcasts and features an ultra-high-definition audio circuit for improved sound quality.
In June, 2021, Rode released the Podcaster broadcast dynamic microphone. The microphone is designed for broadcast applications and features built-in low-noise circuitry for superior sound quality.
Microphones Market Scope
| | |
| --- | --- |
| Metrics | Details |
| Base Year | 2021 |
| Historic Data | 2020-2021 |
| Forecast Period | 2022-2031 |
| Study Period | 2021-2031 |
| Forecast Unit | Value (USD) |
| Revenue forecast in 2031 | US$ 6.3 billion |
| Growth Rate | CAGR of 5.3% during 2021-2031 |
| Segment Covered | By Type, By Application, End Users, Regions |
| Regions Covered | North America, Europe, Asia Pacific, Middle East and Africa, South America |
| Key Players Profiled | Shure Incorporated, Sennheiser Electronic GmbH & Co. KG, Audio-Technical Corporation, Olympus Corporation, RODE Microphones, Yamaha Corporation, Sony Corporation, Harman International Industries Inc., Blue Microphones (Logitech International S.A.), and AKG Acoustics GmbH. |
Key Segment of Microphones Market
By Type Overview 2021-2031, (US$ Billion)
• Wireless Microphones
• Wired Microphones
By Application Overview 2021-2031, (US$ Billion)
• Conference/ Meeting
• Class/ Training
• Entertainment
• Performance
• Others
By End-User Overview 2021-2031, (US$ Billion)
• Manufacturing companies
By Region Overview 2021-2031, (US$ Million)
North America
• USA
• Canada
Asia Pacific
• China
• India
• Japan
• Rest of Asia Pacific
South America
• Mexico
• Brazil
• Rest of North America
Europe
• Germany
• France
• UK
• Rest of Europe
Middle East and Africa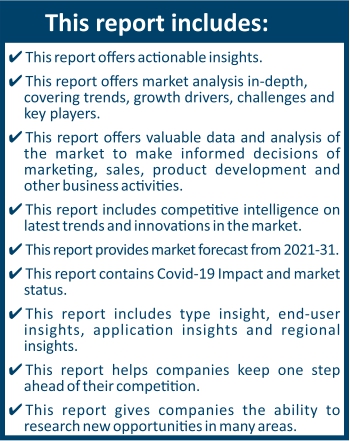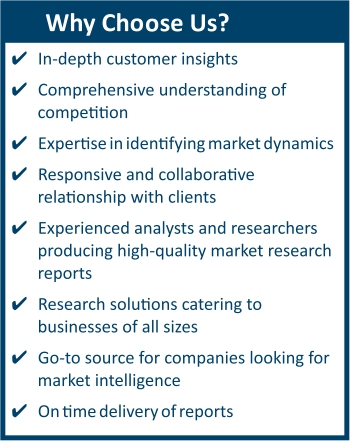 Frequently Asked Questions (FAQ) :
Microphones Market is projected to reach US$ 6.3 billion by 2031, growing at a CAGR of 5.3