The demand for customer service software is being fueled by the growing requirement for real-time problem solving and solid relationship development with customers. Using a single platform, you can manage, track, and organize customer requests with the use of customer service software.
Covid-19 Impact & Market Status
The COVID-19 pandemic is anticipated to have a short-term negative effect on the global market for customer service automation. This is because the lockdown has significantly decreased demand for goods and services. Customer care services have therefore become less popular as a result. The COVID-19 pandemic has accelerated the development of automation technology globally over time, opening up enormous opportunities for the automated services sector. The Customer Service Automated helps businesses and organizations enhance their operations and customer service delivery procedures in order to increase accuracy, cut costs, and remain competitive. The demand for autonomous systems that can modify vast volumes of data in today's digital world is also propelling market growth on a worldwide scale.
Large Enterprise to dominate the segment
In 2021, the large enterprises sector had the largest revenue share. Large corporations often have several operational divisions, therefore customer service automation is used to help integrate customer data with business process management tools. This allows users to easily coordinate their sales, marketing, and customer support activities and boosts overall performance. Additionally, it is anticipated that the adoption of customer service automation would be fueled by the expanding applications of big data and artificial intelligence in large businesses.
The cloud segment dominated the market
In 2021, the cloud segment dominated the industry and accounted for the lion's share of revenue. Thanks to the customer service automation software that is put in the cloud, users may access the same data at any time from any device. Rising product demand is what is driving the market among small and medium-sized firms. High flexibility, real-time access, scalability, cost effectiveness, and lower hardware maintenance costs are just a few benefits offered by the SaaS deployment paradigm. Organizations choose cloud-based deployment of various customer care solutions since they can be accessed remotely from any location and are hosted on the vendor's server.
BFSI is Expected Hold Major Share
The analyzed market growth is further expanded by the expanding use of virtual assistants and bots in customer service sectors like BFSI. Because there are so many participants, there is fierce industrial competition in the banking sector. Companies are seeking to create cost-effective solutions in response to the intense competition in order to assist them stay ahead of the pack. In addition to the data-driven nature of the entire banking and financial sector, some of the factors influencing the growth of the BFSI market using robotic automation include improved customer service, process optimization during onboarding, data integrity, process transparency, and the ability to successfully comply with regulations of various enforcement agencies.
North America is Expected to Major Share
The North American market is one of the key contributors and investors in the examined industry due to the existence of significant IT enterprises and the fact that the majority of the leading suppliers are headquartered in the USA. Additionally, there is a rise in equity investments in domestic entrepreneurs across the nation, which is bringing innovation to the sector. For instance, Carnegie Foundry and United States Steel announced a strategic partnership and investment to speed up and scale industrial automation powered by advanced robotics and artificial intelligence (AI) in industrial robotics, advanced manufacturing, autonomous mobility, integrated systems, voice analytics, and more.
The increasing use of automation across all end-user industries, the increasing reach of cloud computing technologies, and the proliferation of IIoT devices are some of the key drivers fueling the growth of the global customer automation service market.
Customer service has typically always been done by humans, such as by live agents who take calls, respond to messages, manage follow-ups, and so forth. By using automated customer service, you may reduce the workload for your customer service representatives and free them up to concentrate their time and effort on a smaller number of issues with customers who are more important. Consumer service automation is the practice of using messaging, web chat, and self-service tools to automatically respond to customer inquiries. The goal is to make human-to-human interactions easier and less time-consuming, which will minimize service costs and enable quick customer service.
The main advantages of customer service software include, among other things, real-time problem solving, lead and sales generation, relationship building, getting customer feedback, real-time analytics, improved team and customer communication, stronger collaboration, increased support efficiency, and increased customer loyalty. The market for automated customer service is expected to significantly grow over the forecast period.
The global market for customer service software is being driven by advances in cloud technology as well as characteristics like smart assistance, improved client services, lower costs, and quick processes. The market for customer service software is being driven by the rising trend of automated workflow. The growth of the global market for customer service software is anticipated to be positively impacted by additional factors like rising ICT spending, ongoing cloud technology advancements, and the rise in customer-facing organizations.
Customer service automation has substantial commercial advantages, such as lowering customer management costs by replacing human agents with software, reducing the possibility of human error, and ensuring that consumers are quickly guided to the appropriate help. You can gather feedback during the entire customer experience, which can aid in the development of a more successful customer feedback strategy. All of these elements contribute to the market's expansion on a global scale.
The inadequate data provided by customers when raising tickets is one of the main factors impeding the growth of the global customer service automation industry. Service providers find it challenging to comprehend the problem. Vendors, on the other hand, are constantly working to create customer service software with required data fields that users must complete for a better understanding. During the anticipated period, it is anticipated that the vendors would successfully overcome the aforementioned obstacles in the global market for customer service software.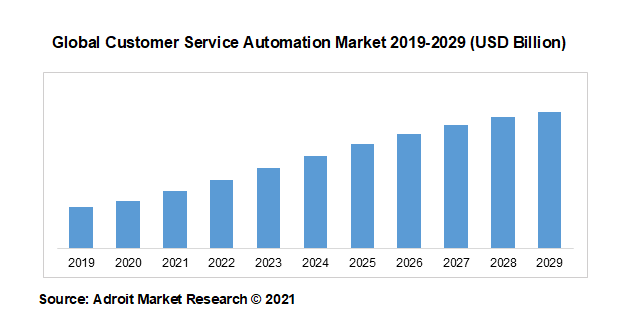 IBM Corporation, Microsoft Corporation, Automation Anywhere, Blue prism Group, Uipath, HCl Technologies, Pegasystems, Kofax, and many other companies are the major players in the worldwide customer service automation market. Market participants are choosing mergers and cooperation as a business expansion strategy. For instance, a renowned provider of digital solutions, Tech Mahindra, teamed up with UiPath in April 2019 to introduce their first collaborative solution offering for service desk operations: a cognitive operations automation solution. The automation path of a business will be aided by this ready-to-use cognitive process solution.
Latest Innovations in the Global Customer Service Automation Market: a Snapshop
March 2022 - Robotic fulfilment solutions were offered by GreyOrange, a company that specializes in warehouse automation, for H&M to use. Given prior instances in which GreyOrange's warehouse automation technology was effectively adopted at other businesses, resulting in consistently superior performance and increased efficiencies, H&M took this decision. Grey-orange robots are used by H&M's warehouses to carry out a variety of activities.
August 2022 - With the addition of Truist Invest, a Robo advisor, and Truist Invest Pro, a hybrid clouds investing solution combining automatic plan-making and an objective environment, as well as a choice for advisor-driven recommendations to businesses in the finance, sports, healthcare, and other industries, Truist Corporation has expanded the range of its digital investment offerings.
Customer Service Automation Market Scope
| | |
| --- | --- |
| Metrics | Details |
| Base Year | 2021 |
| Historic Data | 2019-2020 |
| Forecast Period | 2022-2029 |
| Study Period | 2019-2029 |
| Forecast Unit | Value (USD) |
| Segment Covered | Type, Deployment, Industry, Regions |
| Regions Covered | North America, Europe, Asia Pacific, Middle East and Africa, South America |
| Key Players Profiled | IBM Corporation, Microsoft Corporation, Automation Anywhere, Blue prism Group, Uipath, HCl Technologies, Pegasystems, Kofax |
Key Segments of the Global Customer Service Automation Market
Type Overview, 2019-2029 (USD Billion)
Large Enterprise
Small and Medium Enterprise
Deployment Overview, 2019-2029 (USD Billion)
Industry Overview, 2019-2029 (USD Billion)
Manufacturing
BFSI
Government
Internet & Telecom
Others
Regional Overview, 2019-2029 (USD Billion)
North America
Europe
Germany
France
UK
Rest of Europe
Asia Pacific
China
India
Japan
Rest of Asia Pacific
South America
Mexico
Brazil
Rest of South America
Middle East and South Africa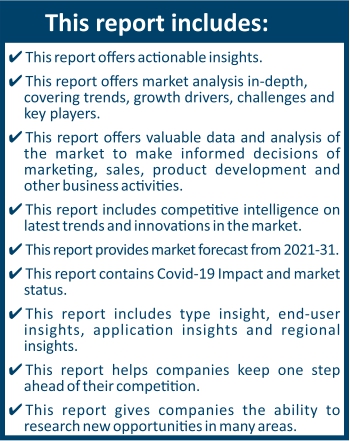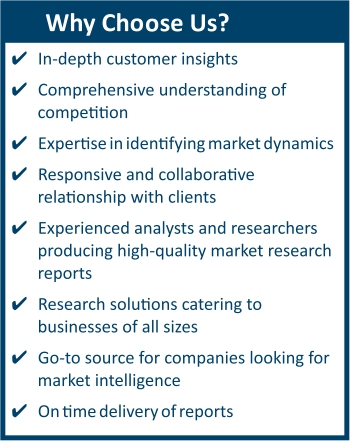 Frequently Asked Questions (FAQ) :
North America dominated the market for customer service automation market and accounted for the largest revenue share.
The top companies that hold the market share in customer service automation market are IBM Corporation, Microsoft Corporation, Automation Anywhere, Blue prism Group, Uipath, HCl Technologies, Pegasystems, Kofax & among others.
To get latest version of customer service automation market report can be obtained on demand from the website.