The global humanized mouse and rat model market was valued at USD 80.5 million in 2018. Factors driving the growth of the humanized mouse and rat model market include rising demand for tailored medicine, growing number of research activities including humanized models and increasing number of R&D activities in biotechnology and pharmaceutical companies.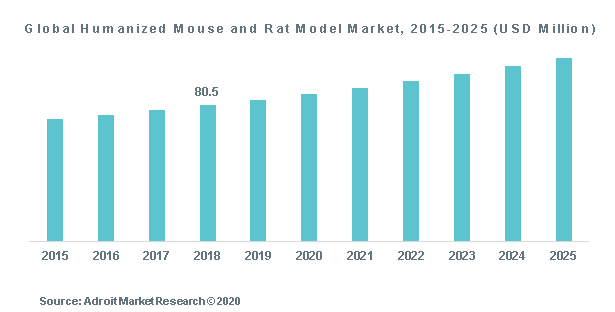 Rodents play a priceless role in biomedical research. About 95% of all laboratory animals are mice and rats. Decreasing dependence on higher-order species, rodents have become an ideal model of choice for biomedical researchers since their physiology and genetic makeup is thoroughly similar to that of people.
The size of the global market for Humanized Mouse and Rat Model is expected to reach USD 212.65 Million by 2030, expanding at a compound annual growth rate (CAGR) of 9.34%.
Regardless of certain dissimilarities between people and rodents, the resemblance is strong enough to give researchers an immensely potent and multipurpose mammalian system to explore human disease. The sequencing of rodent genomes has allowed investigators to re-form human diseases in rodents through genetic engineering. Scientists "knock in" or "knock out" disease linked traits in mice and rats, and new technology permits researchers to directly edit the DNA of the rodents. Research with genetically modified mice and rats has enabled significant novel treatments, cures and therapies and continues to transform science and medicine.
The global humanized mouse and rat model market is categorized based on type, application, and end user. Based on type, the market is segmented into humanized mouse and humanized rat. Humanized mouse model accounted for the largest market share in 2018.
North America leads the global humanized mouse and rat model market. Moreover, Asia is expected to grow at a highest CAGR. The industry players are modifying their animal models in order to widen their application to maintain their position. Leading players include Charles River Laboratories, International, Inc., The Jackson Laboratory, Taconic Biosciences, Inc., Trans Genic, Inc., Genoway, Horizon Discovery Group, Ingenious Targeting Laboratory, Crown Biosciences, Champions Oncology, HERA Biolabs, Vitalstar Biotechnology, Axenis and Harbour Antibodies among others.
Humanized Mouse and Rat Model Market Scope
| | |
| --- | --- |
| Metrics | Details |
| Base Year | 2022 |
| Historic Data | 2020-2021 |
| Forecast Period | 2022-2030 |
| Study Period | 2020-2030 |
| Forecast Unit | Value (USD) |
| Revenue forecast in 2030 | USD 212.65 Million |
| Growth Rate | CAGR of 9.34 % during 2022-2030 |
| Segment Covered | By Type, By End-User, Application, Region. |
| Regions Covered | North America, Europe, Asia Pacific, South America, Middle East and Africa |
| Key Players Profiled | Vitalstar Biotechnology, The Jackson Laboratory, Taconic Biosciences, Ingenious Targeting Laboratory, Horizon Discovery (Sage Labs), Hera Biolabs, Genoway, Crown Bioscience (Subsidiary of Jsr Corporation), Champions Oncology, and Axenis. |
Key Segment Of The Humanized Mouse and Rat Model Market
By Type, 2022-2030 (USD Million)
o Humanized Mouse Models
• Genetic Humanized Mouse Models
• Cell-based Humanized Mouse Models
o Humanized Rat Models.
By Application, 2022-2030 (USD Million)
• Immunology and Infectious Diseases
• Neuroscience
• Oncology
• Haematopoiesis
• Toxicology
• Others
By End-Use, 2022-2030 (USD Million)
• Pharmaceutical & Biotechnology Companies
• Contract Research Organizations
• Academic & Research Institutions
Regional Overview, 2022-2030 (USD Million)
North America
• US
• Canada
Europe
• Germany
• France
• UK
• Rest of Europe
Asia Pacific
• China
• India
• Japan
• Rest of Asia Pacific
South America
• Mexico
• Brazil
• Rest of South America
Middle East and South Africa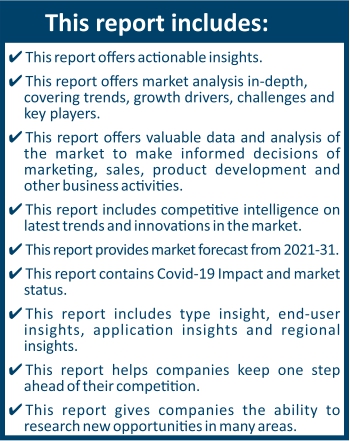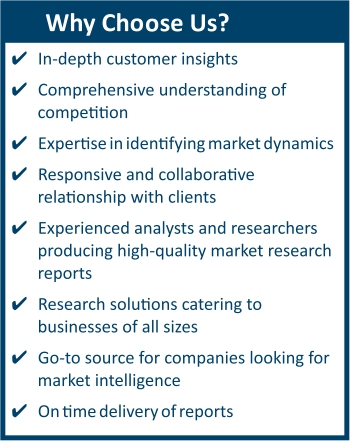 Frequently Asked Questions (FAQ) :
The market value of humanized mouse and rat model market in 2025 was USD 161 million
the humanized mouse and rat model market is growing at a CAGR of 10.5% during the forecast period.
North America dominated the market for humanized mouse and rat model market and accounted for the largest revenue share.
In order to effectively integrate humanized mouse technology into the drug and vaccine development process, the technology must be widely accessible and highly reproducible and allow the production of large numbers of animals at a reasonable cost. Humanizing mice is demanding and not only requires advanced technical skills but also an intricate logistical setup. A practical and possibly cost-effective short-term solution could be large-scale generation of humanized mice by third party providers who are also equipped to execute custom-designed drug treatment and vaccination regimens against human pathogens, thereby reducing costly setup and maintenance of biocontainment facilities.
CRO's provide a portfolio of products, services, and solutions that focuses on drug discovery and early-stage development. They have research models and associated services, discovery research studies and services, and comprehensive safety assessment studies in both regulated and non-regulated environments. They collaborate with clients from target discovery through candidate selection. When critical decisions are made regarding which therapeutics will progress from discovery to development, they continue to work alongside their clients as the drug candidate moves downstream. Their expertise in early stage drug research and pharmacology provides with a competitive advantage enabling their clients to make critical drug development decisions more quickly.
Based on application, the market is segmented into oncology, immunology and infectious diseases, neuroscience, hematopoiesis, toxicology, and other applications. Oncology dominated the market in 2018. In cancer research, for example, isolated tumour cells are used to identify the characteristics and causes of cell degeneration. The true nature of cancer, however, becomes apparent only when its development is viewed in connection with other cells and tissues in the body. In order to trace the development of a tumour in the organism and test therapeutic approaches, animal experiments are necessary in which tumour cells are transferred into mice.
The close relationship between cellular basic research and animal testing also plays a central role in research on infectious diseases. It is the only path to understanding how bacteria and viruses infiltrate and attack the animal organism. Insights into the interaction between viruses and their host cells enable the targeted treatment of virus infections such as influenza, herpes or smallpox, and the development of preventive measures. A visible result of this type of research is the progress made in the area of vaccinations. Only a few years ago was it discovered that papilloma viruses are involved in the development of cervical cancer. Without animal experiments on mice this discovery would not have been possible.
A substantial number of therapeutic approaches are based on knowledge gained from animal experiments. For example, stem cell transplantations into the brain of mice, which were previously genetically modified or subjected to chemical substances producing pathologies similar to human diseases such as Parkinson's disease, multiple sclerosis or stroke, led to improvements in the general condition and the disappearance of typical symptoms.
Knowledge gained from animal experiments is also used in the development of prosthetic devices and the treatment of paralysis. For example, using electrical stimulation of the spinal nerves, non-human primates suffering from paralysis of their limbs due to spinal cord injury were able again to move their hand and grasp objects. Nerve conduction could be partially restored in paraplegic rats by transplanting embryonic stem cells into their spinal cord. However, the molecular and cellular processes involved are not yet understood well enough to be applied to humans.
North America dominated the global humanized mouse and rat model market in 2018. Continuous R&D activities in biomedical research and advancing biotechnology industry are the major drivers for the growth in the region.
The US biotech industry remains the benchmark in international terms. It is considered to be the most successful in the world and it is likely to maintain this leading position for the foreseeable future. Scientific and technological advances and growing understanding of the underlying mechanisms of disease are fueling the development of new treatments and cures for patients. At the same time, the costs, time, and complexities of biopharmaceutical research have also increased, introducing additional challenges in the research and development process.
The growth of the biotechnology industry is a unique and yet it rests on foundations common to other segments of American industry. Years of research, both government funded and privately funded, continue to provide a knowledge base unequaled in the world. The domestic capital market provides the ability to transform this knowledge into unique products and processes for markets around the world. While there is inevitable tension between the industry's desire to bring new products to market and the concerns of the industry's regulators, both sides have found new and innovative ways to work together.