The use of electroactive polymers, which are materials capable of responding to electrical stimuli, has been growing steadily over the past few years. From medical applications to consumer electronics, this type of polymer is becoming increasingly important in a variety of industries. In this article, we will explore the types and applications of electroactive polymers and discuss their impact on the market.
Drivers of the Electroactive Polymers Market
The drivers of the Electroactive Polymers Market are as follows:
1. Growing Demand for Smart and Adaptive Devices: The demand for smart and adaptive devices is increasing due to the need for more reliable and efficient products in various sectors such as automotive, consumer electronics, robotics, aerospace, medical, and others. This is driving the demand for electroactive polymers as they are ideal for applications such as sensors and actuators that require high functional accuracy.
2. Growing Need for Low-Cost Automation Technology: The need for low-cost automation technology is growing due to the increasing cost of labour in developed countries which has driven companies to seek out cheaper solutions. Electroactive polymers offer an affordable alternative to traditional automation equipment while providing a wide range of advantages such as faster response times, higher precision control, and reduced maintenance costs.
3. Increasing Use in Aerospace Applications: Electroactive polymers are increasingly being used in applications related to aerospace engineering due to their light weight and durability. They can be used in aircraft components such as landing gear dampers, variable camber wings, flaps actuators, fuel injectors, and other applications where reliability are essential requirements.
Advantages of the Electroactive Polymers Market
1. They are lightweight and durable, making them ideal for a variety of applications.
2. They can be tuned to respond to certain stimuli and have excellent electrical properties.
3. Their high-energy density and flexibility make them a great choice for energy storage
applications.
4. Electroactive polymers can offer higher performance than traditional materials at lower costs, making them more cost effective.
5. These materials are non-toxic and environmentally friendly, providing an alternative to hazardous materials in manufacturing processes.
6. They also have the potential to reduce the size and weight of components in devices or equipment while still providing the same performance or better than existing technology.
Market Value and CAGR of the Electroactive Polymers Market (2021-2031)
The market value and CAGR of the Electroactive Polymers Market is expected to reach USD 5.5 billion by 2031 and post a CAGR of 8.5% from 2021 to 2032.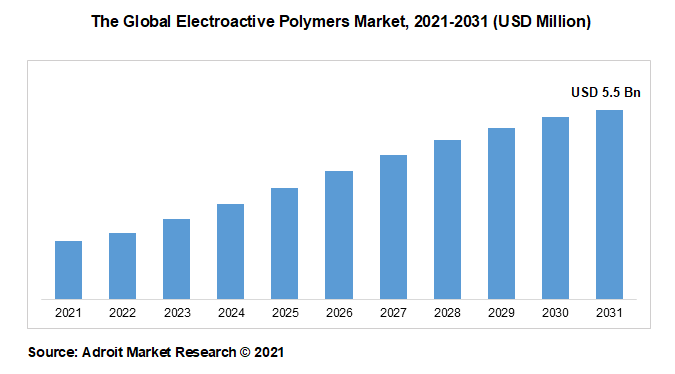 The growth in the market is attributed to its increasing demand for applications in medical prosthetics and sensors, smart wearables, artificial intelligence, robotics, and energy harvesting & storage due to its excellent electrical properties such as low power consumption and high voltage handling capability. Moreover, the rising focus of manufacturers on developing new electroactive polymers with improved electrical properties and low cost is expected to further drive the market growth over the forecast period (2021-2031).
Challenges of the Electroactive Polymers Market
Some of the challenges of the Electroactive Polymers Market are as follows:
• Limited Availability: Electroactive Polymer (EAP) is still a fairly new technology and there is still limited availability of these materials, making it difficult for potential users to obtain them.
• High Cost: EAPs are relatively expensive compared to other materials, making them cost prohibitive for many applications.
• Complex Design: It can be difficult to design products with EAPs due to their complexity and the need for specialized knowledge.
• Low Durability: EAPs have relatively short lifespans and may degrade quickly under certain conditions.
Key Players in the Electroactive Polymers Market
Some of the key players in the Electroactive Polymers Market are Solvay (Belgium), Merck Kagan (Germany), DowDuPont Inc. (US), Celanese Corporation (US), Daikin Industries, Ltd. (Japan), Sekisui Chemical Co., Ltd. (Japan), The Chemours Company (US), Covestro AG (Germany), Evonik Industries AG (Germany) and 3M Company (US).
Segment Analysis into type, application, end user and region of Electroactive Polymers Market
By application, the most demanded product is dielectrics, followed by actuators, sensors, energy storage/conversion, and other applications.
By end user, the most demanded user is expected to be electrical sector as the market is rising of that sector and the demand for Electroactive Polymers is there in the market of electrics.
By region, North America has a strong presence in the global electroactive polymer market due to its technological advancements in the field of robotics. In addition to this factor, a growing demand for advanced prosthetics from countries such as US and Canada have also spurred the growth of this regional market for electroactive polymers.
Impact of Covid-19 on the Electroactive Polymers Market
The outbreak of the Covid-19 pandemic has had a profound impact on the electroactive polymers market. The electronics industry, one of the key end-use sectors for electroactive polymers, has been severely impacted by the pandemic. Production activities in several key electronics manufacturing hubs, including China, have been disrupted due to lockdowns and other restrictions. This has led to a slowdown in demand for electroactive polymers from the electronics industry.
The medical sector is another important end-use market for electroactive polymers. The Covid-19 pandemic has led to increased demand for medical products and devices, which has in turn boosted demand for electroactive polymers used in these products. However, the overall impact of the pandemic on the electroactive polymers market is expected to be negative due to the slowdown in demand from the electronics sector.
Key developments in the Electroactive Polymers Market
In January 2021, The University of California, San Diego completed a ground-breaking study on the use of electroactive polymers in robotics. As per the study, the researchers have designed and developed soft robots which could be used for medical purposes.
In December 2020, UC Berkeley developed an active-matrix technology using electroactive polymers to control the properties of flexible displays. This technology can render digital images onto flexible plastic surfaces with resolutions up to 1,000 pixels per inch.
In March 2020, National University of Singapore developed a new type of sensor based on electroactive polymers that can detect subtle changes in its surroundings such as temperature and pressure. This was done with the aim to create more affordable and accurate environmental sensors for industrial use.
Electroactive Polymers Market Scope
| | |
| --- | --- |
| Metrics | Details |
| Base Year | 2022 |
| Historic Data | 2020-2021 |
| Forecast Period | 2022-2030 |
| Study Period | 2020-2030 |
| Forecast Unit | Value (USD) |
| Revenue forecast in 2030 | USD 5.5 billion |
| Growth Rate | CAGR of 8.5 % during 2021-2030 |
| Segment Covered | Type, Application, Regions |
| Regions Covered | North America, Europe, Asia Pacific, South America, Middle East and Africa |
| Key Players Profiled | Solvay (Belgium), Merck Kagan (Germany), DowDuPont Inc. (US), Celanese Corporation (US), Daikin Industries, Ltd. (Japan), Sekisui Chemical Co., Ltd. (Japan), The Chemours Company (US), Covestro AG (Germany), Evonik Industries AG (Germany) and 3M Company (US). |
Key Segments of theElectroactive Polymers Market
Type Overview, 2021-2031 (USD Billion)
• Electronic Type Electroactive Polymers
• Ionic Type Electroactive Polymers
Application Overview, 2021-2031 (USD Billion)
• Actuator
• Sensor
• Consumer Electronics
• Medical
• Others
Regional Overview, 2021-2031 (USD Billion)
North America
• U.S
• Canada
Europe
• Germany
• France
• UK
• Rest of Europe
Asia Pacific
• China
• India
• Japan
• Rest of Asia Pacific
South America
• Mexico
• Brazil
• Rest of South America
• Middle East and South Africa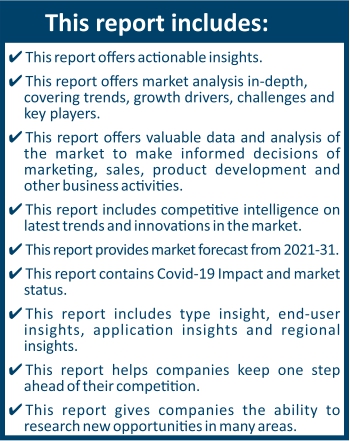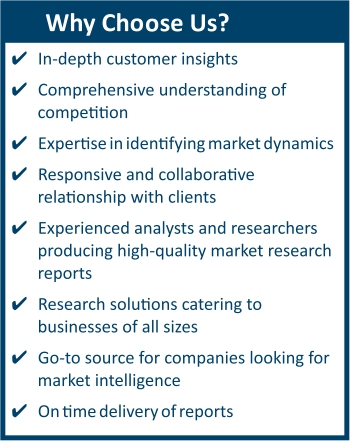 Frequently Asked Questions (FAQ) :
Electroactive Polymers Market is projected to reach USD 5.5 billion by 2031, growing at a CAGR of 8.5