The global DNA vaccine market has expanded fast in recent years, and it is predicted to increase by 4 USD billion at 9% CAGR over the forecast period. DNA vaccines provide potential advantages over traditional approaches, such as the reduced risk of infection, ease of distribution, and room temperature stability.
The global DNA vaccines market is expanding rapidly due to reasons such as precise antigen targeting; lower infection risk compared to traditional immunizations, and increased stability. Furthermore, the greater simplicity of large-scale production compared to the old technique, as well as the reduced storage required, are some of the significant market drivers.
DNA vaccines are third-generation vaccinations that are particularly intended to overcome the undesirable features of traditional immunizations. The rising vulnerability of the population to infectious illnesses, as well as the increasing number of antibiotic-resistant organisms, has generated a demand for efficient, low-cost vaccination that provides long-term immunity. Such disease complications are raving up new opportunities for the global DNA vaccine market.
Furthermore, increasing advancements in the fields of molecular biology, immunology, and DNA synthesis will fuel the expansion of this industry. Other concerns, such as rising microbe resistance to existing and ineffective medication therapy are anticipated to drive demand for DNA vaccines in the near future.
Other factors, such as increased knowledge among healthcare professionals, enhanced technology, fewer side effects, and cheap cost, are also expected to promote demand for DNA vaccines in the coming years. Furthermore, while the world struggles to discover a treatment for the sickness, the onset of the worldwide pandemic, Covid-19, will hasten the creation of vaccinations.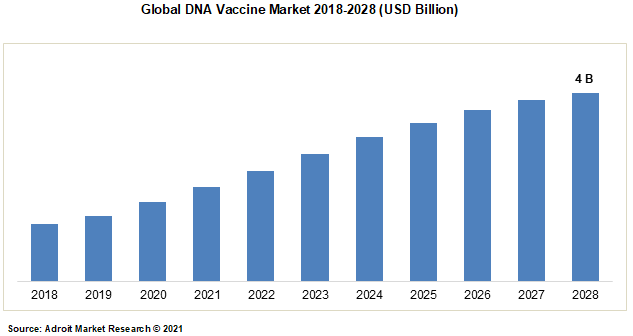 The prominent market players of the DNA Vaccine industry are GlaxoSmithKline plc, GREEN CROSS CORP, Serum Institute of India Pvt. Ltd., Bharat Biotech., Indian Immunologicals Limited, Valneva SE Novartis AG, Aldevron, AnGes, Inc., Zoetis, Pfizer Inc., Sanofi, Inovio Pharmaceuticals, Inc., Immunomic Therapeutics, General Electric, VGXI, Inc., Ichor Medical Systems., among other global and domestic players.
This study examines the market revenue, business strategies, market shares, recent developments, and growth rates of prominent businesses with significant market shares in the DNA Vaccine service market. Recent developments for these companies, such as geographical expansions, research activities, new solution/product launches, acquisitions, and technological breakthroughs, are considered when validating their player positioning in the DNA Vaccine service market.
Key Segments of the Global DNA Vaccine Market
Type Overview, 2018-2028 (USD Billion)
Human DNA vaccines
Animal DNA vaccines
Technology Overview, 2018-2028 (USD Billion)
Therapeutic technology
pDNA vaccines technology
Preventive technology
Uncomplexed pDNA
pDNA delivery technology
Liposomes
Electroporation
Gold particles
Bacteriophages
Nanoparticles
Bacterial ghosts
Viruses
Application Overview, 2018-2028 (USD Billion)
Infectious disease
CMV
HBV
HCV
HIV
Influenza
Allergies
Veterinary Diseases
Canine melanoma
Leishmaniasis
Equine West Nile Virus
Regional Overview, 2018-2028 (USD Billion)
North America
• U.S.
• Canada
Europe
• France
• UK
• Germany
• Rest of Europe
Asia Pacific
• China
• Japan
• India
• Rest of Asia Pacific
South America
• Brazil
• Mexico
• Rest of South America
The Middle East and Africa
Reasons for the study
• To ?n?l?z? the market for its current trends, drivers and future strategies in the industry.
• To grasp various approaches established by major corporations functioning in the worldwide market.
What does the report include?
• This study provides an analytical representation of the DNA Vaccine market size, as well as future forecasts to aid in the identification of potential investment possibilities.
• The extensive DNA Vaccine market study tries to find profitable trends in order to get a competitive advantage.
• The report includes the leading manufacturers' DNA Vaccine market shares as well as industry trends.
Who should buy this report?
• Executives in the DNA Vaccine sector who want to learn more about the target market.
• Industry executives, analysts, government agencies, and researchers seek market data to aid in future operations planning.
Vaccinations consisting of DNA (deoxyribonucleic acid), are known as DNA vaccines. With little negative effects, this acid may stimulate a wide spectrum of immunological responses and encode antigens in the body. The transport of DNA-based vaccines to cells is followed by the gene's expression, which results in the production of the needed protein.
It is a completely new way to immunization that has recently been devised. This method has several potential advantages over previous methods, including the activation of both B- and T-cell responses, increased vaccine durability, the lack of any infectious agent, and the relative simplicity of large-scale production.
The DNA vaccine field is fast evolving. Vaccines are now being developed that incorporate adjuncts that help DNA enter cells, target it to specific cells, or function as adjuvants in triggering or guiding the immune response. Finally, the line between a complex DNA vaccination and a basic viral vector may be blurred. Many features of the immune response elicited by DNA vaccines remain unknown.
However, substantial progress towards the use of this type of vaccination in people has been made, and clinical trials have commenced. It is well acknowledged that the research and deployment of nucleic acid vaccines are progressing at a rapid pace. When a result, its control should be treated in a flexible manner, so that it may be updated as manufacturing and usage experience is gathered. The goal of these recommendations is to offer a scientifically solid foundation for the development and control of DNA vaccines intended for human use, as well as to ensure their consistent safety and effectiveness.
Type Segment
In terms of type, the global DNA Vaccine market is segregated into two types: animal DNA vaccines and human DNA vaccines. Out of these, the animal DNA vaccines segment is estimated to hold for the maximum share. The variables can be ascribed to the rising prevalence of canine melanoma and other animal illnesses, as well as the market's scarcity of animal DNA vaccines.
Application Segment
The veterinary Diseases segment is expected to have the greatest CAGR throughout the estimated period. The availability of DNA vaccines for animal ailments including West Nile Innovator, canine melanoma vaccine, Life tide-SW5, and Apex-IHZ are some of the important drivers driving the market's growth.
North America dominates the market for DNA vaccines due to an increase in the number of diseases such as cancer, HIV, and hepatitis, as well as an increase in the number of antibiotic-resistant pathogens, rapid advances in immunology and molecular biology, and increased government investment in DNA vaccines.