Antibiotics are drugs that are used to treat bacterial infections in people and animals. They act by either killing germs or preventing them from growing and multiplying.
Covid-19 Impact & Market Status
Last year, the fast emergence of COVID-19 offered a good opportunity for the antibiotics market to grow. When the rush for vaccine candidates was still going on, antibiotics were seen as a vital tool in treating the infection. Drugs like Remdesivir were heavily employed in an attempt to give patients a better chance of surviving the disease's high mortality rate. The emergence of new diseases is expected to raise future need for antibiotics. Furthermore, in the forecast future, market participants are expected to commit more resources to research and development as they realise the antibiotics market's latent potential. Due to the need to avoid protracted illness during the coronavirus pandemic, the worldwide antibiotics industry is expected to grow substantially.
People want to avoid staying in hospitals for longer periods of time during the epidemic, therefore they are taking antibiotics to avoid having to go to the hospital. During the epidemic in November 2020, for example, England observed a large increase in antibiotic prescriptions in dental patients. According to the British Dental Journal, there has been a 25% increase in antibiotic prescriptions. During the coronavirus pandemic, all of these factors are expected to boost market growth. The COVID-19 pandemic has resulted in significant modifications in primary health care delivery, particularly for patients with respiratory tract infections. The epidemic sparked an extraordinary reorganization of primary care, culminating in a rapid shift away from face-to-face consultations and toward remote consultations. It has been proposed that virtual examinations impair diagnostic capacities, which could lead to antibiotic overuse.
The latter is especially concerning, as it has been identified as the primary source of antibiotic resistance. Many nations have introduced antibiotic surveillance and stewardship programs in the last decade to encourage the prudent use of antibiotics in the fight against resistance, including in primary care, where the vast majority of antibiotics for human use are prescribed. Several intriguing events may have intermingled during the 2020 COVID-19 pandemic, particularly in terms of antibiotic prescribing. The amount of patients in the community who are infected, patients' consultation behavior, and GPs' prescribing behavior all influence antibiotic usage. Antibiotic prescriptions may have risen as a result of several factors during the pandemic. Due to circulating SARS-CoV-2 alongside other respiratory viruses, individuals may have suffered more respiratory tract symptoms during the pandemic. Second, patients may have sought reassurance and/or fear from their doctor more frequently due to COVID-19. Finally, due to diagnostic ambiguity during remote consultation and to avoid poor outcomes while hospital capacity is limited, GPs may have lowered their antibiotic prescribing threshold.
On the contrary, social isolation, hand washing, school closures, and quarantine measures may have reduced the number of infections. Due to the emergence of SARS-CoV-2, individuals may have been less likely to contact their GP, and GPs may have more frequently regarded respiratory tract diseases as being of viral origin, thereby obviating the need for drugs. We set out to assess the actual impact of the COVID-19 pandemic on the number of GP-registered episodes and antibiotic prescribing for common infections in primary care in the by comparing routine care data from the first wave of the pandemic in 2020 with data from the same period a year later in the Netherlands.
Review of the class portion
The market is divided into beta lactam & beta lactamase inhibitors, quinolones, macrolides, and others based on class. The penicillin, cephalosporin, carbapenem, and monobactam segments of the beta lactamase & beta lactamase inhibitors sector are further separated into penicillin, cephalosporin, carbapenem, and monobactam. In 2017, the beta lactam & beta lactamase inhibitors sector had the largest revenue, and this trend is expected to continue during the projection period. This is due to its broad-spectrum activity, which helps to treat infections caused by a variety of bacteria. As a result, there is a significant demand for beta lactam and beta lactamase inhibitors among healthcare professionals and patients, which drives the worldwide antibiotics market forward.
Examining the spectrum of activity segments
Based on the spectrum of activity, the market is split into broad-spectrum antibiotics and narrow-spectrum antibiotics. During the projection period, the broad-spectrum antibiotic sector is expected to increase the most. This is due to broad-spectrum antibiotics' ability to treat a wide range of ailments, which aids in the fight against antimicrobial resistance.
Examining the segments of the region
North America, Europe, Asia-Pacific, and Latin America and the Caribbean are the four regions that make up the antibiotics market. In 2017, Asia-Pacific dominated the market, accounting for the largest share, and this trend is expected to continue during the projected period. This is due to a surge in the use of antibiotics, their simple availability, and the selling of over-the-counter medications.
Map of Customer Experience
The study takes a close look at a number of customer journeys that are relevant to the market and its various sectors. It gives clients a diversity of viewpoints on the products and services. The study digs deeper into their concerns and pain points across a variety of consumer touch points. The consultation and business intelligence solutions will assist interested parties, including CXOs, in creating customer experience maps that are tailored to their specific requirements. This will help them in their quest to improve client engagement with their businesses.
Tools and Insights
The study's many findings are based on the analysts' extensive cycles of primary and secondary research throughout the research process. Our analysts and professional advisers use industry-wide, quantitative customer insights tools and market prediction methodology to produce trustworthy results. Not only are estimates and projections included in the report, but also a full examination of this information in terms of market dynamics. For business owners, CXOs, policymakers, and investors, these insights combine a data-driven research approach with qualitative consultations. The knowledge will also aid their clients in overcoming their fears.
Actionable Outcomes
In this study, our recommendations provide an essential guide for meeting all company priorities, even mission-critical ones. When the results were put into practice, they provided tangible benefits to company stakeholders and industry bodies, allowing them to improve their performance. The outcomes are matched to the client's specific strategic goals. The report also includes some current case studies on firms' solutions to various difficulties they encountered during their consolidation journey.
During the forecast period, North America is likely to lead the market.
North America presently dominates the antibiotics industry, and it is likely to do so for a few more years. Because of the rising utilisation of antibiotics, this area is likely to grow its market share in the future. The Centers for Disease Control and Prevention (CDC) reported 8,920 new tuberculosis (TB) cases in the United States in 2019, with a rate of 2.7 infections per 100,000 individuals.
Antibiotics are used to treat infections by killing bacteria. These are some of the most commonly given courses for treating bacterial infections around the world, primarily in outpatient settings.
From 2021 to 2026, the global antibiotics market is expected to grow at a CAGR of around 5.14 percent, from USD 46.69 billion in 2020 to USD 63.09 billion in 2028.
As a result, diagnostic and pharmaceutical businesses are working hard to develop new approaches for identifying and treating illness causes.
However, numerous concerns with antibiotics, such as antibiotic resistance and costly and time-consuming regulatory procedures, are limiting their use in the global market. Because of the rising prevalence of infectious diseases, the need for antibiotics is skyrocketing. Infectious diseases such lower respiratory infections; pneumonia, malaria, and tuberculosis are also propelling the industry forward.
The rising disease burden is pressuring government and non-government organizations to invest in R&D activities and accelerate the development of novel antibiotics as well as supportive regulatory policies to speed up the approval process and research financing. For example, BARDA has partnered with the government to provide support to a number of companies in the development of innovative infectious disease medicines.
Collaborations for antibiotic development are likely to result in the creation of a large number of antibiotic medications in the near future. Pharmaceutical companies are working on the development of new therapeutics in order to lower the cost of drug development. For example, in July 2019, Nosopharm announced collaboration with Evotec AG to develop NOSO-502. It's a first-in-class novel antibiotic for Enterobacteriaceae infections.
Additionally, Forge Therapeutics, Inc. and Basilea Pharmaceutica Ltd. signed a research cooperation and licence agreement to develop new antibiotics in April 2019. Furthermore, the growing number of public-private alliances, in which public agencies contribute financing and new R&D approaches to companies creating antibiotics, is projected to enhance the product pipeline.
For example, the Global Antibiotic Research and Development Cooperation (GARDP) and Evotec AG established a public-private partnership in March 2019 to create first-in-class antibiotics for treating drug-resistant bacterial illnesses.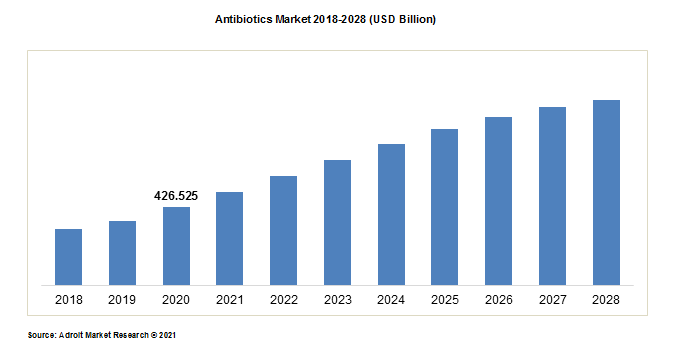 Abbott Laboratories, Allergan Plc., F.Hoffmann-La Roche Ltd., GlaxoSmithKline Plc, Merck & Co. Inc., Mylan N.V., Novartis International AG (Sandoz), Pfizer Inc., Sanofi, and Teva Pharmaceutical Industries Ltd. are among the key players operating in the global antibiotics market, according to the report. Aurobindo Pharma, Bayer HealthCare, Eli Lilly, Lupin Pharmaceuticals, Sun Pharmaceuticals, Shionogi, and others are among the value chain's other companies.
Latest Innovations in the Antibiotics Market: a Snapshot
• In October 2020, Pfizer Inc. announced the acquisition of Arixa Pharmaceuticals Inc., a firm focused on developing next-generation oral antibiotics for Gram-negative infections that are resistant to conventional antibiotics.
• Shionogi will offer Fetcroja, a novel gram-negative antibiotic that defends against all Gram-negative bacteria, in the United Kingdom in September 2020.
• Wockhardt's new antibiotics, EMROK (IV) and EMROK O (Oral), were approved by the FDA in January 2020 for the treatment of acute bacterial skin and skin structure infections, including diabetic foot infections and concomitant bacteremia.
Antibiotics Market Scope
| | |
| --- | --- |
| Metrics | Details |
| Base Year | 2020 |
| Historic Data | 2018-2019 |
| Forecast Period | 2021-2028 |
| Study Period | 2018-2028 |
| Forecast Unit | Value (USD) |
| Revenue forecast in 2028 | USD 63.09 billion |
| Growth Rate | CAGR of 5.14 % during 2021-2028 |
| Segment Covered | Action Mechanism, Drug Class, Regions |
| Regions Covered | North America, Europe, Asia Pacific, Middle East and Africa, South America |
| Key Players Profiled | Abbott Laboratories, Allergan Plc., F.Hoffmann-La Roche Ltd., GlaxoSmithKline Plc, Merck & Co. Inc., Mylan N.V., Novartis International AG (Sandoz), Pfizer Inc., Sanofi, and Teva Pharmaceutical Industries Ltd. are among |
Key Segments of the Antibiotics Market
Action Mechanism Outlook (Revenue, USD Million, 2017 - 2028)
Cell Wall Synthesis Inhibitors
Protein Synthesis Inhibitors
Drug Class Outlook (Revenue, USD Million, 2017 - 2028)
Regional Outlook (Revenue, USD Million, 2017 - 2028)
Frequently Asked Questions (FAQ) :
The antibiotics market is studied from 2018 - 2028.
The antibiotics market is growing at a CAGR of 5.14% over the next 7 years.
North America is growing at the highest CAGR over 2021- 2028.
Abbott Laboratories, Allergan Plc., F.Hoffmann-La Roche Ltd., GlaxoSmithKline Plc, Merck & Co. Inc., Mylan N.V., Novartis International AG (Sandoz), Pfizer Inc., Sanofi, and Teva Pharmaceutical Industries Ltd.