The global antibiotics market is expected to reach USD 40.78 billion by 2025. Increasing prevalence of infectious diseases worldwide is a major factor driving the global antibiotics market. Since the discovery of antibiotics in the early 20th century, these have been an essential tool in treating the massive burden of infectious diseases worldwide. Yet antimicrobial resistance or AMR is increasingly threatening the effectiveness of antibiotics, which may restrain their use.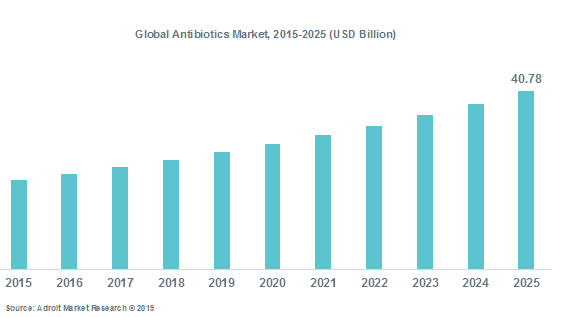 Adroit Market Research report on global antibiotics market gives a quantitative narration of the market demand, trends, drivers, restraints and opportunities spanning from 2015 to 2025. Historic trends have been studied from 2015 to 2017, with 2018 the base year of estimation and forecast from 2019-2025. The report contains the present status and future prospects of the market at global as well as country level. Additionally, the market has been assessed based on Porter's five forces analysis, along with the depiction of the industry's value chain. The global antibiotics market is classified based on drug class and route of drug administration. Moreover, the report offers in-depth assessment of the market competitors along with company profiles of major players serving in the global market.
The global antibiotics market has been segmented into drug class and route of drug administration. Drug class wise the market is broken down into broad spectrum penicillins, cephalosporins, macrolides, quinolones, tetracyclines, narrow spectrum penicillins, trimethoprim & combinations and others. Broad spectrum penicillins is project to be the largest segment through 2025 growing with a CAGR of 5.1%. Its ability to fight wide range of infections is expected to fuel its growth. In the route of administration segment the market has been bifurcated into oral and parenteral routes. The oral route of drug administration is estimated to be the largest segment by 2025.
North America is expected to dominate the global antibiotics market in 2025 with 34% market share, however, Asia Pacific will grow with a highest CAGR of 5.5% through the forecast period. Many low and middle income countries face both antibiotics excess and access issues. A 2015 study by the Centers for Disease Dynamics and Control found that global antibiotic consumption had increased by 65% in the past 15 years (from 21.1 billion to 34.8 billion defined daily doses). This was driven by rising consumption in low and middle income countries. In India, for example, easy access to the strongest antibiotics is a commonplace. In 2015, antibiotic consumption in India reached 4,950 defined daily doses per 1,000 people, up from 2,645 in 2000. Nevertheless, the burden of infectious diseases in India remains extremely high. Lower respiratory infections, diarrhoeal diseases and tuberculosis are among the ten deadliest diseases in India. Out of every 100,000 children aged under five in 2016, 258 died due to pneumonia, diarrhoea or another common infectious disease. Although infectious disease burdens are also linked to safe water, hygiene and sanitation, these numbers also indicate a clear unmet need for access to appropriate antibiotics.
Major players in the global antibiotics market are Abbott Laboratories, Merck & Co. Inc., GlaxoSmithKline Plc, F.Hoffmann-La Roche Ltd., Mylan N.V., Sanofi, Pfizer Inc., Novartis International AG, and Cipla Ltd among others.
Key segments of the global antibiotics market
Drug Class Overview, 2015-2025 (USD Billion)
Broad spectrum penicillins
Cephalosporins
Macrolides
Quinolones
Tetracyclines
Narrow spectrum penicillins
Trimethoprim & combinations
Others
Route of Administration Overview, 2015-2025 (USD Billion)
Regional Overview, 2015-2025 (USD Billion)
North America
Europe

Germany
United Kingdom
France
Rest of Europe

Asia Pacific

China
Japan
India
Rest of Asia Pacific

Latin America

Brazil
Mexico
Rest of Latin America

Middle East & Africa

GCC
South Africa
Rest of Middle East & Africa