The global digital therapeutics market is gaining momentum and is estimated to reach USD 15.75 billion by 2028 and is expected to register a massive CAGR growth of 25% through the forecast years 2018 to 2028. The estimated growth forecast can be attributed to the rising prevalence and increasing number of chronic diseases.
Uncontrolled population upsurge worldwide with a steep rise in the geriatric population are further expanding the need for efficient care system thereby expanding the avenue for growth of the digital health therapeutics market. However, digital health is often surrounded with concerns associated with data privacy rendering digital platforms unreliable with patients not being able to trust the services with personal information which could be a major hinderance obstructing growth of the global digital therapeutics market in the coming years.
Surge in digital health apps is constantly rising and according to the latest reports by IQVIA Institute for Human Data Science, the number of digital health apps last year stood at over 90,000 and currently the number stands at 355,000. Digital health apps makers are now offering multiple services. Besides offering regular fitness and wellness specific digital health apps, several market participants are now offering dedicated digital health apps to monitor critical conditions such as chronic ailments of diabetes, cardiac ailments, and even mental health. These specific health apps are anticipated to augment new growth opportunities in the global digital therapeutics market.
Digital therapeutics is a sub-category of digital health and it is different from the latter in terms of clinical significance. Digital therapeutics are a relatively new class of digital care services that primarily is focused on utilization of digital technology for prevention, control, and treatment of medical conditions. It delivers medical interventions to the patients who have adopted a software platform to prevent and control diseases. These are the applications which are driven by thorough evidential data by structured software programs to ensure smooth functioning..
COVID-19 has been a significant driver in the global digital therapeutics market as it has posed a stark rise in adoption. With increasing adversities of unknown novel diseases imposing immense pressure on the healthcare system to scale up the patient care provided whilst deploying the COVID-19 related restriction boosted the adoption of digital therapeutics.
Global digital therapeutics market players are strongly placed accompanying the emerging new market players entering the market with strategic goals of disrupting the traditional services and solutions provided fastening the modernization of the healthcare system worldwide. The increasing threat of new entrants rapidly replacing the conventional methods along with the threat of obsolescence and emerging digital health technology services with evolving upgradations to the portfolio has resulted in market consolidation.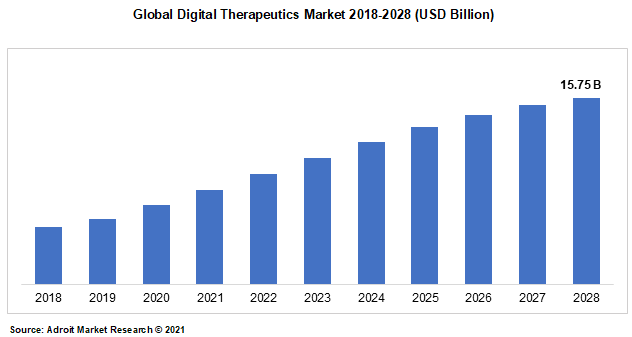 The major players of the global digital therapeutics market are Omada Health, Livongo Health, WellDoc, Propeller Health, 2Morrow, Noom Health, Pear Therapeutics, Canary Health, Mango Health, Proteus Digital Health, Happify, Kaia Health, Canary Health, Wellthy Therapeutics, Ginger, Ayogo Health, CogniFit and Twine Health.
The digital therapeutics market encompasses all the players across its competitive landscape including the local as well as global players. In addition, the previously recognized market players with a significant role in enhancing the digital therapeutics market presence globally are entering a new era of advanced development and innovative strategies to remain competitive in the global market.
Digital Therapeutics Market Scope
| | |
| --- | --- |
| Metrics | Details |
| Base Year | 2020 |
| Historic Data | 2018-2019 |
| Forecast Period | 2021-2028 |
| Study Period | 2018-2028 |
| Forecast Unit | Value (USD) |
| Revenue forecast in 2028 | USD 15.75 billion |
| Growth Rate | CAGR of 25% during 2021-2028 |
| Segment Covered | Product Type, Application, Sales Channel, Vertical, Regions |
| Regions Covered | North America, Europe, Asia Pacific, Middle East and Africa, South America |
| Key Players Profiled | Omada Health, Livongo Health, WellDoc, Propeller Health, 2Morrow, Noom Health, Pear Therapeutics, Canary Health, Mango Health, Proteus Digital Health, Happify, Kaia Health, Canary Health, Wellthy Therapeutics, Ginger, Ayogo Health, CogniFit and Twine Health. |
Key Segments of the Global Digital therapeutics Market
Product Type Overview, 2018-2028 (USD Billion)
Application Overview, 2018-2028 (USD Billion)
Nutrition
Diabetes
CNS
Prediabetes
Care
CVD
CRD
GI
Substance Abuse
MSD
Rehabilitation
Sales Channel Overview, 2018-2028 (USD Billion)
Patient
Provider
B2C
B2B
Caregiver
Payer
Pharma
Employer
Regional Overview, 2018-2028 (USD Billion)
North America
Europe
UK
France
Germany
Rest of Europe
Asia Pacific
India
China
Japan
Rest of Asia Pacific
South America
Mexico
Brazil
Rest of South America
Middle East & Africa
Reasons for the study
Main objective of the study is to impart absolute and authentic research assessment of the global digital therapeutics market providing competitive benchmarking.
Provide access to in-depth market information along with recent updates and trends to ensure you retain competitiveness as innovations by the key competitors drive the market.
What does the report include?
The study report on the global digital therapeutics market offers a conclusive market analysis comprising of the growth derivatives, core market strengths, threats, opportunities, challenges, and emerging trends.
The study provides amalgamated representation of the competitive landscape identifying the existing and prospective players of the digital therapeutics market with detailed strategic overview consisting of the product development initiatives.
The study comprises of qualitative and quantitative data defining the market categories derived after thorough segmentation based on product type, applications, and sales channel. Key geographies are also analysed with similar study methodologies.
Actual market sizes and share along with forecasts have been provided with respect to each of the above segment.
Who should buy this report?
The report on the global digital therapeutics market provides a repertoire of factual evidences and analytical output suitable for industry players and participants including professionals across the healthcare sector, service providers, consumers and platform developers
Entrepreneurs, biotechnology firms and venture capital firms looking for detailed view into the future outlook of the global digital therapeutics market
Consultants, software experts, analysts and organizations seeking insights transforming the global digital therapeutics market.
Increasing proliferation of smart gadgets such as smartphones and tablets coupled with surge in adoption of healthcare apps are some of the major factors fuelling the growth of the global digital therapeutics market. With escalating healthcare costs, there is a rise in demand for specific initiatives to control and monitor expenditure along with rapidly growing cases of chronic diseases worldwide are further offering lucrative growth opportunities for the growth of the global digital therapeutics market.
The COVID-19 outbreak caused massive destructions to the healthcare sector completely devastating the traditional systems within the care industry. Pandemic catalysed the transformation from traditional healthcare services to digital healthcare services stimulating a rapid shift in preferences of both patients and physicians.
A continuously transforming consumer mindset more inclined towards digital health is expected to accelerate the demand for personalized, affordable, accessible, and engaging medical solutions and product services. Increasing internet connectivity and usage all across the globe is further enhancing the rate of adoption of the global digital therapeutics over the forecast years.
Product Segment
Based on product type segment, the market is accurately categorised into software and devices. The software digital therapeutics segment is estimated to register the highest growth rate over the forecast years owing to the burgeoning need to inhibit the escalating healthcare costs worldwide which is expected to open new opportunities. The developers to enhance overall performance of the existing software services are incorporating advanced features and modifying capabilities to cater to high-efficiency and affordability needs.
Application segment
The diabetes segment has largely dominated the global digital therapeutics application space in the past and is anticipated to display similar trends during the forecast period due to high prevalence of diabetes coupled with increasing demand for affordable healthcare alternatives boosting the rate of adoption of digital therapeutics among diabetic patients.
However, the obesity segment is anticipated to experience the fastest growth over the forecast years owing to the increasing obesity rate among diverse set of population increasing cases of chronic diseases.
Sales Channel Segment
The patient segment led the market with the largest revenue share accountable and is likely to maintain the stance during the forecast period as patients are the primary end-users of therapeutic healthcare services and programs.
An exponential rise in chronic disease incidences is accelerating the demand for digital therapeutics. Payer and provider segments along with others are also expected to grow substantially over the forecast years with increasing efforts to deploy and leverage digital therapeutic models.
North America held majority of digital therapeutics market share in 2020 with a robust geographic footprint and significant government initiatives to boost the development of digital healthcare along with a strong healthcare infrastructure and is therefore expected to continue registering substantial growth over the forecast years.
In April 2020, the U.S. FDA body published guidelines associated with the expansion of digital therapeutic devices accessibility and availability targeting psychiatric conditions. Asia Pacific digital therapeutics market is expected to rise with the fastest growth during the forecast due to the massive population strength across countries like India and China along with fast-paced urbanization and digitization.