The global customer data platform market was valued at USD 742.4 million in 2018. Companies across industries are turning further towards customer data platforms (CDP). CDPs assist companies to aggregate customer data from disparate sources — providing companies with a centralized recording system for information about all their customers and prospects. In the past, this purpose has been delivered by a Customer Relationship Management (CRM) system, but it was not built to handle the volume and complexity of data (such as digital interaction and clickstream data) that we are seeing today. It was not designed to take data from all the different technologies that marketers use, nor was it meant to interpret what that data means about an individual. This is has accelerated the adoption of global customer data platform market.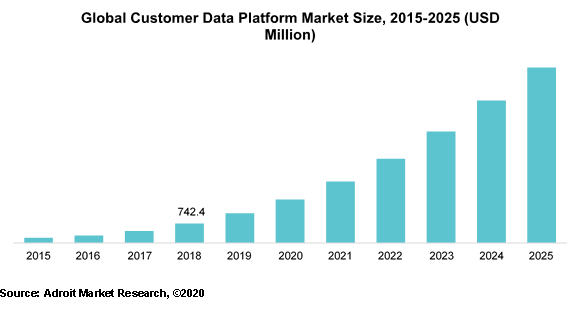 The CDP is packaged software, which is most frequently purchased and controlled by business users. This distinguishes it from a data warehouse or data lake that the corporate IT department usually custom-builds. The system's packaged nature makes deployment and modification much easier as new needs arise. Corporate IT must cooperate in setting up and maintaining the CDP but the vendor or agency hired by marketing usually provides most technical resources. The CDP provides an overview of each individual client with the capture of data from multiple systems, the linkage of customer data, and the storage of information to monitor behavior over time. The CDP contains personal identifiers for marketing messages and for monitoring marketing results at the individual level. CDPs primarily work with information about identified individuals collected by the own systems of the company. Data from outside sources and anonymous people may also be included. The CDP retains all input data details indefinitely, although users may limit their storage and the length of their storage.
The global customer data platform market has been segmented based on type, organization size, deployment, end-user, and region. Based on content type, the global customer data platform market is categorized into ANALYTICS, CAMPAIGN, and access. On the basis of organization size, the global customer data platform market is segmented into small and medium enterprise, and large enterprises. Based on deployment, the customer data platform market is classified into cloud, and on premise. Based on end user, the customer data platform market is segmented into media and entertainment, healthcare, BFSI, retail and ecommerce, travel and hospitality, and others
Key players operating in the global customer data platform market include Oracle , SAP, Adobe , Salesforce, Microsoft, SAS, Teradata, Nice, Dun & Bradstreet , Leadspace, Zylotech, BlueVenn, CaliberMind, Celebrus, Tealium, AgilOne, BlueConic, Lytics, IgnitionOne and Amperity among others
Key Segments of the Global Customer Data Platform Market
Type Overview, 2015-2025 (USD Million)
Analytics
Access
Campaign
Organization Size Overview, 2015-2025 (USD Million)
Small and Medium Enterprises
Large Enterprise
Deployment Overview, 2015-2025 (USD Million)
End-users Overview, 2015-2025 (USD Million)
Media and Entertainment,
Healthcare
BFSI
Retail and Ecommerce
Travel and Tourism
Others
Regional Overview, 2015-2025 (USD Million)
North America
Europe

Germany
United Kingdom
France
Rest of Europe

Asia Pacific

China
Japan
India
Rest of Asia Pacific

Central and South America

Brazil
Mexico
Rest of Central and South America

Middle East & Africa
Reasons for the study
The demand for CDP among B2B companies is growing at a significant rate owing to the benefits offered by CDP, including time-based analysis of consumer engagement and online & offline collection of data from different sources.
Increasing funding and investments by major organizations in such platforms are further contributing to the growth of the market.
What does the report include?
The study on the global customer data platform market includes qualitative insights such as drivers, restraints, challenges and opportunities
Additionally, the market has been evaluated using the Porter's Five Forces analysis
The study covers qualitative and quantitative analysis of the market segmented on the basis of type, organization size, deployment, and end-users. Moreover, the study on customer data platform market provides similar information for the key geographies.
Actual market sizes and forecasts have been provided for all the above-mentioned segments
The study includes the profiles of key players operating in the market with a significant global and/or regional presence
Who should buy this report?
The report on the global customer data platform market is suitable for all the players engaged in the development of customer data platform solutions.
Venture capitalists and investors looking for more information on the future outlook of the global customer data platform market
Consultants, analysts, researchers, and academicians looking for insights shaping the global customer data platform market
As the marketing industry continues to shift to one-to-one customization, value-added relationships, and individually relevant interactions, the integration of customer data is emerging as a key focus area for brands these days.
Data integration can make a world of difference between consumer-based generic segmentation and intelligence-based one-to - one consumer engagement. Data integration makes a difference between treating customers in a personal and authentic way or losing their business forever because of a botched customer service experience. And data integration is also the key to engaging the right customers in the right situation, in the right situation, with the right message, on their preferred devices. In order to achieve this level of data integration, the current marketing buzzword is customer data platforms (CDPs). CDPs are an antidote to data silos, fragmentation, and desynchronization, with the promise of connecting data points across channels and customer touchpoints – and making these data functional and available to teams across departmental boundaries.
As the marketing industry trends towards custom-tailored tech stacks, the necessary backbone for personalized consumer engagement lies with integrated CDP capabilities that capture data in real time and make it available across apps, channels, and departments. Looking ahead, marketers are well advised to choose a data foundation and platform that can talk to third-party apps, while protecting and organizing first-hand data in universal consumer profiles. Investing in an omnichannel platforms that is specifically built for the needs of engagement marketers doesn't only eliminate data silos and integration issues from the start. It also forms the foundation for a tech stack that covers a large part of the marketing mix in a single, easy to-use, data-driven platform. In the era of next-level customer experience, setting up your data platform to be reliable, up-to-date, and actionable will be the key to building lasting customer relationships.
The global customer data platform market segmented based on type was dominated by campaign segment and accounted for nearly 39 % in 2018. Over the forecast period it is expected to rise at a substantial CAGR. Collecting consumer data points from a number of sources, allowing consumer differentiation on the basis of various criteria and offering real-time marketing analysis also helped to create a customer data framework for campaigns.
Customer data platforms enable campaigners to truly understand what's happening with each customer requires a unified view of data from Web, mobile apps, marketing automation, CRM, accounting, and sometimes even intelligent products. B2B marketers find themselves increasingly involved with customer relationships after the lead is passed along to sales. This happens during the initial sales process because so much interaction takes place in the Web channel, which marketing usually controls. Marketers need to coordinate with sales to ensure the Web delivers appropriate, consistent messages to each prospect and to pass on useful intelligence, such as who is engaging on the Web at target accounts, what topics they're exploring, and when there's a surge in activity. This has led to increasing adoption of customer data platforms for campaign.
The global customer data platform market segmented based on region was dominated by North America, generating nearly 40 % share of the overall market size in 2018.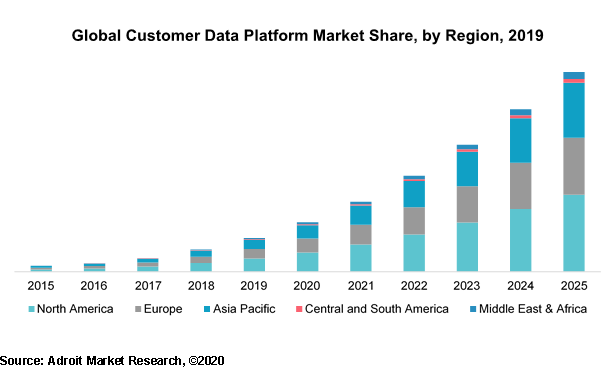 The region's growth may be attributed to the involvement of pure play providers and CDP providers as a by-product. Due to major industry players with large market share and increased funding for CDP, the United States dominated the market in 2018. In addition, CDP's were first embraced by advertisers and brands in the region.
In comparison to North America, Europe and Asia-Pacific regions are projected at greater CAGR levels. The region's growth can be attributed to an increase in the number of providers of analytics and CDP campaigns. The European market has more than 50 percent of the total market vendors, with a concentration of campaign vendors. In 2018, the analytical CDP providers working in the Asia-Pacific region played a key role in the regional market growth.