The global Vertebroplasty and Kyphoplasty market was valued at USD 732.9 million in 2019 and is expected to grow at a CAGR of 5.6% over the forecast period 2020 to 2028. Because of shortcomings in conventional methods for the treatment of vertebral stress injuries, the demand for vertebroplasty & kyphoplasty devices is increasing. Vertebroplasty & kyphoplasty is an innovative treatment that results in pain reduction, bone stabilization, and the prevention of untreated osteoporosis. Patients with osteoporosis are now rising due to a rise in the ageing population.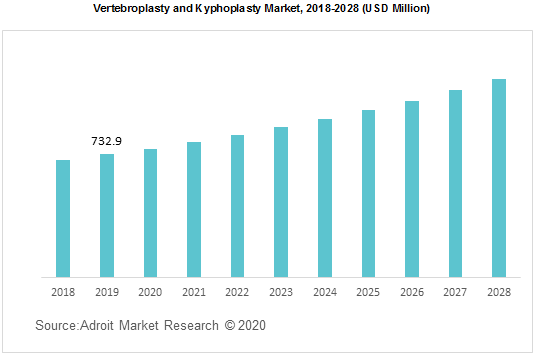 Adroit Market Research report on vertebroplasty and kyphoplasty market gives a holistic view of the market from 2018 to 2028, which includes factors such as market drivers, restraints, opportunities, and challenges. The market has been studied for historic as 2018, with the base year of estimation as 2019 and forecast from 2020 to 2028. The report covers the current status and future traits of the market at global as well as country level. In addition, the study also assesses the market competition with company positioning based on their product portfolio, geographic footprint, strategic initiatives and overall revenue. Prominent players operating in the global vertebroplasty and kyphoplasty market have been studied in detail.
Geographically, the majority share of the global demand for vertebroplasty and kyphoplasty was held by North America, followed by Europe, which was the second largest geographic demand. However, Asia Pacific is likely to emerge as the fastest growing segment over the forecast period.
The global vertebroplasty and kyphoplasty market has been bifurcated based on type and region. In terms of type, the market is divided into Vertebroplasty Devices and Kyphoplasty Devices. In 2019, kyphoplasty segment dominated the global market and is predicted to maintain its position over the study period. The specialized version of vertebroplasty is kyphoplasty which involves injecting a balloon into the injured vertebra accompanied by inflation of a balloon to create a cement filled cavity within the bone.
Key players serving the global market include Stryker Corporation, Medtronic, IZI Medical Products, Globus Medical, Inc., Biopsybell, Laurane Medical, Teknimed, Merit Medical Systems, Inc., Zavation, among other prominent players.
Key segments of the global Vertebroplasty and Kyphoplasty market
Type Overview, 2018-2028 (USD Million)
Vertebroplasty Devices
Kyphoplasty Devices
Regional Overview, 2018-2028 (USD Million)
North America
Europe

Germany
United Kingdom
France
Spain
Rest of Europe

Asia Pacific

China
Japan
India
Rest of Asia Pacific

Latin America
Middle East & Africa