The global track & trace solutions market is anticipated to reach USD 4,773 million by 2025, growing at a CAGR of 15.3%. Rise in counterfeit healthcare products and stringent government regulations are driving the global track & trace solutions market.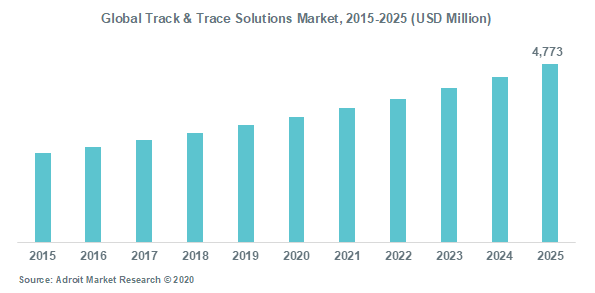 Adroit Market Research report on global track & trace solutions market gives a holistic view of the market from 2015 to 2025, which includes factors such as market drivers, restraints, opportunities, challenges and regulatory scenario. The market has been studied for historic years from 2015 to 2017, with the base year of estimation as 2018 and forecast from 2019 to 2025. The report covers the current status and future traits of the market at global as well as country level. In addition, the study also assesses the market competition with Porter's five forces analysis and positions the key players based on their product portfolio, geographic footprint, strategic initiatives and overall revenue. Prominent players operating in the global track & trace solutions market have been studied in detail.
The pharmaceutical industry has fought to safeguard the integrity of their products as they move along the different stops of the value chain from contract manufacturers to wholesalers to dispensers and lastly to the consumer. This is mainly important as the product moves through international borders, as more money is being lost to counterfeiting with each passing year. Product theft is also on the rise, Freight Watch International has released statistics suggesting that drugs account for approximately 15% of the estimated USD 8 billion to USD 12 billion of annual cargo theft, which amounts to well over USD 1 billion annually. Thwarting theft and forging have thus become a vital industry focus.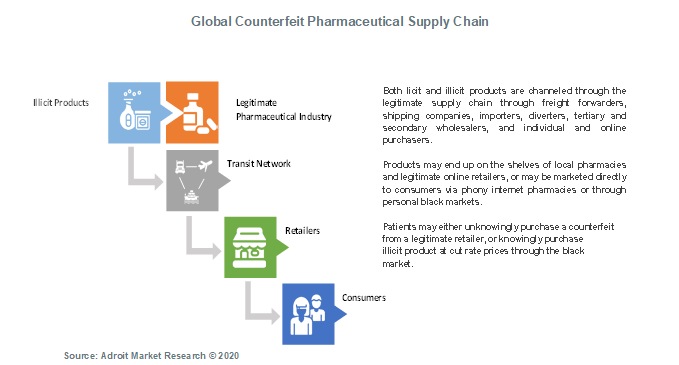 The global track & trace solutions market has been segmented into applications, product, technology and end user. Application wise, the market is broken down into serialization and aggregation. Serialization is expected to account for more than 75% market share in 2025. Serialization regulations have been in place in markets like Turkey and China for some time, and more recently markets such as India, the United States, and EMEA have added similar laws to require serialization and track and trace solutions over the next several years. To make matters more complex, global data standards are still evolving in some major markets.
Asia Pacific will emerge as the fastest growing market through the forecast period. In this region, rising incomes, increased urbanization, growing middle classes, and shifting consumer preferences are driving the track and trace solutions market. Middle East & Africa is also projected to show promising growth by 2025. The healthcare sector in this region plays a key role in the economy, as there are various types of pharmaceutical products manufactured here and exported to various parts of the world. Moreover, as the regulatory landscape continues to advance and new regulations are being passed all the time, it is expected to directly impact the pharmaceutical supply chain, which will require stakeholders to implement more accurate and advanced traceability systems to improve patient safety.
Major players operating in the global track & trace solutions market are TraceLink Inc., Mettler-Toledo International, Inc., Axway, OPTEL GROUP, Adents, Seidenader Maschinenbau GmbH, RFXCEL CORP, Vitronic Machine Vision, Ltd., PharmaSecure Inc. and Laetus GmbH among others.
Key segments of the global track & trace solutions market
Application Overview, 2015-2025 (USD Million)
Serialization
Aggregation
Product Overview, 2015-2025 (USD Million)
Technology Overview, 2015-2025 (USD Million)
End User Overview, 2015-2025 (USD Million)
Pharma & Biopharma Industries
Medical device Industries
Regional Overview, 2015-2025 (USD Million)
North America
Europe

Germany
United Kingdom
France
Rest of Europe

Asia Pacific

China
Japan
India
Rest of Asia Pacific

Latin America

Brazil
Mexico
Rest of Latin America

Middle East & Africa