The global security printings market size is poised to reach over USD 42 billion in 2028 with a CAGR of 6% over the forecast period, 2021-2028. Security printing is the printing of objects such as banknotes, tamper-evident labels, identification cards checks, passports, security tapes, stock certificates, product authentication, and postage stamps. Increased incidences of counterfeiting and forgery globally are significant drivers pushing adoption of security printing features across verticals. In addition, due to the growth in criminality, financial instruments must be provided through safe printing. Additionally, rising awareness about brand protection practices among corporates due to a series of losses and instances affecting corporate reputation such as brand name duplicity as well as the emergence of new technologies with high-security features, are projected to boost market demand higher. Demand for printed banknotes will increase as the market changes, but the sector must respond to overcapacity and non-cash payment completion. The personal ID market must respond to the demand for innovative printed solutions that can interact with the internet and mobile-based systems. Simultaneously, new rules and requirements are generating intriguing new income sources in the form of tax stamps and trademark protection packaging.
Developed countries will boost their use of hybrid security printing materials to protect the security of their legal and financial documents. Counterfeiting is predicted to skyrocket, with petty criminals manufacturing unauthorized replicas of tax stamps, forged papers, banknotes, and infiltrating supply chains with altered packaging and commodities. This will increase demand for the security printing sector. Many computer systems rely on safe printing, packaging, and sealing to some extent to ensure critical parts of their security. Many software packages are protected against fraud by employing techniques such as holographic stickers, which are designed to break when removed from the package. As a result, security procedures must be implemented to ensure that the product has not been tampered with after leaving the plant, which may be accomplished by security printing. One of the causes for the rising need for security printing is the rise in fraudulent operations by anti-social groups. Counterfeit operations include infiltrating a company's supply chain network, where items with changed packaging are introduced for shipping. Fraudulent operations in tax stamps, falsified papers, and banknotes are also on the rise. Furthermore, rising consumer awareness of different fraudulent activities is expected to open up new prospects for the worldwide security printing market. Security printing, in conjunction with law enforcement, aids in the control and reduction of forgery instances.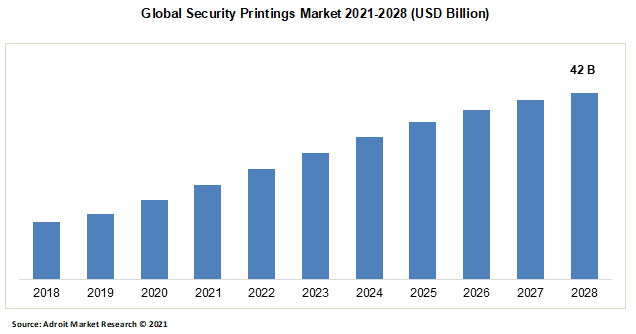 This research report on global security printings market by Adroit Market Research elaborates on the security printing industry's market size, market features, and market growth drivers, and it is divided into types, applications, and consumption areas. The research also conducted a PESTEL analysis of the sector to investigate the major influencing variables and entry point barriers. The report further touches upon persistent challenges and emerging new opportunities that could further influence improved business decisions and holistic comprehension of the competition ecosystem, supply-chain vulnerabilities and lucrative strategies adopted by industry forerunners to justify their competence. The report addresses both historic and current developments to derive futuristic growth probabilities. The tenure for the study considered is 2021-2028, while historic developments from 2019-2020 have been studied in-depth. The base year of estimation considered for the study is 2020.
Based on the type segment, the letterpress printings segment is accounted for highest revenue in the coming years reaching upto 12 billion by 2028. Advantages such as crystal-clear printing quality and crisp finish with improved visual definition owing to the unique text and image impression on the paper has led to wide scale end-user adoption if letterpress printing in recent years, and the trend is expected to continue even throughout the projected timeframe.
The lithographic printings segment is also expected to provide significant growth conditions in the next years.
Based on the component, the commercial segment is anticipated to grow at a faster CAGR than the residential sector throughout the forecast period. The increasing demand for stock certificates, product verification, and other paperwork is propelling the business sector forward. Government and BFSI verticals are likely to emerge significantly throughout the projected time frame backed by rapid integration of security printings and law enforcement practices.
Due to growing awareness of document security and high levels of forgery and counterfeiting, North America is expected to have substantial revenue growth during the forecast period. Photo integration, barcodes, biometric identifiers, reversed out text, embossing stamps, fluorescent serial numbers, intranet ink stamps, False and Authentic Documents Online (iFADO), and gravure printings are all expected to play key roles in preventing fraud. As a result of shifting customer behavior and trends, Asia Pacific is anticipated to grow gradually.
3M, Giesecke+Devrient GmbH, Goebel GmbH, Gietz, Leibinger Group, Pozzoni S.p.A., ROTATEK, Thomas Greg & Sons, Security Brands VINSAK, and Solutions S.r.l. are among the key competitors in the worldwide security printings industry. They have utilized a number of strategies to gain a worldwide footing and presence, such as joint ventures, partnerships, collaborations, new product launches, mergers and acquisitions, agreements, and others.
Key Segments of the Global Security Printings Market
Type Overview, 2021-2028 (USD Billion)
Screen Printings
Letterpress Printings
Digital Printings
Lithographic printings
Intaglio Printings
Others (Hologram, etc.)
End-User Overview, 2021-2028 (USD Billion)
Banking & Finance
Government
Aerospace
Commercial and Others
Regional Overview, 2018-2028 (USD Billion)
North America
Europe

Germany
United Kingdom
France
Rest of Europe

Asia Pacific

China
Japan
India
Rest of Asia-Pacific

Latin America

Brazil
Mexico
Rest of Latin America

Middle East and Africa