The global security printings market size is estimated to reach over USD 42 billion in 2028 with a CAGR of 6% during the projected timeframe, 2021-2028. The factors driving the expansion of the global security printings market size include growing security concerns for various instruments, as well as an increase in forgery cases worldwide. Furthermore, advancements in printing solutions, such as the introduction of RFID marks, are substantially fuelling the growth of the security printings market. The security printings method is utilized in a variety of end-use industry verticals, including the passport, driving license, birth certificate, personal ID, and ticketing sectors. Furthermore, growing demand from different industries such as banking, commercial, government, and others is expected to drive the global security printings market forward. Intaglio printings, color-shifting ink, geometric lathe work, holograms, and UV printings are all used in the security approach. Despite several stellar growth drivers, security printings market still faces some persistent challenges in terms of technological complexity and the unavailability of high-end inks with high resistance printing quality.
However, lately, the rising demand for trademark protection solutions is expected to open up new development opportunities for the global security printings market throughout the forecast period. It is predicted that major companies in the sector will continue to create innovative solutions with high-security characteristics such as intaglio printing, micro-lettering and color-changing ink in the future years. This is also coupled with the active digital transition happening across developing economies and their active response towards integrated security printing solutions across law enforcement practices. These developments are perceived to offer appropriate launchpad for exponential growth in security printings market in the foreseeable years.
Security printings are the printings of documents that must be protected against duplicate and unethical tampering. Cheques, tax stamps, banknotes, postal stamps, and other documents fall under this category. The ened danger of document fraud and tampering has a direct impact on the government, banking, and commercial sector as a whole. The forgery of banknotes, postage stamps, identification cards, passports, product authentication, and stock certificates is unregulated and widespread. Security printings are useful in preventing forgeries and tampering with this equipment. Government, financial, commercial, and other verticals are important in the security printings industry and their keen interest in active integration offer substantiate market expansion.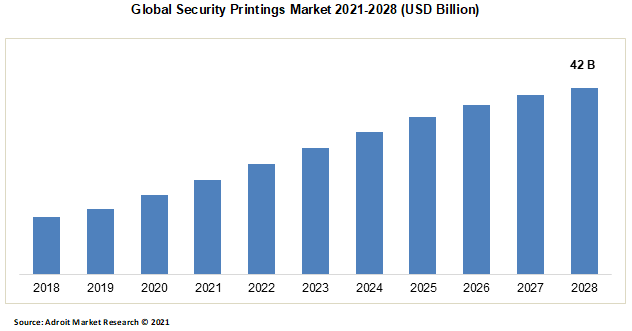 The major players of the global security printings market are 3M, Giesecke+Devrient GmbH, Goebel GmbH, Gietz, Leibinger Group, Pozzoni S.p.A., ROTATEK, Thomas Greg & Sons, Security Brands VINSAK, and Solutions S.r.l. among others. They have used a variety of tactics to acquire a foothold and global presence across the world, including joint ventures, new product launches, partnerships, collaborations, mergers and acquisitions, agreements, and others. Manufacturers have been focused on developing new goods for various applications due to different needs dependent on usage. Leading market competitors have recognized how enhanced security features may have a significant impact on a wide range of applications. The use of security printings has increased in banking and finance since it deals with bank notes, checks, identification cards, authentication, stock certificates, and other items that utilize security printings.
Security Printings Market Scope
| | |
| --- | --- |
| Metrics | Details |
| Base Year | 2020 |
| Historic Data | 2018-2019 |
| Forecast Period | 2021-2028 |
| Study Period | 2018-2028 |
| Forecast Unit | Value (USD) |
| Revenue forecast in 2028 | USD 42 billion |
| Growth Rate | CAGR of 6% during 2021-2028 |
| Segment Covered | Type, End-User, Regions |
| Regions Covered | North America, Europe, Asia Pacific, Middle East and Africa, Latin America |
| Key Players Profiled | 3M, Giesecke+Devrient GmbH, Goebel GmbH, Gietz, Leibinger Group, Pozzoni S.p.A., ROTATEK, Thomas Greg & Sons, Security Brands VINSAK, and Solutions S.r.l. are among . |
Key Segments of the Global Security Printings Market
Type Overview, 2021-2028 (USD Billion)
Screen Printings
Letterpress Printings
Digital Printings
Lithographic printings
Intaglio Printings
Others (Hologram, etc.)
End-User Overview, 2021-2028 (USD Billion)
Banking & Finance
Government
Aerospace
Commercial and Others
Regional Overview, 2019-2028 (USD Billion)
North America
Europe
UK
Germany
France
Rest of Europe
Asia Pacific
China
Japan
India
Rest of Asia-Pacific
Middle East and Africa
UAE
South Africa
Rest of Middle East and Africa
South America
Brazil
Rest of South America
Reasons for the study
To distinguish the accurate market size as well as recent and upcoming market trends.
To derive a fair idea of the scope of the market coupled with a thorough record of market segmentation.
To know various market strategies used by top industry competitors operating in the market.
What does the report include?
This study provides an analytical depiction of the global security printings industry, as well as current trends and future predictions to aid in the identification of potential investment opportunities.
The study examines the global security printings market trends in terms of competitive intensity and how the competition will evolve in the next few years.
The study contains information on main drivers, restraints, and opportunities, as well as a detailed examination of the global security printings market share.
To highlight the global security printings market growth situation, the present market is quantitatively studied from 2021 to 2028.
Porter's five forces analysis illustrates the market's buyer and provider potency.
Who should buy this report?
This research is appropriate for industry players and stakeholders in the global security printings market. Every player in the security printings industry will profit from this study.
Government agencies, regulatory bodies, policymakers, and enterprises seeking to invest in global security printings market.
Managers in the security printings industry who want to publish current and anticipated statistics about the global market.
Analysts, educators, strategy managers, researchers, and government agencies seeking market information to guide future initiatives.
The global security printings market is expected to expand over the projected period, owing to an increase in forgery and counterfeiting activities. Postage stamps, product certification, passports, cash, identity cards, and stock certificates, are all counterfeiting targets. The usage of security printings helps to prevent tampering and forgery of the aforementioned equipment. The primary end market verticals in security printings include BFSI (Banking, Financial Services, and Insurance), personal ID sector, passport industry, and birth certificate issuing, and ticketing company. Security printings can aid in the prevention of counterfeiters and the reduction of fraudulent incidents. For instance, micro-printings play an important role in avoiding counterfeiting techniques in the case of bank checks and currencies. Furthermore, serial numbers make it easy to identify authentic papers for tracking and auditing. With the aid of a check digit, serial numbers can also identify frauds. The use of magnetic ink character recognition technology greatly reduces mistakes in automated or computerized reading. The increasing need for trademark protection is also expected to drive market expansion. This may be linked to firms suffering enormous losses and reputation damage as a result of product pirates stealing brand names. Increased emphasis on trademark protection is likely to boost the market growth. Rising digitalization is likely to stifle the growth of the security printings market over the forecast period. The creation of new items with high-security features offers up new opportunities for market expansion in the future. Counterfeiting is expected to rise at an alarming rate, with petty criminals creating unauthorized copies of tax stamps, false papers, and bank notes, as well as infiltrating supply chains with changed packaging and commodities.
Type Segment
The letterpress printings segment is accounted for highest revenue in the coming years reaching up to 12 billion by 2028. Advantages such as crystal-clear printing quality and crisp finish with improved visual definition owing to the unique text and image impression on the paper has led to wide scale end-user adoption if letterpress printing in recent years, and the trend is expected to continue even throughout the projected timeframe. In letterpress printings, a printings plate is a mirror replica of the finished print. The plate procures ink from the inking roller and transfers it to the imprint roller through a roller pathway. The additional rollers, especially the imprint roller, get attached to the substrate, to ensure more detailed and fine printings. This is perfect for guilloche and other intricate patterns found on checks and other security documents.
End-User Segment
The commercial segment is expected to increase at a higher CAGR than the residential sector throughout the projection period, according to the End User segment. The growing demand for stock certificates, product verification, and other documentation is driving the commercial sector industry ahead. The government and banking sectors are expected to lead the market throughout the projected period, owing to increased efforts being implemented to safeguard against bank note counterfeiting. The overall revenue likelihood of the banking sector is estimated to reach over 22 billion by 2028.
North America is anticipated to have significant revenue growth over the projection period due to increased awareness of document security and high levels of forgery and counterfeiting. Several approaches, including photo integration, barcodes, biometric identifiers, reversed out text, embossing stamps, fluorescent serial numbers, intranet ink stamps, False and Authentic Documents Online (iFADO), and gravure printings, are likely to play important roles in combating fraud. The Asia Pacific is also expected to expand steadily as a result of changing customer behavior and trends. Besides North America, oil dependent countries in MEA are also expected to remain potential growth hubs backed by stead integration of security printing.