The global radiopharmaceuticals market was valued at USD 10,159.0 million in 2019 and is expected to grow at a CAGR of 10% over the forecast period. Non-invasive high precision diagnostics, targeted therapy, improved pediatric survival rate and geriatric care are the major factors expected to drive the demand for radiopharmaceutical market growth in the coming years. However, shorter half-life of radiopharmaceuticals, high cost and huge investment, stringent regulatory framework, transportation, and competition from conventional diagnostic procedures are hindering the growth of radiopharmaceuticals market.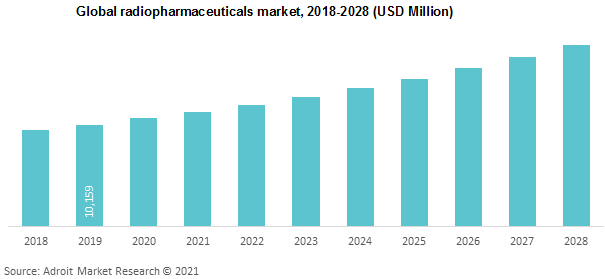 Adroit Market Research report on global radiopharmaceuticals market gives a holistic view of the market from 2018 to 2028, which includes factors such as market drivers, restraints, opportunities, and challenges. The market has been studied for the period 2018 to 2028, with the base year of estimation as 2020 and forecast from 2021 to 2028. The report covers the status and future traits of the market at global as well as country level. In addition, the study also assesses the market competition with Porter's five forces analysis and company positioning based on their product portfolio, geographic footprint, strategic initiatives, and overall revenue. Prominent players operating in the global radiopharmaceuticals market have been studied in detail.
North America is the largest radiopharmaceutical market with 44.7% market share in 2019. Highly advanced research infrastructures, increased government funding for radiopharmaceuticals, rise in public awareness, and growth in aging population are the contributory factors for radiopharmaceutical market in this region. Europe is the largest manufacturer of radiopharmaceuticals worldwide, while Asia Pacific is expected to be the fastest growing market by 2028 with a CAGR of 12.9%. In many Asian countries the regulatory set-up for radiopharmaceutical is still in its infancy phase and there are no rigorous and comprehensive guidelines.
The prominent players operating in global radiopharmaceuticals market includes Curium, Nordion Inc., Cardinal Health Inc., Bracco Imaging S.p.A, Eczacibasi-Monrol Nükleer Ürünler San. ve Tic. A.S., Lantheus Medical Imaging, Inc., Jubilant Pharma. LLC, Ire-Elit SA, GE Healthcare Company, NTP among other prominent players.
Key segments of the global radiopharmaceuticals market
Type Overview, 2018-2028 (USD Million)
Technetium (Tc-99)
Iodine (I-131)
Fluorine (F-18)
Lutetium (Lu-177)
Yttrium (Y-90)
Others
Diagnostics Overview, 2018-2028 (USD Million)
PET (Positron Emission Tomography)
SPECT (Single Photon Emission Computed Tomography)
Application Overview, 2018-2028 (USD Million)
Oncology
Neurology
Cardiology
Others
Regional Overview, 2018-2028 (USD Million)
North America
Europe

Germany
United Kingdom
France
Spain
Rest of Europe

Asia Pacific

China
Japan
India
Rest of Asia Pacific

South America

Brazil
Mexico
Rest of South America

Middle East & Africa

GCC
South Africa
Rest of Middle East and Africa