The global radiopharmaceuticals market was valued at USD 10,159.0 million in 2019 and is expected to grow at a CAGR of 10% over the forecast period. The nuclear medicine (NM) sector is unique in its complex dependency on the use of radiopharmaceuticals (RPh) for each operation. RPh consists of a radioisotope, produced in a research reactor [RR] or particle accelerator such as a medical cyclotron[ MC] that provides radiation used for detection-based imaging or targeted therapy. Nuclear medicine growth has passed through both evolutionary and revolutionary modifications over centuries, mostly due to vibrant and flexible developments in worldwide development and implementation of radiopharmaceuticals, as well as the introduction of superior technology imaging technologies PET/CT, SPECT/CT, PET/MR (magnetic resonance) with quantification capability.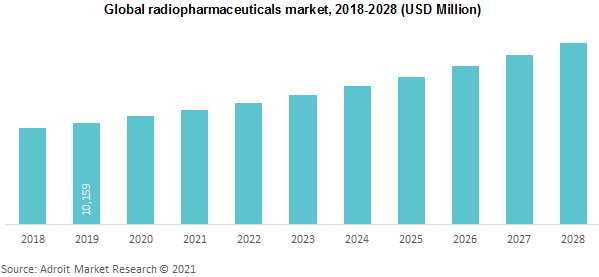 The global radiopharmaceuticals market is categorized based on type, diagnostics, and application. Region wise, North America was the largest market in 2019; however, Asia Pacific is expected to be the fastest growing region by 2028, with a CAGR of over 10%.
Key players serving the global radiopharmaceuticals market include Curium, Nordion Inc., Cardinal Health Inc., Bracco Imaging S.p.A, Eczacibasi-Monrol Nükleer Ürünler San. ve Tic. A.S., Lantheus Medical Imaging, Inc., Jubilant Pharma. LLC, Ire-Elit SA, GE Healthcare Company, NTP among other prominent players.
Key segments of the global radiopharmaceuticals market
Type Overview, 2018-2028 (USD Million)
Technetium (Tc-99)
Iodine (I-131)
Fluorine (F-18)
Lutetium (Lu-177)
Yttrium (Y-90)
Others
Diagnostics Overview, 2018-2028 (USD Million)
PET (Positron Emission Tomography)
SPECT (Single Photon Emission Computed Tomography)
Application Overview, 2018-2028 (USD Million)
Oncology
Neurology
Cardiology
Others
Regional Overview, 2018-2028 (USD Million)
North America
Europe

Germany
United Kingdom
France
Spain
Rest of Europe

Asia Pacific

China
Japan
India
Rest of Asia Pacific

South America

Brazil
Mexico
Rest of South America

Middle East & Africa

GCC
South Africa
Rest of Middle East and Africa
Reasons for the study
The purpose of the study is to give an exhaustive outlook of the global Radiopharmaceuticals industry
The overall segmentation of Radiopharmaceuticals market, especially key segments are thoroughly studied.
Presence of major players and their wide product portfolio across developed countries is anticipated to further boost the growth of Radiopharmaceuticals market
What does the report include?
The study on the global radiopharmaceuticals market includes analysis of qualitative market indicators such as drivers, restraints, challenges, and opportunities
Additionally, the market competition has been evaluated using the Porter's five forces analysis
The study covers qualitative and quantitative analysis of the market segmented on the basis of applications, product, technology, and end user. Moreover, the study provides similar information for the key geographies.
Actual market sizes and forecasts have been provided for all the considered segments
The study includes the profiles of key players in the market with a significant global and/or regional presence
Who should buy this report?
The report on the global radiopharmaceuticals market is suitable for all the players across the value chain including raw material suppliers, Radiopharmaceutical's providers, pharmaceutical and medical device manufacturers, distributors, suppliers, and retailers
Venture capitalists and investors looking for more information on the future outlook of the global radiopharmaceuticals market
Consultants, analysts, researchers, and academicians looking for insights shaping the global radiopharmaceuticals market
Radiopharmaceuticals or nuclear medicines are radioactive isotopes that are used for therapeutic and diagnostic purposes. Many types of diseases like gastrointestinal, neurological disorders, endocrine, different types of cancers and any other abnormalities within the body can be diagnosed and treated using radiopharmaceuticals. The demand for nuclear medicines is increasing as they have the potential to specify the molecular activity within the body which in turn helps to diagnose the disease in early stages well before symptoms occur or abnormalities can be detected with other diagnostic tests. According to a survey conducted by World Nuclear Association, it is estimated that in developing economies about 1 in 50 people use radiopharmaceutical for diagnosis while the frequency of therapy with radiopharmaceutical is about one-tenth of this. Some commonly used radiopharmaceuticals for diagnostic purpose are Tc-99, Ru-82, F-18, I-123 and for therapy are Co-60, I-125, Ir-192, Lu-177.
Early diagnosis, noninvasive external monitoring, and targeted therapy with very little effect on biologic processes in the body is a major driver for radiopharmaceuticals market. Additionally, PET scans often exclude the need for surgical biopsy or identify the best biopsy location, PET scans generally provide extra information that is used for radiation therapy planning, rise in public awareness, increasing incidence of cancer and cardiac ailments, usage of hybrid imaging and technological advancements are the supporting factors fueling the radiopharmaceuticals market growth.
The global radiopharmaceuticals market has been segmented based on Type, Diagnostics, Application. There is a phenomenal awareness regarding the use of radiation and radioisotopes especially for diagnostic and therapeutic application in several medical conditions. In developed regions, one in every 50 individuals uses diagnostic nuclear medicine per year. Furthermore, the frequency of nuclear medicine therapeutics is one tenth of the above. There are more than 10,000 nuclear medicine centers in the world and a majority of such procedures are for diagnosis. Technetium-99 is the most common radioisotope with over 40 million procedures being performed every year. In the developed regions, diagnostic nuclear medicine is performed at the rate of 1.9% per year. There are over 20 million nuclear medicine procedures being performed in the U.S. every year, and Europe presents 10 million procedures. The World Nuclear Association also reports that the rate of nuclear medicine diagnosis is growing at a rate of over 10%, year on year.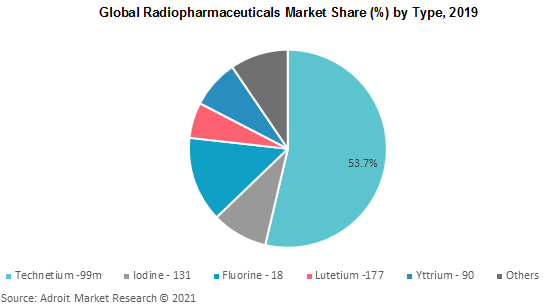 Based on regions, the global radiopharmaceuticals market is segmented into North America, Europe, Asia Pacific, Central and South America and Middle East & Africa. The European Union is undergoing a radical transformation to provide patients and healthcare suppliers optimum radiation safety. Over the past five years, the industry attempts to introduce radiation dose management programs to support safety and awareness have been swift and decisive in both North America and Western Europe, bringing fresh obligations to both producers of medical device imaging and healthcare providers. In addition, suppliers are now offering patients far more transparent instructional data than in the past, in order to increase awareness of medical imaging hazards. While complicated medical imaging examinations are essential, still damaging concentrations of exposure to medical radiation persist.
In global studies, development initiatives as well as global supply chain, Europe plays a vital role. It has the enormous benefit of hosting four irradiators (in the Netherlands, Belgium, Poland, and Czech Republic) and two Mo-99 processing plants (in the Netherlands and Belgium) compared to other continents. Multiple reactors enable European irradiators to coordinate their scarce resource planning. In addition, several European medical centers are world leaders in both diagnostic and therapeutic research and development of radioisotope medical applications. Lastly, the sector is very well created, e.g., in facilities and services for nuclear medicine imaging, in radio-pharmaceutical products and in technology for cyclotron manufacturing. However, Europe is challenging this powerful global stance: the aging infrastructure requires fresh investments (preferably from the private industry).
Several European governments (as well as some non-European nations) continue to subsidize various Mo-99 manufacturing projects, thereby placing pressure on the business case for the personal investment needed. By doing so, European nations are demonstrating their national strategies that they are not in line with globally accepted policies that harm European suppliers on the global market.
Traditionally, Europe plays a major role in the reactor manufacturing of medical isotopes. In addition to contributing various reactors (mainly in the Netherlands, Poland, Belgium, and Czech Republic in 2017), there are also two molybdenum processing plants in Europe (in the Netherlands and Belgium). The Netherlands occupies a unique place in Europe: not only is the Netherlands presently the world's biggest producer of medical isotopes, but it has reactor and molybdenum processing facility in the same place, along with Australia. This provides many benefits such as wastage reduction of decay of molybdenum during transportation.