The global pedicle screws market is estimated to grow at a CAGR of 6.04% during the forecast period from 2019 to 2025. Prime market drivers are growing incidence of spinal injuries, age related degeneration, congenital and acquired deformities. There has been a significant rise in the incidence of sports and adventure related spinal cord injuries, road accidents leading to spinal fractures, that demand acute care and surgical fixation. Spinal fixation with minimally invasive surgical methods is the most sought procedure. Growing adoption of minimally invasive surgeries in orthopedics and technological innovation in the form of image radiography and AI assistance mainly support the progress of this trend. Therefore, growing preference of both patients and surgeons towards minimally invasive surgeries, increasing availability in the healthcare infrastructure and consistent technological innovation together are further driving the global pedicle screw systems market.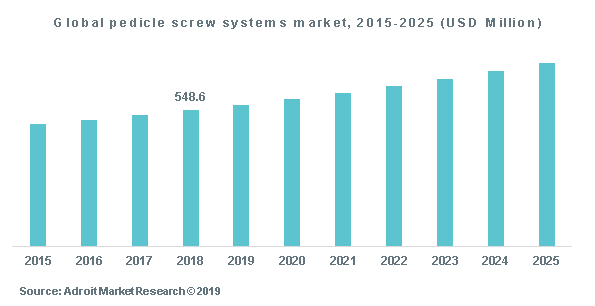 Adroit Market Research report on global pedicle screw systems market offers in depth analysis of the market for the period from 2015 to 2025, along with market assessment with analysis of market drivers, restraints, and opportunities. The market has been assessed for historic period 2015 to 2017, with 2018 the base year of estimation and forecast from 2019 to 2025. The report covers the current status and future traits of the market at global as well as country level. In addition, the market competition has been evaluated based on Porter's five forces analysis, along with the depiction of the industry's value chain. The report also offers a comprehensive assessment of the key players operating in the global pedicle screw systems market.
North America currently dominates the global pedicle screw systems market and is anticipated to retain its lead through the forecast period. The major factors attributed to the position of North America market are growing geriatric population pool and the corresponding rise in spinal injuries and deformities in this group, established presence of public and private reimbursements, along with greater awareness among both patients and caregivers. North America has also witnessed growth in the count of spinal injuries and conditions sue to congenital defects, road accidents and sports injuries. The adoption of minimally invasive surgeries is also high in the region due to the presence of robust healthcare infrastructure and the increased pressure on the healthcare institutions to reduce the average patient stay, therefore contain healthcare costs.
In terms of competitive landscape, the global pedicle screw systems market faces moderate competition coming from a considerable number of players operating on international level. Some major players with larger presence in the market mainly are involved in swift launch of innovative products and acquisitions. Consistent product innovation is also a major initiative undertaken by market incumbents. Major companies operating in the global pedicle screw systems market are DePuy Synthes, Globus Medical, Zimmer Biomet, B. Braun Melsungen, Stryker, Medtronic, Aesculap Implant Systems, Auxein Medical, Orthopeadic Implant Company and X-spine Systems among others.
Key segments of the global pedicle screw systems market
Product Overview, 2015-2025 (USD Million)
Monoaxial pedicle screw
Polyaxial pedicle screw
Others
Type of Surgery Overview, 2015-2025 (USD Million)
Open surgeries
Minimally invasive surgeries
Type of Surgery Overview, 2015-2025 (USD Million)
Stainless Steel
Titanium Alloys
Unalloyed Titanium
Indication Overview, 2015-2025 (USD Million)
Spinal Trauma
Spinal Deformities
Spinal Degeneration
Others
Regional Overview, 2015-2025 (USD Million)
North America
Europe

Germany
United Kingdom
France
Rest of Europe

Asia Pacific

China
Japan
India
Rest of Asia Pacific

Central & South America
Middle East & Africa