The global pedicle screw systems market was valued at USD 548.6 million in 2018. Growing incidence of spinal injuries, deformities and trauma forms the chief driver of this market. While growing preference for minimally invasive surgeries also contribute to the uptick in rapid adoption of these surgeries in the mainstream application. Introduction of new alloys shall bring in hydrophilic and better bioavailability properties. Growing geriatric population shall also correspond to the incidence of degenerative scoliosis, therefore nurturing the demand for spinal reconstruction surgeries. Countries such as India, Japan, China, Italy etc. house the largest aged population, and therefore harbor the demand for pedicle screw systems.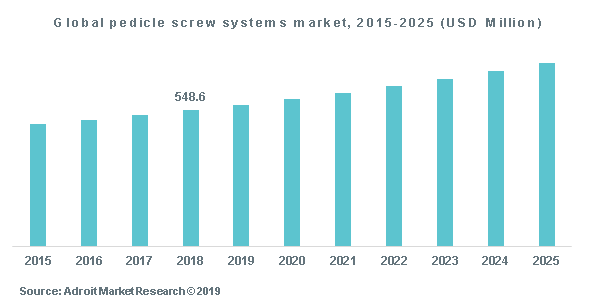 Introduction of pedicle screw has led to a transition in the surgical treatment of spinal disorders and injuries. However, such widespread adoption also comes with regulatory challenges. Surgeons have restricted the use of autogenous bone grafts for bypassing morbidity. Materials such as bone stimulators, synthetic hydroxyapatite, allograft materials, and calcium phosphate have been used in pedicle screw fixations with variable success, subject to the pathology and other factors. Furthermore, the availability and quality of the available evidence on pedicle screw fixation and alternative treatments is also relatively poor. There is a scarcity of randomized controlled trials with a considerable number of cases. The available information on spinal disorder treatment is mainly based on the case series without efficient outcome assessment. This further complicates the comparison of results. However, despite such challenges, there is sufficiency in data for demonstrating that the use of pedicle screw systems does not result in significant complication rates than other forms of spinal implant. These devices can also be considered as safe.
Pedicle screw systems also offer short, rigid segmental stability, allowing motion preservation segment and stability to the spine in lack of intact posterior elements, which is otherwise not possible in the case of other implants. Pedicle screw systems also demonstrate higher fusion rate and better functional outcome and pain relief in treating thoracolumbar fractures. In correction of deformities such as kyphosis, scoliosis and spondylolisthesis, pedicle screw systems offer good results. There is theoretical advantage evidence linking use of pedicle screw fixation in treatment of spinal tumors.
Key segments of the global pedicle screw systems market
Product Overview, 2015-2025 (USD Million)
Monoaxial pedicle screw
Polyaxial pedicle screw
Others
Type of Surgery Overview, 2015-2025 (USD Million)
Open surgeries
Minimally invasive surgeries
Material Overview, 2015-2025 (USD Million)
Stainless Steel
Titanium Alloys
Unalloyed Titanium
Indication Overview, 2015-2025 (USD Million)
Spinal Trauma
Spinal Deformities
Spinal Degeneration
Others
Regional Overview, 2015-2025 (USD Million)
North America
Europe

Germany
United Kingdom
France
Rest of Europe

Asia Pacific

China
Japan
India
Rest of Asia Pacific

Central & South America
Middle East & Africa
Reasons for the study
Increasing incidence of spinal trauma, spinal cord injuries and age-related degenerative conditions
Technological advancements in orthopedic surgery paving way for minimally invasive surgeries
Use of image guided navigation and robotics in spinal surgeries
What does the report include?
The study on the global pedicle screw systems market includes qualitative factors such as drivers, restraints, challenges and opportunities
Additionally, the market has been evaluated using the value chain and Porter's five forces analysis
The study covers qualitative and quantitative analysis of the market segmented on the basis of product, wound type and end user. Moreover, the study provides similar information for the key geographies.
Actual market sizes and forecasts have been provided for all the above-mentioned segments
The study includes the profiles of key players in the market with a significant global and/or regional presence
Who should buy this report?
The report on the global pedicle screw systems market is suitable for all the players across the value chain including raw material suppliers, pedicle screw system manufactures, distributors, and consumers
Venture capitalists and investors looking for more information on the future outlook of the global pedicle screw systems market
Consultants, analysts, researchers, and academicians looking for insights shaping the global pedicle screw sys

tems market
Minimally invasive surgeries have gradually become a commonplace in the current surgical field due to proven advantages such as reduced damage to the neighboring tissue, reduced blood loss, less risk of infections, prolonged functionality, lesser hospital stay and the ultimate reduction in treatment cost. This has led the market players to set their focus on enabling one-level screw systems. Some studies indicate that molybdenum rhenium (MoRe) alloy demonstrate better strength, and biofilm resistance, also exhibits osteoconductive properties as against the conventional titanium alloys. Innovation in the form of custom implants in orthopedic surgery will also pave way for novel solutions in the area of spinal fixation. More and more studies are anticipated to take place in terms of innovating new alloys and materials for pedicle screw systems. Innovation in the field of thoracolumbar pedicle screws is also anticipated through the forecast period, along with introduction of mainstream products in the emerging markets of Asia Pacific and Middle East & Africa.
Among the considered product types, monoaxial pedicle screws dominate the global pedicle screw systems market in terms of both revenue and volume. Convenience in implantation, simplicity in design, and compatible prices contribute to the dominance of this segment. Based on the type of surgeries, minimally invasive surgeries shall lead the market in revenue growth rate and generation. Perpetual technological innovation in the form of image guided and AI enabled spinal surgeries are attributed to the rapid growth of this segment. Pedicle screw fixation is most commonly performed in spinal deformity correction. Significantly growing geriatric population is leading to increased age-related degeneration, while there is also an increasing prevalence of congenital deformities. Growing geriatric population very commonly suffers from spinal injuries and degeneration. Furthermore, increased incidence of spinal injuries in road accidents, and adventure sports incidences has resulted in rapid growth in the use of pedicle screw systems in spine fracture treatment.

North America leads the global pedicle screw systems market, followed by Europe, While Asia Pacific shall witness the fastest growth through the forecast period. There has been a consistent rise in incidence of spinal deformities and trauma in North America. In the U.S. alone approximately 2% of the general population suffering from scoliosis. Favorable take of the USFDA towards widespread adoption of spinal fixation surgeries has led too swift approval of novel PEEK/Carbon, serrato, cement-augmented and other systems. The region has also witnessed the introduction of novel systems that do not interfere with radiography. Countries such as China, Japan and India house the largest population pool, along with corresponding pool of geriatric population. This also reflects the prevalence of age-related spinal degeneration and other such conditions. This attracts the attention of several manufacturers towards Asia Pacific market.
As per the 2016 statistics, the annual incidence of spinal cord injuries (SCI) in the U.S. is 54 million, i.e. 17,000 cases. In conclusion, factors such as increasing pool of geriatric population, corresponding prevalence in spine disorders, and availability of favorable private insurance together contribute to the dominance of North America, along with swift introduction of novel implants.