Advancement Of technologies is Increasing Calcium Demand in Infrastructure Developments which has been a major driver of the Global Calcium Market.
The value of the Calcium market is projected to grow to USD 68.4 billion with an estimated CAGR of 5.4% by 2030
Covid-19 Impact & Market Status
The breakout of the COVID-19 pandemic has had a significant impact on practically every industry. Regulatory agencies all across the world are compelled to enforce stringent lockdowns and travel bans as the COVID-19 epidemic spreads. Furthermore, this has had a significant impact on the expansion of the calcium industry.
Although manufacturing has begun with less limitations, the mounting instances of COVID-19 and operations at low capacity continue to worry market participants. To deal with this situation, several businesses have developed techniques. For example, Asian Paints, a major player in Asia, has introduced a new line of health and hygiene products. To increase sales, the corporation has launched a "Safe Painting Campaign." In addition, the firm has launched a "San Assure" sanitization service for homes, offices, and retail locations. Such activities are expected to boost demand for paints and coatings, resulting in market expansion.
Calcium Carbonate Is To Propel The Calcium Market Growth
In the calcium market, calcium carbonate is predicted to have the biggest need. The growing demand for nano-calcium carbonate, which is utilised in the rubber and plastic, medicine, and paint industries, is propelling the Calcium Carbonate market forward. In the paper and pulp sector calcium carbonate is replacing a crucial finishing agent which is used in the industry for a long time, increasing its market share. In todays world consumer are constantly looking for sustainable packaging alternative like bio plastics, It is predicted to develop as demand for bioplastics as the plastic sector advances technologically, as well as rising demands for anti-stain and waterproof paper. The medical, ink, cosmetics, and food industries all use calcium carbonate.
The demand for calcium propionate, on the other hand, is driven by the need for preserved food. It acts as an antimicrobial agent, extending the shelf life of food items. As a result, it's used to make dairy products, livestock feed, bread goods, sauces, and processed meats. It can also be found in packed foods. The need is mostly driven by urbanisation and the expansion of disposable income, especially in emerging nations.
Because of its application in the food and beverage industries, the calcium silicate market is also rising. It's an anti-caking ingredient that's also utilised in the manufacture of plastics, coatings, roofs, and pharmaceuticals. It is used in a variety of products such as roads, bricks, insulation, and cement. Calcium silicate is used extensively in the housing and building industries. Growth in the construction industry, along with increased government investment on building infrastructure, might help Calcium Silicate increase its share of the revenue in the subsequent years. Nevertheless, worries about raw material supply combined with price volatility may make progress difficult.
Fluxing Agent Has The Highest Market Share In Calcium Market.
Calcium is a versatile raw ingredient that is utilized as a finishing agent, fluxing agent, refining agent, setting agent, and fertilizer in a wide range of industries, including paper and pulp, construction, chemical, pharmaceuticals, and food and beverages. Construction has recently picked up the trend and will see a growth in the calcium market as a fluxing agent since calcium is a main raw material for construction indusrties hence a lot of agreements and contracts are made with regards to the calcium supply. Second most sought industry would be paper and pulp, here calcium is seen as a finishing agent since calcium helps to get waterproof, anti smudge and the best quality paper available in the market this is possible by adding calcium carbonate and has been widely accepted by the industry.
Paper & Pulp Will Stay At The Top & Dominate The Global Calcium Market
Calcium has several functions in the food and beverage sector, in addition to the paper and pulp and construction industries, where it is employed as a desulfurizing and deoxidizing agent. Calcium propionate, the calcium salt of propionic acid, is widely employed as a preservation in a wide range of processed foods, acting as an antimicrobial agent to extend the shelf life of packaged foods. The calcium market is predicted to develop significantly as the food and beverage sector expands, resulting in increased demand for packaged foods.
However the calcium market is gaining some traction due to an expanding number of applications in a wide range of end-user industries, the steel and PVC sectors are anticipated to attract the bulk of key players. Calcium market participants are benefiting from increased expansion in the steel and PVC industries, as calcium is an essential raw material and additive, prompting calcium makers to partner with steel and PVC manufacturers. Recent calcium market developments are projected to be driven by emerging prospects in the steel and PVC industries, which encourage calcium makers to interact with steel and PVC sector players.
APAC Region Is Dominating The Global Caclium Market.
In the future years, the Asia Pacific region is inclined to play a critical role in the development of the calcium market. Calcium use and demand are increasing in a variety of industrial applications in developing Asia Pacific nations such as China and India. In the future years, rapidly increasing end-user sectors in emerging nations are likely to boost calcium demand in the Asia Pacific area. Furthermore, the calcium industry is growing because to rising demand for ecologically friendly packaging solutions in developed nations such as North America and Europe.
The calcium sector in Europe is expected to develop rapidly through 2029, owing to local manufacturers' increased manufacturing of biodegradable packaging solutions. With the purchase of Solar Inks, Omya in Switzerland expanded its offering of bio-based barriers coverings for food packaging, including calcium carbonate and acrylic co-polymers. The high dependence on chemicals in European areas such as food, medicine, building and construction, and consumer electronics is expected to boost usage of the element throughout the forecasted timeframe.
Calcium Market Growth has Been fueled by Growing Calcium application in Industries such as Food & Beverage Industry. Product demand may be fueled by increased demand for building materials as a result of increasing population in both developed and emerging nations.
The calcium market between USD 33.09 billion in 2022 to USD 55.85 billion in 2029, the global calcium market is expected to grow at a 6.80% CAGR.
Calcium is a naturally occurring element that has properties like barium and strontium. It's an alkaline earth metal that's often utilised in other products like Calcium Carbonate. Calcium composites are utilized in a variety of sectors, and the need for calcium is growing as a result of globalisation's rapid infrastructural construction. As a result, current trends of rising industrialisation are projected to play a significant influence in the calcium market's future growth.
It is largely used throughout the food and beverage, pharmaceutical, construction, paper, and other industries. Calcium has several applications in end-user businesses, including cement and motor manufacture, as well as desulfurization, reduction, and decarbonization. It's utilised as a coagulator in cheese manufacturing in the food and beverage industries. It is used as a catalyst in the production of magnesium, copper, aluminum alloys, lead, and beryllium.
The market is being propelled ahead by its increasing use in construction and industrial applications. Industrialization has resulted in increased infrastructure development, which is a key determinant in market dynamics. Government expenditure on infrastructural projects in developing nations is driving up construction industry growth.
The biggest restraints on the calcium market are transportation and raw material prices. Calcium prices have risen significantly as a result of many causes causing players to raise their prices. Raw material supply uncertainty and strict regulatory regimes are among the causes. The end-user is being forced to move to alternate, less expensive options as costs rise.
Despite the growing usage of calcium in a variety of end-user sectors, the calcium industry is experiencing a slowdown due to major companies announcing considerable increases in calcium pricing. Uncertainty regarding the availability of raw materials, compliance with tight regulatory frameworks, and packaging are among the key causes that have prompted calcium product makers to announce price increases. Increasing prices of calcium and its composites are causing end-users to switch to less expensive calcium alternatives, thereby stifling the calcium market's development.
The market is also driven by rising requirement from Asia Pacific's paper and plastic industries. The low digital revolution in the Asia Pacific area is fueling demand for paperbacks and paper packaging. The Asia Pacific calcium carbonate market is boosted by the usage of calcium carbonate reinforced plastic due to numerous causes including such reduced packaging costs, reduced weight in automobiles, and insulator in electronics.
The construction industry is expected to increase considerably by 2029. The sector is expected to be worth USD 15.5 billion by 2029. It's probable that the increase will be in the 85 percent area. India, China, and the United States will all contribute significantly. The growing construction sector will assist the calcium market.
Over the course of the study, oil and gas will play an important role. Drilling fluids include calcium chloride. Additionally clear brine solutions, such as Calcium Bromide, Sodium Chloride, and Zinc Bromide, could be combined with that as well. Requirement for calcium chloride will rise as crude oil output rises as a result of the trade war.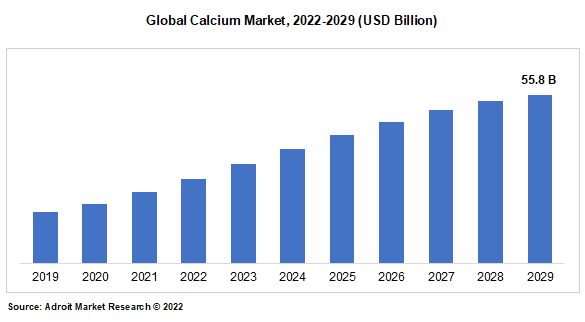 Key players operating in the global Calcium market include Schaefer Kalk GMBH, Solvay, Maruo Calcium Co. Ltd., Okutama Kogyo Co. Ltd., Solvay S.A., Excalibar Minerals LLC, Huber Engineered Materials, Omya AG, Imerys, Shiraishi Kogyo Kaisha, Ltd., Mississippi Lime Company, Minerals Technologies Inc.. and others.
Solvay S.A., a Belgian chemical firm and global leader in calcium, has signed a supply arrangement with Composites One, a prominent North American provider of composite materials. With this deal, the firm hopes to develop and extend its distribution network in North America, as well as capitalise on rising prospects in the composites sector as a whole, that would likely help the company's calcium business indirectly. Packaging, capital and labor expenditures, materials, and regulatory compliance all contributed to the price increase for its calcium carbonate goods.
Latest Innovation in the Global Calcium Market: A snapshot
Imerys S.A., a French multinational corporation, announced a five-year research agreement with Penn State University's Industrial Liaison Program at the Massachusetts Institute of Technology (MIT) (ILP). The major calcium maker hopes to boost discoveries and advancements in performance additives and sophisticated composites by forming partnerships with institutions and experts.
In March 2021, Huber Engineered Materials will purchase IMCD N.V.'s Nutri Granulations manufacturing asset and firm. This effort was made with the goal of expanding HEM's Ground Calcium Carbonate business' nutrition segment and investing in fast-growing key markets.
Calcium Market Scope
| | |
| --- | --- |
| Metrics | Details |
| Base Year | 2020 |
| Historic Data | 2018-2019 |
| Forecast Period | 2021-2028 |
| Study Period | 2018-2028 |
| Forecast Unit | Value (USD) |
| Revenue forecast in 2028 | USD 55.85 billion. |
| Growth Rate | CAGR of 6.80% during 2021-2028 |
| Segment Covered | Type, Application, End-Users, Regions |
| Regions Covered | North America, Europe, Asia Pacific, South America, Middle East and South Africa |
| Key Players Profiled | Schaefer Kalk GMBH, Solvay, Maruo Calcium Co. Ltd., Okutama Kogyo Co. Ltd., Solvay S.A., Excalibar Minerals LLC, Huber Engineered Materials, Omya AG & among others. |
Key Segments of the Global Calcium Market
Type Overview, 2022-2029 (USD Billion )
Calcium Silicate
Calcium Carbonate
Calcium Chloride
Calcium Propionate
Calcium Chloride
Application Overview, 2022-2029 (USD Billion )
Fluxing agent
Refining Agent
Filler
Others
End Use Industries Ovweview, 2022-2029 (USD Billion)
PVC
Food & Beverages
Pharmaceutical
Chemical
Construction
Pulp & Paper
Steel
Others
Regional Overview, 2022-2029 (USD Billion )
North America
Europe
Germany
France
UK
Rest of Europe
Asia Pacific
China
India
Japan
Rest of Asia Pacific
South America
Mexico
Brazil
Rest of South America
Middle East and South Africa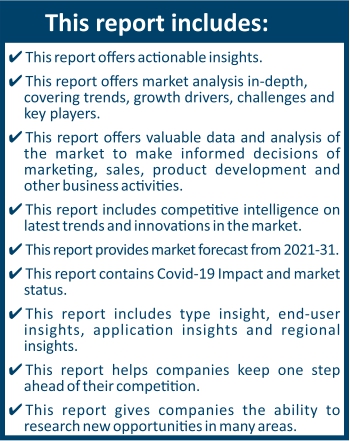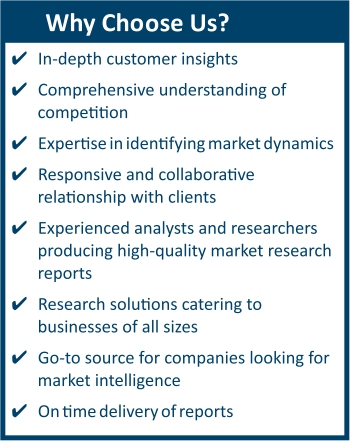 Frequently Asked Questions (FAQ) :
The market value of calcium market in 2029 was USD 55.85 billion.
The calcium market is growing at a CAGR of 6.80% over the forecast period.
The application of the calcium market Fluxing agent, Refining Agent, Filler and other.
Asia-Pacific dominated the market for calcium market and accounted for the largest revenue share.
The top companies that hold the market share in calcium market are Schaefer Kalk GMBH, Solvay, Maruo Calcium Co. Ltd., Okutama Kogyo Co. Ltd., Solvay S.A., Excalibar Minerals LLC, Huber Engineered Materials, Omya AG & among others.