North America has emerged as a prominent market for vapor recovery services in recent years, owing to the presence of significant vapor recovery unit manufacturers.
The North American vapor recovery services market size is projected to mature to USD 1010 million by 2028, at a CAGR of 6% over the prediction period, 2021-2028. The vapor recovery unit is largely used in the upstream and downstream materials of the oil & gas sector. It is also utilized in the oil and gas, chemical, and refinery industries. Furthermore, vapor recovery units are utilized to recover vapors that have been directly released into the environment. Large scale end-use applications are anticipated to drive the North America vapor recovery services market in the coming years. VRUs are powered by an electric motor or a gas engine and are mechanically operated. A vapor recovery unit is a system designed to extract unwanted vapors from a distillate tank or crude oil, allowing operators to comply with current emission laws. The vapor recovery unit is made up of four major components: a scrubber, a gas compressor, a switching device, and VFDs (Variable Frequency Drives).
The development of unconventional energy sources such as oil sands, shale oil, and coal bed methane is projected to open up new options for market participants. To improve their production process, oil and gas companies throughout the world are progressively embracing innovative technology such as membrane-separated vapors recovery units. Furthermore, government organizations are working to reduce reliance on crude oil while also assisting producers of unconventional energy sources to adopt new technology and optimize output. The strict environmental requirements for VOC emissions are increasing the need for vapor recovery units. The chemicals that evaporate at room temperature are known as volatile organic compounds (VOCs), and they are the primary cause of ground-level air pollution. Various state regulatory agencies in North America have established stringent environmental rules in order to recover the VOCs. Environmental laws are primarily developed for various types of coatings, such as aerosol coatings, automotive refinish coatings, architectural coatings, and consumer goods. Expansion in these end-use industries across developed nations in the Americas and Europe are anticipated to boost North America vapor recovery services market.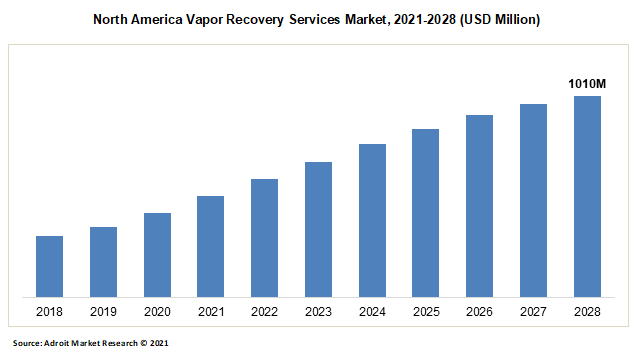 Adroit Market Research delivers a holistic and in-depth assessment of the North America vapor recovery services market featuring ley developments from 2021 to 2028. The historical years for reference include 2019 to 2020 with 2020 as the base year of estimation and forecast years from 2021 to 2028. The report contains elaborate references of the drivers, restraints, challenges, and threats as well as opportunities that affect the overall growth curve. Furthermore, the research focuses on prominent industry participants, including information such as components and services supplied, financial data from the last few years, and important developments. The study goes on to discuss the various industrial issues that have an influence on business success, both positively and negatively. Furthermore, the worldwide market research study contains the major industry suppliers and competitors, as well as their individual company plan studies. Some of the leading players profiled in this report include, Some of the leading players in the market are Flogistix, Zeeco, HY-BON/EDI, Aereon, SYMEX Technologies, and John Zink Company.
On considering the type, the conventional vapor recovery machines collect vapors from atmospheric storage tanks using rotary compressors. These compressors are powered by electricity. In the historical years the conventional vapor recovery machine segment garnered lucrative returns and is expected to continue the same in the forecast era. The ejector vapor recovery unit employs a jet ejector instead of a rotary compressor, which operates on high-pressure motive water.
According to the process type, the adsorption segment is projected to grow extensively throughout the estimated period. It is a surface phenomena process that forms an absorbate layer on the surface of an absorbent for use in a vapor recovery unit. Absorption is the chemical capture and transformation of energy in a unit by a material. Condensation is the process by which the vapors in the vapor recovery services are cooled or refrigerated.
Geographically, the vapor recovery services market in North America is increasing as a result of the discovery of new shale and rapid industrialization in oil and gas resources across regions. Countries in Europe, such as France, United Kingdom, and Germany, have begun to use vapor recovery systems on a larger scale for industrial applications. Countries in the Middle East, such as Qatar and Saudi Arabia, use vapor recovery systems extensively since they generate a lot of oil and gas. Advances in the US EPA regulatory practices to regulate vapor emissions is also favoring market expansion in North America vapor recovery services market.
Key Segments of the North America Vapor Recovery Services Market
Type Overview, 2021-2028 (USD Million)
Conventional Vapor Recovery Unit
Ejector Vapor Recovery Unit
Process Type Overview, 2021-2028 (USD Million)
Adsorption
Absorption
Condensation
Membrane separation
Application Overview, 2021-2028 (USD Million)
pstream and Downstream Oil & Gas Industries
Petroleum Distribution Terminals
Chemical and Petrochemical Plants
Crude Oil Tanks
Others
Regional Overview, 2021-2028 (USD Million)