The global network automation software industry market size is anticipated to reach USD 9 billion by 2028, at a CAGR of 25% over the forecast period. Network automation refers to the process of automating the testing, setup, deployment, administration, and operation of virtual and physical devices inside a network. It is the process through which software configures, manages, and tests network devices automatically. A wide range of service providers and companies utilize it to enhance productivity, lower operational costs and minimize human error. Network automation solutions vary from simple device identification and network mapping to more complex duties like as network configuration management and virtual network resource provisioning, to name just a few examples. Companies that use networking tools aggressively engage in R&D with a focus on long-term value growth. Leading networking businesses have not limited their investment in the testing and development of network automation technologies due to financial outcomes and short-term market success that may be utilized to increase market revenue.
The adoption of smart and connected devices, as well as automation technologies such as machine learning and artificial intelligence (AI), are significant factors driving growth in the network automation market. These technologies enable enterprises to improve network troubleshooting through real-time data monitoring. Furthermore, the increase in the number of start-ups offering network automation solutions, as well as network downtime caused by human error, supports exponential growth in network automation software market. On the other hand, the availability of open-source automation technology is limiting the expansion of the network automation sector. Nevertheless, the adoption of sophisticated networking solutions by various SMEs, as well as an increase in R&D investments in network automation by various organizations is expected to create significant market opportunities.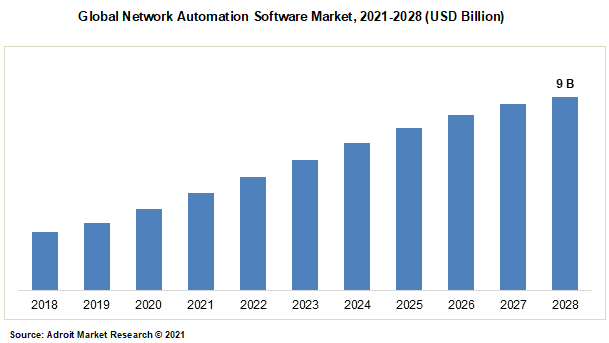 Adroit Market Research investigated the network automation software market from every angle, including both primary and secondary research methods. This aided us in developing knowledge of the present market dynamics, supply-demand imbalance, price trends, product preferences, consumer habits, and so on. In addition, primary research was conducted with industry professionals and opinion leaders from all around the world. The data was then gathered and evaluated using various market estimation and data validation techniques. There's also an in-house data forecasting engine that can anticipate market growth up to a predetermined timeframe. The report on global network automation software market presents a comprehensive outline of the market from 2021 to 2028, inclusive of various factors such as market growth determinants, key challenges and barrier assessment, new market opportunities and lingering challenges. The market has been aggressively studied for the historical years 2019 to 2020, with 2020 considered as the base year of estimation and forecast period from 2021 to 2028.
Global network automation software market demonstrates cut-throat competition with established players bracing novel growth strategies to solidify market lead. Additionally, new market entrants are also coming up with distinguished offerings to seek seamless penetration. Some of the most dominant growth strategies adopted by players include high-end collaborations, M&A deals, novel product diversification strategies and the like. These developments are likely to pave pulsating growth in the forecast years.
On considering the components, the network automation market would be dominated by the solution segment throughout the forecast period. The solutions sector will lead the network automation market in the next years. A good network automation solution must be multi-level, allowing companies to use everything from virtual machines to system management to network discovery.
According to the deployment mode, the cloud segment is expected to drive the network automation market in the coming timeframe. With the help of cloud computing capabilities, cloud network automation enables secure and quick network configuration. Furthermore, the cloud deployment method enhances a system's capacity to manage enormous network application traffic.
In terms of geography, the North American network automation market is projected to account for the lion's share of the worldwide market. Internet connectivity and technological acceptability in the region are expected to be major factors in the adoption of network automation technologies. Due to the fact that North America has always been at the forefront of technical progress, the region has the most connected smartphone usage, which is aiding the market's steady expansion.
Global network automation software market is characterized by several players with footprint across both global and regional markets. To sustain lead amidst staggering competition established players are constantly coming up with innovative growth strategies to defend their position. Some of the key players profiled include Arista Networks,Cisco Systems, Fujitsu Ltd, Apstra, Entuity, HelpSystems, BMC Software, and BlueCat Networks.
Key Segments of the Global Network Automation Software Market
Component Overview, 2021-2028 (USD Billion)
Solutions

Network Automation Tools
Intent-based Networking

Services

Professional Services

Advisory and Consulting
Training and Support
Deployment and Integration
Network Type Overview, 2021-2028 (USD Billion)
Virtual Network
Physical Network
Hybrid Network
Deployment Mode Overview, 2021-2028 (USD Billion)
End User Overview, 2021-2028 (USD Billion)
Enterprise Vertical
Service Providers
Organization Size Overview, 2021-2028 (USD Billion)
Small and Medium-sized Enterprises (SMEs)
Large Enterprises
Vertical Overview, 2021-2028 (USD Billion)
BFSI
Education
Manufacturing
Information Technology (IT)
Energy and Utilities
Healthcare
Others
Regional Overview, 2021-2028 (USD Billion)
North America
Europe

France
UK
Germany
Rest of Europe

APAC

China
Australia and New Zealand
Japan
Rest of APAC

MEA

UAE
Saudi Arabia
South Africa
Rest of MEA

Latin America

Mexico
Brazil
Rest of Latin America