The global Network Automation Software market is expected to develop $32.4 billion by 2028, at a compound annual increase in price (CAGR) of 22.8% throughout the forecast period.
In recent years, there has been substantial rise in adoption of sophisticated technologies such as edge computing, software-defined wide area network (SD-WAN), machine learning (ML), artificial intelligence (AI). These technologies help improve problem solving capabilities and network efficiencies. These factors play crucial growth initiators in global network automation software market. Learning curve of new software suite could be time consuming thereby interfering with installation, integration, and pick-up. This is a significant challenge apart from the high initial costs associated with network automation software installation that significantly shrink growth. However, with massive digital transformation and convergence of central and remote IT automation management network automation software market is likely to hit new growth opportunities in the foreseeable span.
The process of automating the management, configuration, and operation of a computer network is known as network automation. With the majority of applications dependent on data centers, standardization, and greater virtualization automation has become critical variable for improved performance, as well as increased capacity and throughput. As work-from-home is accessed by several individuals globally due to strict lockdown mandates to combat global pandemic, there has been a surge by over 20% in internet traffic as compared to the pre-pandemic times.
As a result, network automation solutions to handle the increasing network traffic are in high demand. Furthermore, during the pandemic, IoT solutions showed the ability to play a critical role in limiting the viral spread and aiding accurate pandemic management. Network automation is a critical step in implementing a networking system that becomes more responsive, smarter, and continually adapts and protects the network.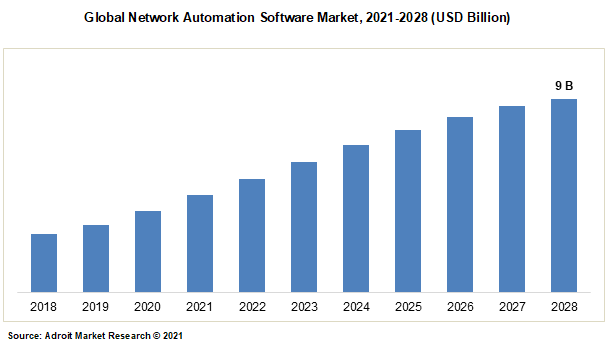 Global network automation software market is characterized by several players with footprint across both global and regional markets. To sustain lead amidst staggering competition established players are constantly coming up with innovative growth strategies to defend their position. Some of the key players profiled include Arista Networks, Cisco Systems, Fujitsu Ltd, Apstra, Entuity, HelpSystems, Entuity, BMC Software, and BlueCat Networks.
Furthermore, based on survey results from Cisco Live 2019, the researchers discovered that 85% of companies utilize the same kind of network automation. AT&T was an early user of network automation services such as Network on Demand, which allows corporate business clients to request Ethernet bandwidth via an online interface. Bell Canada is supplying DevOps tools to its development and operational teams. The initial uses of network automation and ONAP in Bell Canada's network will most probably be in the company's data centre business, to support the growing cloud applications of the enterprise.
Network Automation Software Market Scope
| | |
| --- | --- |
| Metrics | Details |
| Base Year | 2020 |
| Historic Data | 2018-2019 |
| Forecast Period | 2021-2028 |
| Study Period | 2018-2028 |
| Forecast Unit | Value (USD) |
| Revenue forecast in 2028 | $32.4 billion |
| Growth Rate | CAGR of 22.8% during 2021-2028 |
| Segment Covered | by Component, Regions |
| Regions Covered | North America, Europe, Asia Pacific, Middle East and Africa, South America |
| Key Players Profiled | Cisco Systems Inc.,VMware Inc.,Red Hat Inc.,IBM Corporation,Juniper Networks Inc.,Micro Focus International plc,BMC Software Inc.,Fujitsu Group,AppViewX,Telefonaktiebolaget LM Ericsson,Forward Networks Inc.,SolarWinds Corporation,Apstra,NetBrain,BlueCat Networks |
Key Segments of the Global Network Automation Software Market
Component Overview, 2021-2028 (USD Billion)
Solutions

Network Automation Tools
Intent-based Networking

Services

Professional Services

Advisory and Consulting
Training and Support
Deployment and Integration
Network Type Overview, 2021-2028 (USD Billion)
Virtual Network
Physical Network
Hybrid Network
Deployment Mode Overview, 2021-2028 (USD Billion)
End User Overview, 2021-2028 (USD Billion)
Enterprise Vertical
Service Providers
Organization Size Overview, 2021-2028 (USD Billion)
Small and Medium-sized Enterprises (SMEs)
Large Enterprises
Vertical Overview, 2021-2028 (USD Billion)
BFSI
Education
Manufacturing
Information Technology (IT)
Energy and Utilities
Healthcare
Others
Regional Overview, 2021-2028 (USD Billion)
North America
Europe

France
UK
Germany
Rest of Europe

APAC

China
Australia and New Zealand
Japan
Rest of APAC

MEA

UAE
Saudi Arabia
South Africa
Rest of MEA

Latin America

Mexico
Brazil
Rest of Latin America
Reasons for the study
To disseminate thorough information on the major variables driving market growth (growth potential, drivers, opportunities, industry-specific challenges and risks).
To forecast the size of Network Automation Software Market submarkets in relation to major regions (along with their respective key countries).
What does the report include?
In terms of revenue, this report analyses and forecasts the Global Network Automation Software Market.
A detailed analysis and study of the market drivers, threats, and opportunities that are propelling the growth of the Global Network Automation Software Market.
The study's scope includes a market strategic analysis of future prospects, individual growth trends, and major sub-market stakeholders' contributions.
Key industry participants' profiles, strategic perspectives, market positioning, and analysis of core capabilities are also featured.
Who should buy this report?
This research is intended for worldwide Network Automation Software Industry Market participants and stakeholders. The research will benefit every player in the industry.
Industry experts in the network automation software industry who want to give current and expected worldwide market information.
Government organizations, regulatory agencies, policymakers, and organizations interested in investing in Network Automation Software Industry Market trends.
Analysts, instructors, strategy managers, researchers, and government organizations looking for market knowledge to help them make future decisions.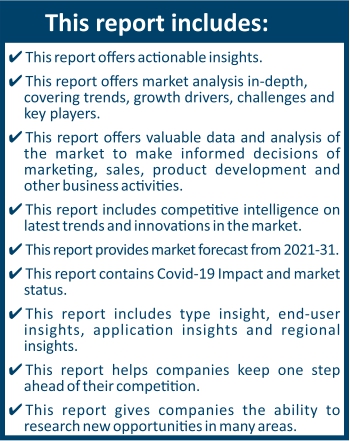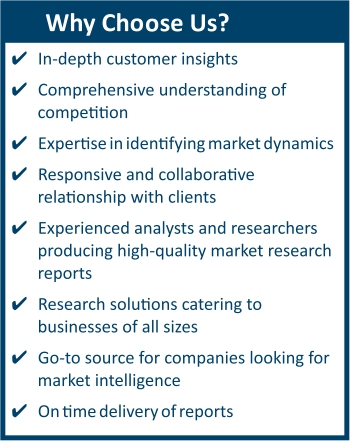 Frequently Asked Questions (FAQ) :
The network automation software market is growing at a CAGR of 25% during the forecast period.
The market value of network automation software market in 2028 was USD 9 billion
The base year for the report is 2020 in network automation software market.
With more users, applications, and devices relying on the network for vital access to a varied collection of endpoints, enterprise networks are under strain. As a result, companies are increasingly interested in innovative network architectures and advanced management tools that use machine learning and artificial intelligence to create self-driving or autonomous networks. These changes are also having a significant influence on how organizations rely on services provided by their partners and vendors. Datacenter network automation extends beyond the virtualized environment, IP telephony infrastructure, orchestrating over storage networks, and even business energy management systems.
Networking companies are significantly investing in networking solution research and development, with an emphasis on long-term value generation. Despite variations in short-term company success and financial outcomes, top networking businesses have not lowered their investment in network automation solution creation and testing. For instance, intent-based networking solutions have been developed by networking businesses such as Forward Networks. Intent-based networking takes corporate policy as input, translates it to a network configuration, and then produces network designs. These ongoing events offer ripe growth opportunities for global network automation software market.
Component Segment
The solution segment will lead the network automation market during the prediction period. In the coming period, the network automation market will be led by the solutions segment. A successful network automation solution must be multi-level, allowing for anything from virtual machines to system administration to network discovery as needed by enterprises.
Deployment Mode Segment
The cloud segment is likely to lead the network automation market in the coming years. Cloud network automation allows swift and secure network configuration aided by advanced cloud computing functionality. Furthermore, the cloud deployment approach increases the capacity of a system to manage massive network application traffic.
Organization Size Segment
SMEs segment will expand at a faster CAGR throughout the predicted period. The increasing use of cloud technology has accelerated the adoption of SDN technology among SMEs. Due to financial restrictions, SMEs usually prefer the market's cloud-based solutions. These businesses have increasingly begun to use technologically advanced goods that improve company functionality while using minimal resources.
North American market is projected to gain with the largest share of the network automation market in the coming years. Enterprises and service providers in the region are constantly upgrading their network architecture to accommodate modern technology. Many technical pioneers live in North America.