Neonicotinoids are insecticides that are used as active ingredients in plant defence products to combat harmful insects. Unlike traditional insecticides, neonicotinoids don't stay on the surface of the plant. These chemical is absorbed by the plants which transport it o the leaves, flowers, stems, and also to the pollen and nectar. The term neonicotinoids basically mean new nicotine kind of insecticides. The market is very intense because only 5 neonicotinoids insecticides were approved in the year 2013 which were thiacloprid, clothianidin, thiamethoxam, imidacloprid, and acetamiprid.
Bees and other invertebrate pollinators have declined as a result of the use of neonicotinoid pesticides in recent decades. Hence, the commission monitors this segment very closely and cautiously in order to protect honeybees as per the Regulation (EU) No 485/2013.
Adroit Market Research study on the global market for Global Neonicotinoids offers a holistic view of the industry from 2020 to 2028 as forecast period, including factors such as market drivers, limitations, opportunities, threats and regulatory overview. The market has been analyzed from 2018 to 2028, with a base year estimate of 2019 and a projection from 2020 to 2028.
The report covers the current status and potential characteristics of the market at both the global and the country level. Moreover, the report also assesses market competition with Porter's analysis of five strengths and places leading players on the basis of their product range, regional presence, strategic initiatives and overall sales. Prominent players in the global Neonicotinoids market have been analyzed in depth.
Porter's Five Forces Model analysis, supply chain analysis, and cost structure analysis are all part of the in-depth business chain. This Global Neonicotinoids Market study provides an overview of the current situation, as well as historical data and forecasts for the future. It provides comprehensive data on Global Neonicotinoids sales, usage, trade figures, and prices over the last few years.
The new Global Neonicotinoids market report aims to help companies, advertisers, and other stakeholders gain a deeper understanding of the industry's growth drivers and capitalize on high-profit opportunities. Furthermore, it offers suggestions for overcoming current and future obstacles in this field.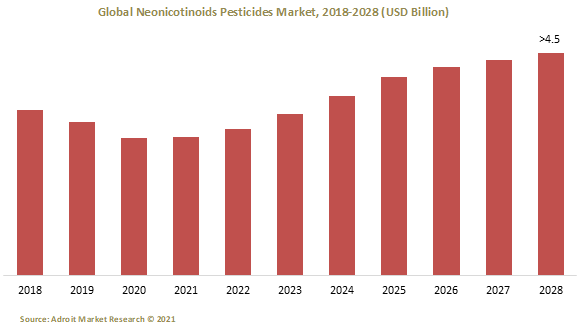 Insectivorous agricultural bird numbers are declining in the Netherlands, and water levels of imidacloprid are rising (which is a neonicotinoid). Our research proposes that neonicotinoids could have a cascading impact on the environment, and should be included in future insecticide regulations. Hence, this makes the global neonicotinoids market further competitive.
Key player in neonicotinoids pesticides industry includes FMC Corporation, Nufarm Ltd, Cheminova A/S, Bayer AG, Syngenta AG, BASF, DOW Agroscience LLC, Nufarm Ltd
Key Segments of the Global Neonicotinoids Pesticides Market
Type Overview, 2018-2028 (USD Billion)
Dinotefuran
Nitenpyram
Thiamethoxam
Clothianidin
Imidacloprid
Acetamiprid
Thiacloprid
Application Overview, 2018-2028 (USD Billion)
Soy
Rice
Cotton
Cereals
Other
Regional Overview, 2018-2028 (USD Billion)
Americas
U.S.
Canada
Mexico
Brazil
Rest of Americas
Europe
UK
Germany
France
Italy
Russia
Spain
Rest of Europe
Asia Pacific
China
Japan
Korea
Southeast Asia
Australia
India
Rest of Asia-Pacific
Middle East and Africa
Egypt
South Africa
Israel
Turkey
Rest of Middle East and Africa