In a number of studies, neonicotinoid use has been attributed to negative ecological consequences such as honey-bee colony collapse disorder (CCD) and bird mortality due to insect population reductions. However, the use of imidacloprid has reduced over the past years and use of clothianidin, thiamethoxam, and acetamiprid has increased.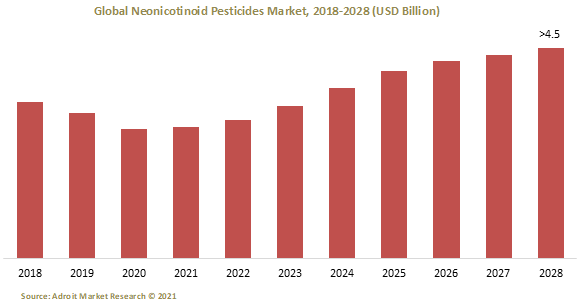 Some research studies on the harm posed by neonics to bees have been contradictory and contentious, partially due to the large number of biological factors that confuse linking CCD to neonicotinoid use, such as varroa mite infestation and Israeli acute paralysis virus (IAPV). This is partially due to the fact that bees exposed to low levels of neonicotinoids do not die right away. According to certain sources, neonicotinoids lower a bee colony's ability to survive the winter. The majority of academic and government bodies believe that neonicotinoids have harmed bee colonies.
The aim of this research is to estimate the global demand for neonicotinoid pesticides. This market research report examines the global Neonicotinoid Pesticides market in both qualitative and quantitative terms. It offers a thorough examination of the market's key opportunities, winning imperatives, drivers, threats, constraints, and key issues.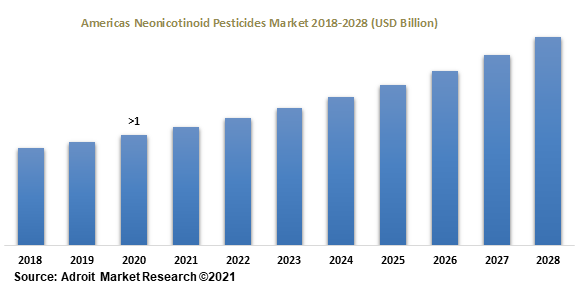 The aim of the report is to estimate the size of the market for Global Neonicotinoid Pesticides and the future growth potential of the market for Global Neonicotinoid Pesticides across various segments, such as type and application. The base year considered for the analysis is 2019 and from 2020 to 2028 the market size is estimated. Strategic partnerships, such as mergers and acquisitions, and technical innovation, have occurred in the market. Technological advances, product launches, and company technological acceptance are the main drivers of business growth.
Key Segments of the Global Neonicotinoids Pesticides Market
Type Overview, 2018-2028 (USD Billion)
Dinotefuran
Nitenpyram
Thiamethoxam
Clothianidin
Imidacloprid
Acetamiprid
Thiacloprid
Application Overview, 2018-2028 (USD Billion)
Soy
Rice
Cotton
Cereals
Other
Regional Overview, 2018-2028 (USD Billion)
Americas
U.S.
Canada
Mexico
Brazil
Rest of Americas
Europe
UK
Germany
France
Italy
Russia
Spain
Rest of Europe
Asia Pacific
China
Japan
Korea
Southeast Asia
Australia
India
Rest of Asia-Pacific
Middle East and Africa
Egypt
South Africa
Israel
Turkey
Rest of Middle East and Africa
Important Companies in Global Neonicotinoid Pesticides market
FMC Corporation
Nufarm Ltd
Cheminova A/S
Bayer AG
Syngenta AG
BASF
DOW Agroscience LLC
Nufarm Ltd
Reasons for the study
The purpose of the study is to give an exhaustive outlook of floor coating Market Benchmark yourself against the rest of the market.
Ensure you remain competitive as innovations by existing key players to boost the market.
What does the report include?
The study on Global Neonicotinoid Pesticides Market includes qualitative factors such as drivers, restraints, and opportunities
The study covers the competitive landscape of existing/prospective players in the field service management industry and their strategic initiatives for the product development
The study covers a qualitative and quantitative analysis of the market segmented based on solution, service, and industry vertical. Moreover, the study provides similar information for the key geographies.
Actual market sizes and forecasts have been provided for all the above-mentioned segments.
Who should buy this report?
This study is suitable for industry participants and stakeholders in the Global Neonicotinoid Pesticides Market. The report will benefit: Every stakeholder involved in the Global Neonicotinoid Pesticides Market.
Managers within the field service management industry looking to publish recent and forecasted statistics about Global Neonicotinoid Pesticides Market.
Government organizations, regulatory authorities, policymakers, and organizations looking for investments in trends of Global Neonicotinoid Pesticides Market.
Analysts, researchers, educators, strategy managers, and academic institutions looking for insights into the market to determine future strategies.